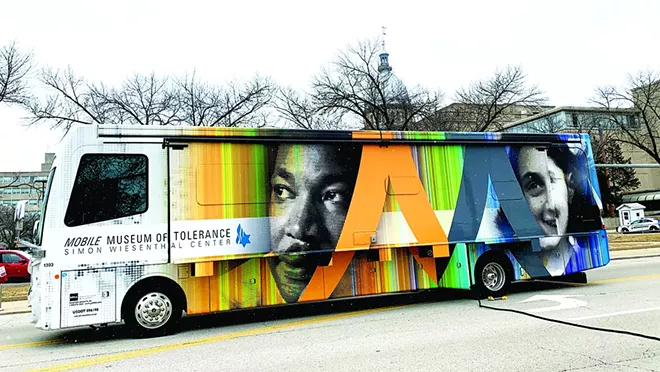 The Mobile Museum of Tolerance was in Springfield last week at the request of Senator Doris Turner, D-Springfield. The Simon Wiesenthal Center created the mobile museum to inspire and empower people of all ages and backgrounds to raise their voices and combat anti-Semitism, bullying, racism, hate and intolerance.
The bus is adorned with images of Martin Luther King Jr., Anne Frank, Mahatma Gandhi, Harriet Tubman, Rosa Parks and others, along with inspirational quotes. Several school groups visited the mobile museum outside the Illinois State Museum. Through videos about the Holocaust, Anne Frank and the civil rights movement, an educator with the Center engages students during a 45-minute workshop. The mobile museum was also at Route History, where visitors participated in an open house format. "It is a safe place to have uncomfortable conversations," says Alison Pure-Slovin, director of the Center's Midwest regional office in Chicago.
The Simon Wiesenthal Center is a Jewish global human rights organization that confronts anti-Semitism, hate and terrorism while promoting human rights and dignity. The Center's Museum of Tolerance opened in Los Angeles in 1993. Last year the Center launched the Mobile Museum of Tolerance in Illinois – the first of its kind in the country.
Erica Austin, District 186 school board member, arranged visits by students who are involved with the Alternative to Asset program. Through SIU School of Medicine, Austin implemented this initiative for alternative students at the Springfield Learning Academy and expanded it to Decatur Eisenhower this year. Instead of labeling students "at risk," this program helps students view their problems as challenges they can overcome.
"The discussion after viewing the civil rights film was very raw," said Austin. "In a world of so much civil unrest, discrimination and racial difference, the Museum of Tolerance ignites a spark amongst our young people to spread love and kindness instead of hate and that they have the power to make a difference by their actions."