Shayna Texter once dreamed of playing pro soccer, but she can't escape the thrill of speed that is in her blood.

In 2012, she made history in Tennessee by becoming the first woman to win a Grand National Championship race. Sanctioned by the American Motorcycle Association, such races are considered the sport's top echelon. At 28, she's comfortable in a sport dominated by men and danger. She's the only woman expected to compete in the Springfield Mile on Labor Day weekend, a race with deep roots in motorcycling history that draws both riders and fans from across the nation. "Shayner Texter may just be the best racer in America," Bloomberg magazine wrote in a story published last year about the growing popularity of racing motorcycles on dirt ovals, which, if you're good enough, can become a bona fide living.
Texter's love for motorcycles shouldn't be surprising. Her grandfather and brother raced bikes, and her brother also inherited a love for racing flat track. Growing up in Willow Street, Pennsylvania, she started riding at age 3 but soccer was her first love. When her dad retired from racing in 2003, she says she "shifted gears to riding motorcycles. And, I haven't looked back since."
She started her pro career on single-cylinder 450cc bikes, then moved up to heavier twin-cylinder motorcycles with more powerful engines, which she raced for two years until 2016. During that time, she raced against her brother, Corey, and nearly crashed into another racer, Briar Bauman, who then became her boyfriend. She since has switched back to the 450 cc class.
"I'm the smallest rider in the series," she says. Racing motorcycles are light, but not as light as Texter, who weighs 100 pounds and rides bikes weighing about 230 pounds. Recently, she joined the Red Bull KTM factory racing team to become the first rider of single-cylinder flat-track bikes to land full factory sponsorship. She's cultivated a following in a sport where more powerful twin-cylinder bikes have traditionally gotten the most attention.
The home court isn't always an advantage. In a 2017 preliminary race, Texter recalls getting a flat tire in front of relatives and friends who had gathered at a Pennsylvania track to watch her perform. She didn't qualify for the main event. "That really stung, and it makes me enjoy the race wins that I get," Texter said.
With some impressive wins, she says that she now feels at ease. Her timing is perfect, as the sport of racing motorcycles on dirt flat tracks has grown more popular, with sponsorships and television deals mushrooming in recent years. There was a time when most racers held down full-time jobs off the track and racing was a seasonal endeavor. For instance, her father worked at her grandfather's Harley Davidson dealership back in the day. But there is no off-season anymore for professionals like Texter. "I'm consumed in the everyday work of soliciting sponsorships and funding, and participating in media activities for current and future sponsors," she says.
With her helmet off, Texter is as adept with fans as she is with rivals on the track. When pits open for fans seeking autographs and behind-the-scenes glimpses of stars, the lines around Texter have been long and include lots of dads with daughters, says Michael Lock, chief executive officer of professional racing for the American Motorcycle Association.
If there is any hint of sexism bias in motorcycle racing or coverage by the media, Texter seems unfazed. NBC has hired her to work as a commentator for motorcycle races when she's not racing herself.
"For years, flat track was America's best-kept secret," Texter says. "When I tell people what I do, they are so amazed by how small I am, and how aggressive and close we get on motorcycles." Qualifying events, where races last between five and 15 laps, are tougher than main events that can be twice as long, Texter says. "The shorter races are always harder," she says. "Your adrenaline is going the whole time. You have to tell yourself to just breathe. There's days that are more stressed out than others. There are some races when I definitely wish it would rain out. But you need to show up, prepared one hundred and ten percent."
Texter recently earned a bachelor's degree in exercise science, which she figures might come in useful when her racing days are over. Fitness is vital on the racetrack, where riders must maneuver powerful machines through a combination of finesse, balance and strength, with little room for error.
Texter's trainer ensures that she stays in top physical condition with cardiovascular workouts, bicycling, running and various gym-based exercises. "We try to eat clean, eat at home, limit sodium and carbs," Texter says. "We can't completely give up meat, so we still eat fish or chicken with rice and vegetables."
While Texter has a fan base, she also has her own role models, including soccer star Julie Ertz, recent World Cup champion, and Ertz's husband, Zach, a tight end with the Philadelphia Eagles. "I enjoy watching how they balance their relationship with their professional sports," she says. She sees parallels in her own life.
"I date Briar Bauman, who is leading the championship (points race) on the twins side," Texter says. "It's like we have double the workload to support each other and make sure that we're both doing well on race day."
We've got a reputation
The Springfield Mile is actually a pair of two-day racing events at the state fairgrounds, one held on Memorial Day weekend and the other on Labor Day weekend. Over the past 80 years, the mile-long track at the fairgrounds has become one of the most celebrated racing venues on the planet. For many years, whoever won the Springfield Mile was considered the best flat-track racer in the world, no matter how many other races they won or lost, and so was entitled to wear the numeral one on their handlebar-mounted number plate.
Racing motorcycles on unbanked dirt or clay ovals is a uniquely American endeavor that has gone worldwide. Born and raised in Britain, Lock, CEO of the American Motorcycle Association, was hired in 2015 to help revitalize flat track racing. With experience working for such European motoring companies as Ducati and Lamborghini, Lock has succeeded to the point that flat-track motorcycle racing now rivals NASCAR as a marquee motorsport in the U.S.
Motorcycle racers from as far away as Australia compete in the Springfield Mile, where riders are expected to be athletes and equipment highly tuned and state of the art. Flat track racing, Lock and others figure, will only grow in popularity. "That's because, in this American sport which began locally and regionally, rider performance is still key," Lock says. "The bikes are still widely accessible, as compared to the six-figure price tags on Moto Grand Prix ultra high-tech machines, which are identified as primarily European."
There's more to flat-track motorcycle racing than the latest technology. Lock sees potential in marketing events featuring vintage bikes, and so he's expanded the race schedule in Springfield and elsewhere to include races that showcase machines that are decades old. In Springfield, upcoming Labor Day weekend races will begin with vintage racing Aug. 29, an opening act of sorts designed to draw fans of all ages. Count on Sam Evans being there.
Evans, a central Illinois native, raced in the 1970s and 1980s before launching a career in construction and real estate, which he holds are just as risky as speeding around a track at high speed. His love for racing never left. Today, he races a 1971 Ossa Stiletto TT, which he bought brand new from a showroom floor while still in high school. "Vintage motorcycles should be shared, not hidden under a tarp in the garage," he says. "I race them because I can't think of a better way to display a vintage bike than at a racetrack with the sound and smell of a two-stroke, running on bean oil and high-octane fuel in the air."
Don Evans, Sam's father, also raced flat track and shared stories about legends of the sport such as Bill Tuman, winner of the 1953 Springfield Mile, with his son. Sam's mom, Nancy, also raced motorcycles in the 1950s and 1960s, competing in hill climbs up impossibly steep slopes instead of speeding around dirt tracks. Sam's second cousin, Joe, raced flat track, as did Sam's uncle, who rode the same Indian Scout as Sam's mother in hill-climbing competitions. The Scout is still owned by the Evans family.
Vintage motorcycle racing forums inhabit the internet, catering to folks like Evans who are intrigued by aesthetics and mechanics of motorcycles from bygone eras. Retired racers say that restoring bikes, then racing them, can be a comeback therapy of sorts that demands both mechanical know-how in the garage and skill on the track.
A truly American invention
The physical, cultural and aesthetic tale of dirt track racing is an American story that begins around the time that the Wright brothers invented the airplane. Talking to Evans during Springfield Mile weekend last May proved a window into the world of the sport's history and culture.
The earliest races unfolded on board tracks designed for bicycles, with crowds gathering at fairs and sundry expositions to watch daredevils careen around wooden ovals that became increasingly slick with oil with each lap. Full throttle racing found a home in Springfield during the 1920s, when a grandstand was erected at the fairgrounds and soil from Sangamon River bottoms was brought in to create a mile-long racing surface that became legendary.
The Springfield Mile was officially born in 1937, when the American Motorcycle Association first sponsored a race. J. Lester Hillbish of Reading, Pennsylvania, won the checkered flag, besting 96 competitors in a 25-lap event, covering the 25 miles in 20 minutes, 18 seconds. He died in 1977 at age 63 and was inducted into the American Motorcycle Association Hall of Fame in 1998.
The Springfield Mile was suspended during World War II, but when racing resumed in 1946, it was a Norton, made in Britain, that carried Chet Dygraaf to victory and the title of national champion based solely on winning in Springfield. Harley Davidsons soon dominated the sport, with rivalries between brands continuing to the present day.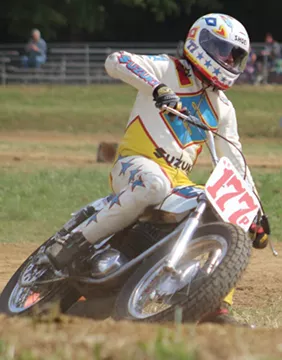 Bill Tuman of Colona won in 1953, marking the first time that an Illinois rider won a national championship by virtue of winning the Springfield Mile. Tuman and fellow racers Ernie Beckman and Bobbie Hill, who won the 1951 Springfield Mile, came to be known as the Indian Wrecking Crew, regularly besting riders aboard Harley Davidsons in a sport where fans tend to identify with whoever is riding the same brand as they favor.
The Springfield Mile, which had been held during the state fair, was suspended in 1967 due to what authorities considered excessive rowdiness among race fans. Racing resumed during the 1980s, when serious money came into the sport and purses swelled to nearly a half-million dollars. But the growth of NASCAR soon outstripped interest in motorcycle racing.
To Jerry Stinchfield, owner of Roof Systems of Dallas, whose company supports a 10-racer flat-track team that includes Texter, it seemed like the sport was on life support during the 1990s and 2000s. Stinchfield is a lifer, having watched races as a kid, then, briefly, becoming a competitor himself. "I'm in it now because I know what these kids can do at all levels, and how hard they work." Stinchfield said.
Years ago when the sport was struggling, promoters of Springfield's Ethnic Festival at the State Fairgrounds dovetailed events to coincide with dirt track racing, hoping to catch waves of out-of-state racing fans who might respond to the call of cold beer and gyros served on sticks. Things have progressed beyond gyros.
Beyond faster bikes and racers who train like the athletes they are, the American Motorcycle Association, under Lock's direction, has forged a partnership with NASCAR to livestream flat-track races that unfold at speeds approaching 140 mph and no brakes to get in the way. The internet-based service has been a game changer that's expanded the sport's audience beyond usual suspects, Lock says. "We now have sophisticated metrics and data that shows we've gone from a ratio of 90% male and white who attended live motorcycle racing events for years, to now capture a wider demographic that is much younger and more like 75% male and 25% female."

THE SPRINGFIELD MILE

This Labor Day weekend, the state fairgrounds will, weather permitting, host the Springfield Mile as well as a makeup race that had been scheduled for Memorial Day but was scratched due to rain. The fun begins Thursday, Aug. 29, with vintage motorcycle racing at the all-purpose arena. There will be short track racing with modern bikes on Friday, with main events, each set for 25 laps around the grandstand track, scheduled for Saturday and Sunday.


Look out for the FBI, aka Fast Boys from Illinois, a group of homegrown racers that includes Jeffrey Carver, Jr. Just three Illinoisans have won the Springfield Mile during the past eight decades or so, and Carver, who took the checkered flag in 2018, is the latest winner from the Land of Lincoln. Carver, 28, grew up in Godfrey and is the son of a retired racer. He's known for an unabashed, nonconformist style.
Motorcycle racers have long memories, and so the Rookies of '79, a name inspired by a group of retired racers who began their careers 40 years ago, will hold a fundraiser on Saturday to benefit injured racers. The group started in 2013 with $600 in donations from retired motorcycle racers and has raised more than $2 million, according to Charlie Roberts of Springfield, one of the rookies from long ago who now heads the charitable group. Fans who wish to help fix shattered femurs and the like while rubbing shoulders with legendary racers will have a chance to bid on flat-track memorabilia and equipment at the Orr Building with all proceeds going to a worthy cause. The event is scheduled to begin at 5 p.m. For more information, visit https://www.facebook.com/pages/category/Charity-Organization/Flat-Track-Memorabilia-Auctions-by-Rookies-of-79-299702027302929/.

Catherine O'Connor is an independent journalist and social historian who often has trouble accelerating up to speed entering freeway onramps, but now has respect for athletes who go "left and fast" in the ballet called American flat track racing.