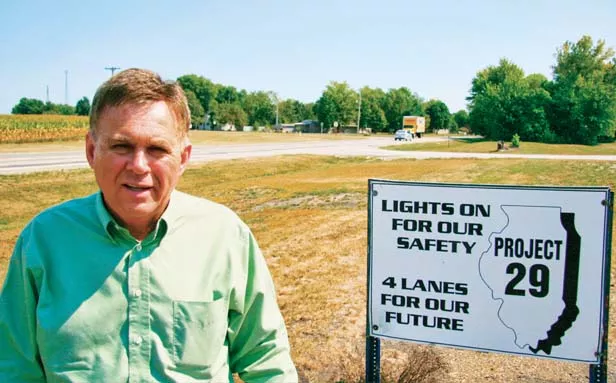 Mike Bell of Edinburg has a lot on his plate.

He's on the boards of both the Edinburg and Christian County economic development groups, co-chairman of a highway expansion project on Illinois Route 29, and vice president of the Edinburg school board, among many other roles. Now, Bell wants to fulfill a dream that began in high school – running for state representative in the 96th District, which covers much of Springfield and most of Decatur.

Bell is the only Republican to announce his candidacy for the 96th District so far, meaning his only competition right now is Democratic incumbent Rep. Sue Scherer of Decatur. Although Bell has strong Republican credentials, he and Scherer have something in common because of their common background as teachers: support for unions in the current pension reform debate.

Bell, 62, lives in Edinburg with his wife, Jean. They have two adult sons. Bell has a Bachelor of Science in education and a Master of Science in education from Eastern Illinois University. He taught 26 years in public schools and spent eight years teaching adult inmates for the Illinois Department of Corrections. Bell, who is a Republican precinct committeeman and vice president of the Christian County Republican Party, says he got interested in politics because he enjoys community service. He has worked on several Republican political campaigns for current and former state senators and representatives since the 1980s.

Bell's teaching experience and service with IDOC give him a different take on pensions than many Republicans. He founded a subchapter of the American Federation of State, County and Municipal Employees, the largest union of state employees in Illinois, and he is a member of the Teamsters' Union. He is deeply involved with unions and believes any reform of state employee pensions must not reduce benefits.

"Any kind of pension reform has to be fair to everybody and constitutional," he said.

Asked if he fears that stance might be unpopular among fellow Republicans who see state employee pensions as dragging Illinois down, Bell says simply, "I am what I am."

"It's what I believe," he said. "I'm strong in my beliefs."

Bell and other candidates around the state began Sept. 3 collecting signatures to submit to the Illinois State Board of Elections, but filing for the next round of elections doesn't begin until Nov. 25. That means more candidates could be preparing to run, and their candidacy isn't necessarily public until they file. Bell and Scherer are the only candidates to announce runs for the 96th District so far, but they must win their respective party primaries on March 18 before they run against one another directly.

Bell's top priority if elected is creating jobs.

"I'm about jobs; no matter what we talk about, it always goes back to that, no matter what the subject is," he said. "We can talk all day long about a lot of other things, but if a man or woman is sitting there without a job, it's hard."

To spur job growth, Bell wants to repeal state regulations on businesses and increase funding for education. That, in turn, will keep more talented individuals in Illinois, Bell says.

"We educate kids and tell them if they do well, there should be a job here, but yet there isn't," he said. "We've got kids moving away because they don't have a choice. We've got to do something to keep these kids here."

Bell also wants to make changes to the workers' compensation system and tort laws. He says he supports gun rights and "traditional marriage." Bell has little criticism for incumbent Rep. Sue Scherer, D-Decatur, saying only that he plans to be more "visible and accessible" if elected.

Among his accomplishments, Bell lists his role in helping the Edinburg Community School District avoid consolidation into a larger district by cutting costs. He is also co-chairman of Project 29, a community group dedicated to upgrading an unfinished stretch of Illinois Route 29 in and around Edinburg. He says the project has led to local business growth, including plans for a new gas station, grocery store and restaurant.

"You need a good background," Bell said, explaining why he chose to run for state representative now. "I feel like I've got the correct background, and I can help."

Contact Patrick Yeagle at pyeagle@illinoistimes.com.