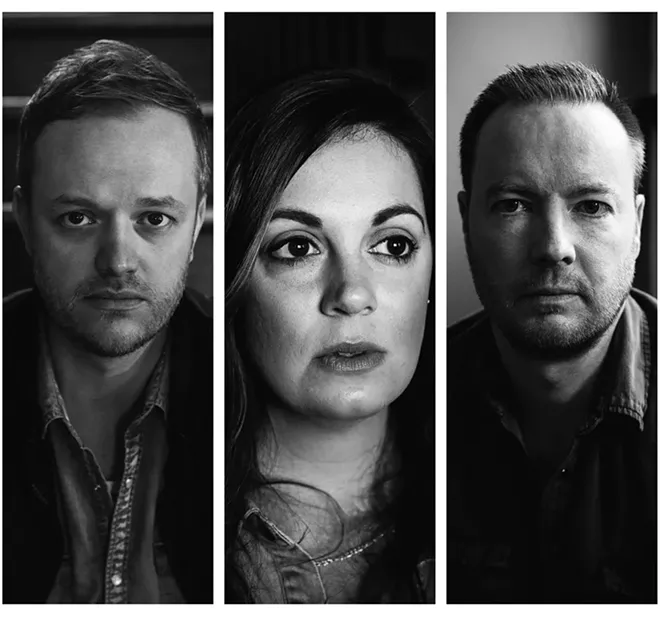 As we roll the old chariot along through the merry month of May, the live music scene keeps rolling along as well. A delightful assortment of things is in store for you to experience if you're willing to make a move to see what's out there.
We have a Thursday worth crowing about, so let's get started with a visit to the venerable Curve Inn and a performance by the one-and-only The Deep Hollow from 6 to 9 p.m. The triumphant trio of Elizabeth Eckert, Dave Littrell and Micah Walk are nothing short of outstanding whenever they hit, and at Ric Major's super-duper soundstage at the Curve, you're guaranteed to hear it all just right. Next, the talented singer and guitarist known as Joel Honey brings his "Jams" front and center at the Hickory River Smokehouse, while Curt Smith, a songsmith of high caliber, takes it to the patio at Casey's Pub at the Knights of Columbus Hall on Meadowbrook Road during the big money raffle going on there. Downtown Springfield gives us the business this Thursday with three live music performances including Me, Myself & Schy at Boones, Joel Gragg at Buzz Bomb and Brandon Santini's Big Time Blues Trio at Whiskey Jack's.
Friday is so full of regular area acts hitting all the hot spots I'm not even going to go there this week, but you can find all the cool cats collected in one place in our live music listings, both online and in print. I'll drop a plug for the one entertainer not from these-here-parts and give a shout out to singer-songwriter Chris Knight playing at Boondocks with support from local mover-and-shaker, Cody Lee Moomey. Chris is no stranger to playing Springfield, and his life work as a successful Nashville songwriter and a killer touring performer precedes him, giving you all the confidence you need to know you're going to experience an incredible show.
In our fairs and festivals department, it's the return of Springfield PrideFest and the Old Capitol Art Fair, both of which have plenty of live music action to supplement the "Pride" and the "Art" already abundantly in force at the respective events.
On Saturday, PrideFest begins with the PrideParade at 11:30, then after the noon ribbon cutting, vendors open and activities commence, along with live music by The Deep Hollow (12:30 p.m.), Thornhill (2:15 p.m.) and the Bluewater Kings Band (4 p.m.).
The OCAF, back after a two-year absence (what – what happened?), delivers bands galore including the Municipal Band (10 a.m.), Rhodes & Battles (10:15 a.m.), Solar Chariot (11:30 a.m.), Mary Jo Curry (1:15 p.m.) and Kapital Sound (3:15 p.m.) on Saturday and Levi & Jacqueline (10 a.m.), Blue Ribbon Revival (11 a.m.), Tom Irwin & the Raouligans (12:30 p.m.) and Suburban Mystics (2:30 p.m.) on Sunday. That's really an incredible bunch of music in just a couple days, all for free and for fun and for you to enjoy.
Other Saturday adventures include Danenberger's Nickipalooza with a stellar, all-day-long lineup of Brandon Santini, Birds of a Feather, The Station and Sunshine Daydream (in that order, starting at 2 p.m.), the African American History Museum's program, "Exploring the African American Genres," presented by Dr. Ann Joseph and featuring musicians Steve Alexander, Judy Betts Davis and Allen Davis as The JAS Trio (1-2:30 p.m.) and Off the Wall getting wild at the Springfield Ski & Boat Club's season opener on Saturday night (7 p.m.).
And this is where I say, check out our calendar listings, because even with all that, there's still plenty more to choose from in our terrific Springfield music scene.