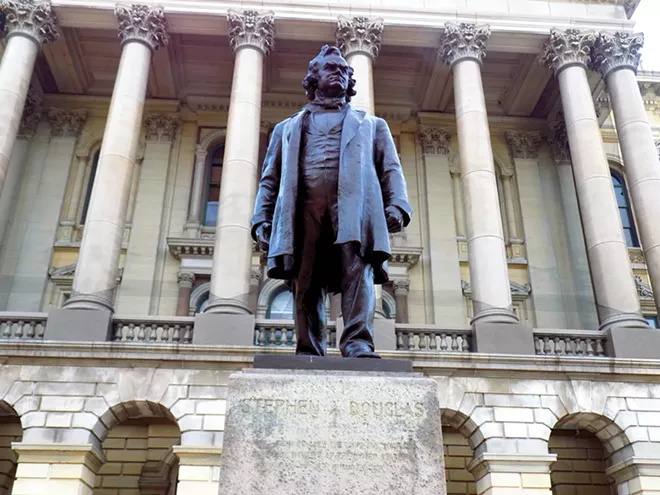 I'm numb as a statue
I may have to beg, borrow or steal
Some feelings from you
So I can have some feelings too
—Warren Zevon
Farewell, former Lt. Gov. Pierre Menard and Stephen Douglas.
After working in the same building since 1971, House Speaker Michael Madigan wants to get rid of the Menard statue outside the Capitol with its kneeling Native American and also says depictions of Douglas, who put slaves in his wife's name and is honored with two statues and a portrait, need to go. Since Senate President Don Harmon says it's a good idea, Douglas and Menard are good as gone.
The speaker also is calling for any other "inappropriate fixtures" to be removed after a review of all paintings, statues and symbols on the Capitol grounds by the Office of the Architect of the State Capitol.
These are good steps. Art anywhere should inspire, even at the Capitol, where the ambitious and arrived bustle, intent on gaining power or preserving it, with a few, maybe, looking to get rich. Lawmakers and their hangers-on deserve better inspiration than what they now see around them, and we should demand it.
It was interesting, I thought, that the governor's office didn't immediately endorse the speaker's move. After all, JB Pritzker marched with Black Lives Matter demonstrators and canceled Confederate Railroad's performance last year at the Du Quoin State Fair. To be fair, this is the General Assembly's call, since Madigan and Harmon control the Office of the Architect, where the governor has no seat on the board. But Pritzker may be smart to stay out of this, at least for now.
In Washington, D.C., a statue depicting a freed slave kneeling before Abraham Lincoln has been controversial since its 1875 unveiling. In the Illinois Capitol, we have a mural of Edward Coles, the state's second governor, freeing his slaves while en route from Virginia, with two of the unfortunates kneeling at his feet instead of asking, "What took you so long?" Also, there is a statue of Richard J. Daley, the Chicago mayor who presided while cops busted heads at the 1968 Democratic convention, just a few months after he ordered police to shoot looters during riots after the slaying of Martin Luther King Jr. Accusations of rigging the 1960 presidential election have not been proven.
Perceptions will vary. When I see the statue of Everett Dirksen, I don't think of a Republican known for compromise but the hawk who was LBJ's confidante, calmly saying "OK" and "Yeah" while the president told him awful things about a senseless war that killed tens of thousands of us and even more of them.
Our Capitol boasts two statues of Douglas, an equal number of Lincoln and one of Ulysses S. Grant, but there are no depictions of Ronald Reagan – not my favorite president, but still – who grew up here. Madigan, whom I'd love to watch dedicating a Gipper statue, has proposed putting a portrait of Barack Obama in the House chamber, but wouldn't the Senate, where he served, be more appropriate?
There is, in short, much to consider beyond simply removing art, and things could get sticky. The elephant in the Capitol, of course, is white and mostly male, which is to say, there are virtually no statues or paintings of women or African Americans or other minorities. You can't fix that simply by adding more statues, both for questions of space and artistic tastes that have swayed from lifelike bronze and marble toward more symbolic depictions of events and values. If we could start all over again, we would be wise to allow nothing but a Lincoln statue (the place does seem a bit cluttered), but it's too late for that — we have paintings of everyone from George Washington to Enrico Fermi, who won the Nobel Prize for physics and is buried in Chicago. Getting rid of Douglas has taken long enough.
The solution seems clear. Instead of adding a bust of Judy Baar Topinka here and a statue of Barack Obama over there, we should install a monument to those who aren't white males or privileged, an homage to everyone from Jane Addams to Laquan McDonald to those who live and struggle even today. Put it outside and make it at once somber and inviting, some sort of edifice or pool or structure or all three put together – I'm no artist – that invites both reflection and children in search of some place to play during bus trips to the Capitol.
Make it so irresistibly cool that it becomes a centerpiece and meeting place. Which is what the Capitol is supposed to be in the first place. For everyone.
Contact Bruce Rushton at