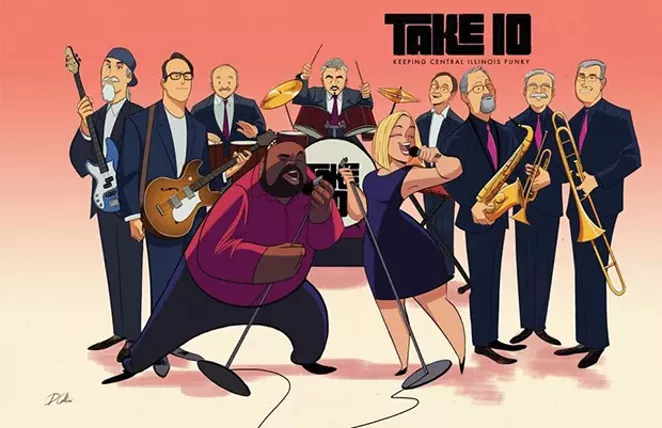 Believe it or not, here we are already at the Memorial Day weekend mark of 2018. Generally considered the "official" start of the summer season, the entertainment lineup is certainly geared for a fine kickoff of hot times in the city.
On Thursday night The Curve Inn hosts an event called "The Upside Down" as a benefit for Grant Middle School's music program. Inspired by Champaign-Urbana's "The Great Cover Up," the idea is to get bands to play songs by a group they don't normally cover. Here's a list of the local combos along with who they will do, and you'll get the idea of how this works: We have 90s Daughter going to Boston; Fun DMC morphing into Kid Rock; Tennessee Borderline transforming into a Motown revue; Smashtag becoming Garth Brooks; The Fireside Relics knocking off Guns N' Roses; and The Get Down covering the Red Hot Chili Peppers. We did one of these a few years ago at Donnie's Homespun, and it was a blast. Let's hope it becomes a regular event on the Springfield scene.
All weekend long (Friday through Saturday at 7:30 p.m. and Sunday at 2 p.m.) Dual Pianos, featuring Mark Gifford and Damien Kaplan (or is it Damien Kaplan and Mark Gifford?), duel it out over 176 keys (88 plus 88, kids) on Steinways at the Hoogland Center for the Arts' LRS Theatre. Any fans of these two happening ivory-ticklers will understand what is about to happen, which is to understand that no one knows what will happen until it does happen. Comedy combined with virtuosity is always a seriously-silly pairing not to be missed. Where's Victor Borge when you need him? Why, hanging out on YouTube, of course!
Then there's this band called The Beach Boys playing Friday night at Robin Roberts Stadium (near Lanphier High School). According to the Beach Boys Fan Club website, Mike Love (who licenses the band name) and Bruce Johnston will be the only real BB's there, but the band backing the official duo is well-stocked with excellent musicians. Love is well-known as a founding member of the band and cousin to the Wilson boys, but Johnston was a new name to me. On the scene since the early days of rock 'n' roll as a producer and artist, his big break came in 1965 when he replaced Glen Campbell, who was covering live performances for Brian Wilson after his decision to not tour anymore. In a side note, Bruce wrote the song "I write the songs" that was such a big hit for Barry Manilow. Who knew?
On Saturday Bar None gives us the gorgeous cacophony and shameless showmanship of the meanest, mightiest double bill in town: Los Injectors and Hillbilly Casino. Expect raucous rockin' done with complete abandon and ordinary craziness. Yeah, it'll be killer.
Sunday Funday delivers a diverse choice of entertainment excitement. How about those Take 10 folks giving us a full, 10-piece band complete with horns and lead singers? A little bird named Jeff Cunningham informed me of their secret weapon and 11th member, educator and bassist Gene "the Genius" Haas, who writes out horn-chart arrangements for the band. In the solo-acoustic department, singer-songwriter and hot-playing guitarist Kyle Nachtigal (formerly of Springfield, now based out of Nashville) does a soothing and soulful afternoon show at Danenberger Family Vineyards; Antone rambles down to Vixen Hill Winery in Palmyra; Dave Littrell sets up shop at 3Sixteen in Chatham; and Zack Fedor rolls into Hand of Fate Brewery in Petersburg. Don't forget that the Wolf Crick Boys do their last Sunday of the month gig this weekend at the glorious Buckhart Tavern.
As you respect and enjoy the holiday, check our calendar for more stuff to do.