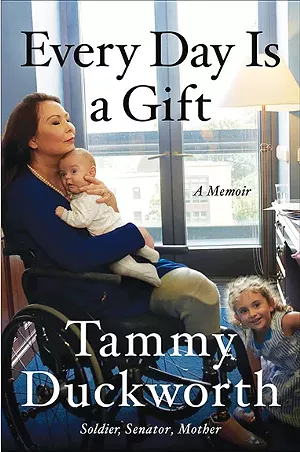 Tammy Duckworth, born to an American father and a Thai mother, lived in Bangkok, Phnom Penh, Singapore, Honolulu and Washington D.C., but when she drove through Illinois to study at Northern Illinois University, she said she felt she was "home." Today, Illinois is still home, and she serves as the state's U.S. senator, along with Dick Durbin.
Duckworth's memoir, Every Day is a Gift, is an honestly written, poignant account of the many trials Duckworth has faced in her life and the many experiences that have shaped her views.
Moving often due to her father's constant job changes left the family poor. Promising a better life, her father took her and her brother to Honolulu; her mother was forced to stay in Bangkok since she had no visa.
Life was not better; her father struggled to find work. With no money, scraping by on pennies, Tammy helped to get food on the table by selling roses at an intersection, passing out cruise flyers to tourists and waitressing.
It is obvious why Duckworth espouses certain views. She understands poverty as she lived in it. She knows the need for federal subsidies – it was due to free school lunches that she didn't have to drop out of school to go work. She appreciates teachers – her yearbook adviser, apologizing for making some students stay to fix his mistakes, gave them money for fast food on their way home. She now realizes he knew there would be no food at home.
Duckworth was tenacious, never gave up, worked harder and harder.
After college, then graduate school in D.C., and a summer before her, she enrolled in ROTC. That led to the Army. She eventually became a Black Hawk helicopter pilot. That journey took more hard work, pushing to be accepted into any combat position that was open to women, studying for tests so she could score the highest. A sergeant major told her only if she got 100 on a test and was number one in the class in instruments could she fly Black Hawks. She scored 98 and questioned his answers; he agreed she was correct. She had 100. Then, she accomplished his second demand.
Flying a Black Hawk was her love. Others may not welcome the "funky mix of hot metal, sweat and body armor," she writes, but she did. She calls the work "her identity." Duckworth has flown over the Pyramid of Giza in Egypt, the canopy of the Amazon rainforest and a glacier in Iceland. She has flown into Baghdad in 110-degree heat and in the dusty plains of the Middle East.
Then, on Nov. 12, 2004, her world "exploded," she writes. Shot down over Iraq on the last mission of the day, she was thought to be dead. Her right leg was blown off, the left "dangled by a thread of flesh." Her right arm was shattered, and her body was burned and full of shrapnel.
Duckworth praises the team with her that day for getting her mangled body into the recovery helicopter. "They are heroes who saved my life by their bravery."
Given drugs to wipe out the memory of the day, she interviewed her Army team and doctors to be able to write in her book about the day they were shot down.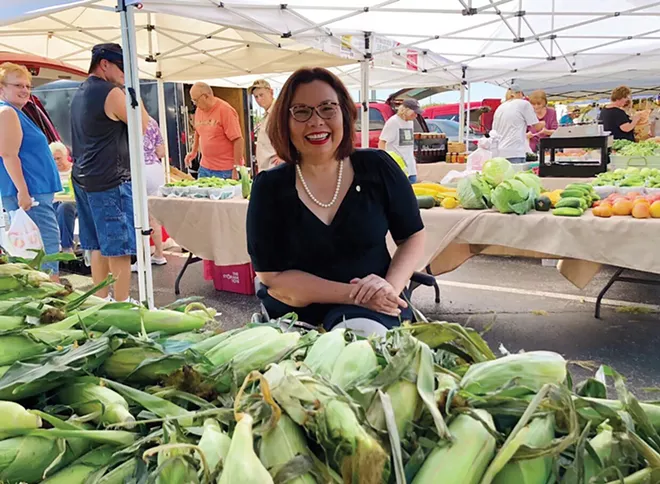 It is in the section about her recovery that the reader comes to see just how strong she is. Her husband and mother by her side, other amputees and other veterans giving support and advice, she encountered excruciating pain, many surgeries and a long rehabilitation.
It was while at Walter Reed hospital that she learned the needs of veterans. When Senator Dick Durbin visited her, she shared veteran issues; he encouraged her to tell him more. And she did, becoming an advocate for veterans.
It was because of Durbin that Duckworth entered politics, first running for Congress in 2006 and losing. But she was elected in 2012, reelected in 2014, and won the Senate seat in 2017.
In those roles also, Duckworth has shown courage, standing up for women and veterans, immigrants and teachers, education, federal assistance, fertility rights and even changing rules on the floor of the Senate.
That was because at the age of 46 and again at 50, Duckworth and her husband, through in vitro fertilization, welcomed two daughters into their lives. After the birth of her second child, Duckworth pushed for changes in Senate rules to allow children on the floor of the chamber so she could breastfeed.
Duckworth talks about the role of a mother – the constant push/pull of working and mothering, something many women face.
There are times Duckworth's memoir brings one to tears – at the overwhelming pain she endured, at the amazing positive outlook she maintains, at her courage, tenacity and determination through every event of her life. Every Day is a Gift is gift.
Why veterans need to apply for benefits
Advice from Sen. Tammy Duckworth
Tammy Duckworth always questioned why her father refused food stamps when the family was in need or had never applied for disability even though he had kidney issues due to radiation therapy while in the service. Not signing up left his widow with nothing when he died in 2005.
In 2009, Duckworth became the director of the Illinois Department of Veterans' Affairs (IDVA). She discovered how essential it is for veterans to enroll for veteran benefits that they are entitled to receive. When the federal VA reported that there were 800,000 veterans in Illinois, Duckworth knew this figure was wrong. According to the office of the Secretary of State, 1.2 million veterans had registered for special veteran license plates. That meant 400,000 veterans were unaccounted for on the list to receive benefits.
The number of veterans enrolled with the national Veteran Affairs (VA) office in a state determines how many hospitals are needed for veterans. Hearing the disparity in numbers between the VA and the Secretary of State, Duckworth knew that meant there weren't enough hospitals in the state for veterans.
Duckworth writes, "A lot of veterans share a feeling that if they accept aid for themselves, they're somehow taking it away from someone else. They see it like a chow line in a mess hall, where if they take too much food, there won't be anything left for the other guys to eat. But veterans' benefits don't work like that; there's not a single pie that disappears if too many people take a piece. Unfortunately, too many veterans don't understand this." –Cinda Klickna
Cinda Ackerman Klickna of Rochester has always respected the work of Senator Duckworth. Reading the senator's story increased that respect.