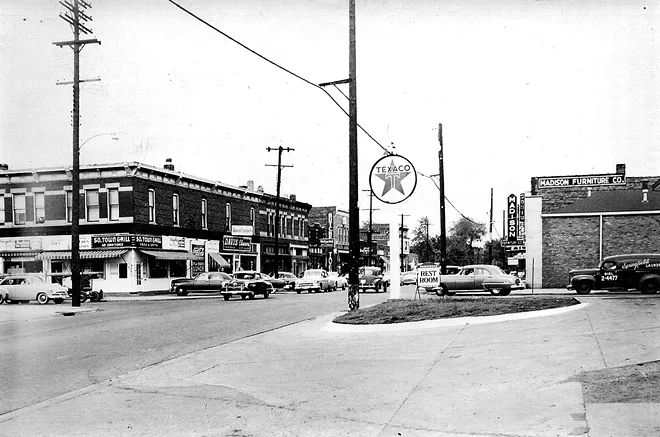 The block between 11th and 12th streets along South Grand Avenue, known as Southtown (often spelled as two words), appears run-down, with empty buildings and lack of upkeep. There are a few businesses still going strong. According to John Stremsterfer of the Community Foundation for the Land of Lincoln and Dominic Watson of the Springfield Black Chamber of Commerce, plans are underway through The Next Ten Initiative to revitalize this area that once was a bustling part of town and catered to almost anything one might have wanted.
As early as 1896 there was commerce and activity on all four corners of 11th and South Grand. St. Luke's Episcopal Chapel stood on the northwest corner and there were grocery stores on the other three corners: Seifert's on the southwest, Scanlan's on the southeast, and Marshall's on the northeast. Marshall's had its own sausage factory in the back. Later, the northeast corner was occupied by other grocery stores, such as Boehner Meats (about 1920) and Fassero Brothers (1930s). Down the block east on South Grand, Kroger opened around 1935.
On Sept. 3, 1924, people witnessed a robbery in the Jefferson Bank, located at 1117 East South Grand (the building currently next to Clay's Barbeque). At 1:10 p.m. four members of a gang, the leader later identified as Fred Cullen, entered the bank, hit vice president Warren Lewis over the head, locked employees in the vault, and took off with $25,000. Two gang members were waiting in a Hudson car. The gang sped off, making their way out of town on south Sixth Street. By 2:15 p.m. the bank was open once again. Cullen, a painter turned gambler from Granite City, was later arrested, and turned state's evidence against three of his cohorts. He was eventually released; three others were given jail time, believed to have been life sentences.
Some businesses still exist: Madison Furniture, at its original location of 1104 South Grand, has been in operation for 90 years. Since 1988, George Sinclair has operated Skank Skates, which is located on the northeast corner and is the oldest skate park in the world. It caters to young skateboarders. Clay's Popeye's Barbeque, which operated for 30 years on Martin Luther King Drive, moved to 1121 South Grand in 2000. It serves up barbeque in the building that was once the Den Chili Parlor (1945-1998) where patrons from far away came for the "firebrand" chili. The old Southtown Theater marquee, restored in 2007 and designated as a historical landmark in 2008, is still hanging in its original location, but the theater building has operated as the Walch Studio of Stained Glass since 1982. On the northwest corner of 11th and South Grand is Bourbon Street Rhythm and Blues, once the popular Booker's Tavern (1941-1976). This site once had a church, then Castor's Hall/Saloon in the early 1900s. An ad in the Illinois State Register from 1909 announced a dancing school by Hanson and Sons which operated inside the hall.
The viaduct to accommodate trains and open up the area for easier traffic flow was added in 1931 with hundreds of men using shovels to dig out the street. Today, one can see a crane and piles of debris as work is underway to fix the viaduct walls.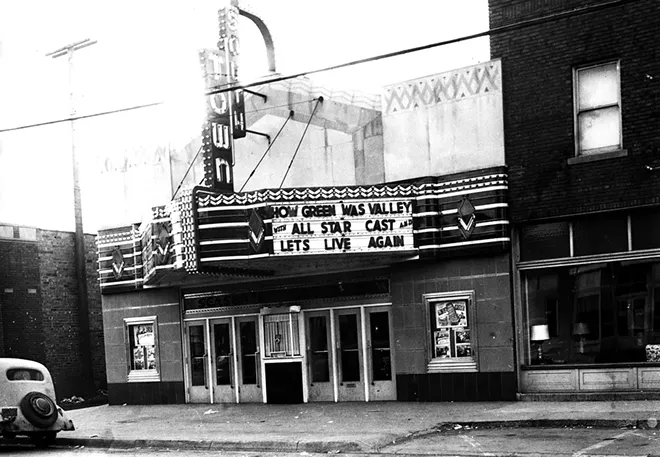 In the 1940s and 1950s, you could spend all day and evening in the area along 11th and South Grand. Stopping to get a pastry by Andy Kraus, who had been baking goodies since 1929 in various locations in the 1100 block of South Grand, could have started off the day, followed by shopping for furniture at Madison's, paint at Miller's (later the well-known Friedmans moved into the block), jewelry at Shaunessey's (1948-1989), or odds and ends at Blalock's Five and Dime (1943-1975). No need to go home, as lunch could be found at either the Den, Southtown Grill, or Southtown Food Market, and in the afternoon you could take in a matinee at Southtown Theater. A great snack at the end of the day would be an ice cream cone at Wonder Freeze Ice Cream (later Velvet Freeze). Maybe you needed to take clothes to Davis Cleaners or Liberty Cleaners, get a radio at Southtown Radio, get a haircut at Southtown Beauty Shop, fill your car with gas at Scherf's Texaco, or check out a book at the branch of Lincoln Library. All were available.
The original movie theater was The Empress, which opened in 1915 and showed motion pictures until 1937. It was then acquired by Frisina Amusement Company out of Taylorville operated by Dominic, Marie and James Frisina, who ran the Orpheum Theater and chains throughout the area. They renamed the Empress the Southtown Theater, which operated until 1959.
Tom Fitch grew up near 12th Street and remembers many of the businesses from the 1950s and 1960s. "When I was a senior at Feitshans in 1959, some of us went to a radio/TV shop on 11th just off the corner of South Grand. The owner showed us a stereo speaker and played music. We'd never heard anything like that before." A popular hangout was Southtown Grill, which later became Skank Skates on the northeast corner of South Grand. "We would also go to get chili either at the Den on South Grand or around the corner on 11th at Hillmer's," he recalls.
George Sinclair has owned properties that he has rented over the years to several record stores, including Dumb Records (2014-2019) before they moved downtown to Monroe Street, where it is still in business. He also rented property to Black Sheep Café. The café and Dumb Records hosted an annual Dumbfest, a three-day summer music festival that brought in as many as 50 bands.
With a rich history, the area is in need of revitalization. Dominic Watson, president and CEO of the Springfield Black Chamber of Commerce, submitted the idea for an east-side reinvestment through the Community Foundation's initiative that gathered ideas from local citizens about needs in Springfield. "We want to reinvest in the east side of Springfield, grow entrepreneurs, create social programs, and help minority-owned businesses grow and be successful," Watson says.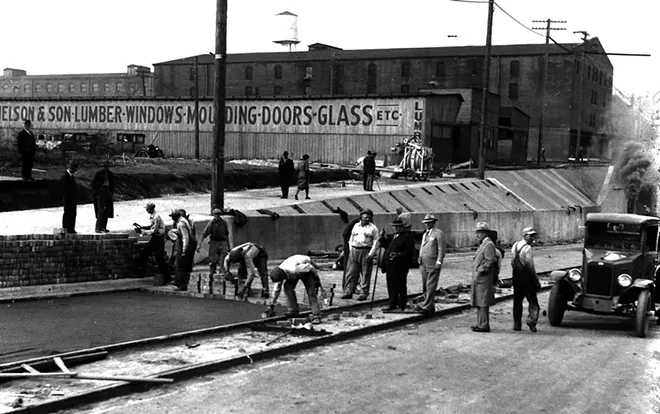 "Creating the vision and scope of the project is the first step," Stremsterfer says. "The Community Foundation is very interested in this project. The Springfield Project seems committed to creating an intentional plan, working with community partners, and building grassroots interest to bring their vision to fruition."
The first phase has been to acquire the empty building on the southeast corner of 11th and South Grand that housed Red Hair Beauty Supply. The building will be redesigned for offices of the Black Chamber of Commerce as well as areas for programs and meetings.
The second phase will be to acquire and redevelop the Madison Furniture building. There is talk of adding a rooftop bar/restaurant. This might occur by 2023. Then, in 2024 the hope is to expand into the old Southtown Theater and develop a performing arts center.
All of this takes money. Seeking major grants and developing partners for funding are underway.
What do current business owners think of the plan? Court Dickason, who owns Madison Furniture, likes it. "This is a great plan and will be phenomenal for the east side." After running Madison's for 60 years, Dickason says, "I am ready to retire."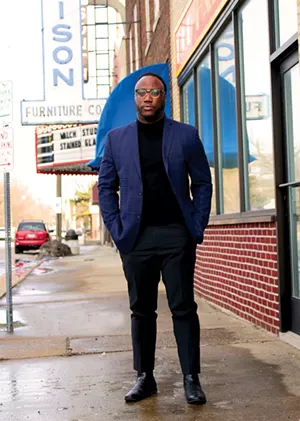 Mary Clay, who operates Clay's Popeye's Barbeque, says, "I would love to see this area revitalized. The shooting recently at Red Beauty has put a bad name on our area, but for 24 years I have been running the restaurant, and we have never had problems. If we had, I wouldn't have stayed." Clay remembers the plan being developed under the late Mayor Tim Davlin called the Old South Towne Redevelopment Project. She displayed a big sign in her restaurant window about the plans. When Davlin died in 2010, so did the project.
Sinclair, who lives above his business, says, "I wound up in this area and fell in love with it. I welcome the project and want to be a part of the conversation. There is so much history here."
With support from businesses, the community, and local area residents, a once-popular and active area of Springfield can once again become the area to visit. In the meantime, Clay's is still serving up great barbeque and Madison's has deals on furniture.
Cinda Ackerman Klickna remembers going with her in-laws to Lu's Home Tavern on 11th Street in the 1970s for catfish on Friday nights.