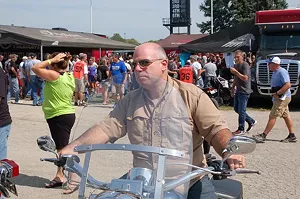 Sen. Sam McCann, R-Plainview, has used campaign funds to purchase a sport utility vehicle.

The senator hasn't stopped at an SUV. He also acknowledges using campaign funds to install a new engine in a personally owned Jeep. And he says that he's spent more than $19,000 on a trailer and truck to use in parades.
Legislators, who are barred from spending campaign funds for personal use, typically lease rather than purchase vehicles. One expert on campaign finance says that the senator's purchase of a 2017 Ford Expedition XLT for $61,146 last April raises both ethical and political questions.
"Potentially, you've got a violation," said Kent Redfield, a retired University of Illinois Springfield political science professor. "You certainly have the possibility of violations. It's just sitting there as a temptation to use. It's probably not great politics. I would assume a competent opponent would read through your campaign reports and make an issue out of it. It certainly seems to be asking for political trouble."
McCann, who has pondered a run for governor, responded to an interview request via email, saying that he drives so many miles that a leased vehicle, as opposed to one purchased outright, would be cost prohibitive. He said that he has driven more than 500,000 miles since his first campaign in 2009.
"We needed a vehicle that was dependable and was large enough to deliver the people and supplies required for the task at hand," McCann wrote. "Some legislators probably don't travel as much as I do, but I take a very proactive approach and log 65,000 to 90,000 miles a year between governmental and campaign usage."
The senator, who has clashed politically with Gov. Bruce Rauner, is up for reelection next year. Steve McClure, an assistant Sangamon County state's attorney, has announced that he'll run against McCann in the spring primary. McClure recently won the backing of the county Republican Party in the spring primary election.

Redfield said that purchasing a vehicle with campaign funds can be problematic. If a legislator leaves public office, either through resignation or by losing at the polls, a vehicle lease can be terminated, but a purchased vehicle must be disposed of without any benefit to the legislator. And legislators must also show good reason for buying vehicles, he said.

"Normally, you don't buy vehicles, you lease them," Redfield said. "The law on what you can spend campaign money on says you can't buy a motor vehicle unless the political committee can demonstrate that it's more cost efficient than leasing a motor vehicle. … That's a pretty good-sized vehicle. It's hard to imagine that it's getting enough use to justify it. If you're just doing campaign stuff, it ought to be sitting an awful lot of the time."
McCann said that he will follow all rules and that vehicles and equipment "will be properly disposed of" when he is no longer seeking or serving in public office.
The McCann campaign bought the SUV in April, according to disclosure reports. In July, Westown Ford in Jacksonville, which sold the SUV to the senator's campaign, donated $1,000 to McCann's campaign. The dealership, which has donated more than $12,000 to candidates since 2006, had previously donated to McCann, giving him $530 in 2012 and $500 in 2015. A sales manager at the dealership said that no one was available to discuss the contributions.
Ten days after purchasing the SUV, McCann spent $6,475 at Kruse Enterprises in Girard, which sells used vehicles, according to the company's website. McCann reported the purpose/beneficiary as "vehicle expense committee." Last October, McCann paid $19,426 to Carlinville National Bank for "parade unit and mobile d.o. committee."
"I don't know what a parade unit d.o. is, either," said Tom Newman, director of campaign disclosure at the Illinois State Board of Elections when asked about the expenditure. "There's really nothing in the law that says just how specific you have to be on this. The standard should be, anyone should be able to look at a report and say exactly what's being described. Both the one to Kruse Enterprises and the one to the bank, I would think both of those are things where we could ask for more clarification."
And that might well happen.
"Most likely, I'll pass this along to the specialist who reviewed the report and let them know we'll probably contact the committee to ask for clarification," Newman said.
McCann said that Kruse Enterprises is replacing the engine in a Jeep that he purchased new in 2011. He said that he'll use the Jeep as a second vehicle for parades and other events. "It has been used almost solely for government or campaign work," the senator wrote in his email. "At approximately 220,000 miles, it needed a new engine. It's still in usage, not only as a backup vehicle, but also because we need to transport people and supplies for parades. It's not uncommon to use two vehicles to accomplish this."
The "parade unit," McCann wrote, is a truck and a trailer. ""The parade unit is exactly that, a used truck and used trailer to use as a parade float and for use at our family fun day that we typically have in the fall," he said.
McCann, who collected more than $19,600 from the state for mileage reimbursements during his first five years in the senate, also received $38,000 for mileage reimbursements from his campaign account during a nine-month period in 2015. In the midst of the 2016 primary campaign, the senator clarified campaign reports after the election board received a complaint about reports showing that McCann had paid $46,000 for "grouped expenditures" in 2014 and 2015. A board hearing officer reported that the problem appeared to be sloppy bookkeeping and recommended that McCann be ordered to amend reports to clarify expenses, writing that the board's staff "on multiple occasions inquired as to the nature of the expenditures in question."
McCann subsequently amended reports, telling the board that money for "grouped expenditures" had been spent on such things as gasoline, meals, charitable donations, lodging and mileage payments to himself. He also said that he drove tens of thousands of miles each year on official business that justified mileage reimbursements. "I admit bookkeeping is not one of my strengths, but I'm getting better," McCann told the
State Journal-Register
after a hearing officer opined that he should be given the benefit of the doubt and recommended that he file amended reports.
McCann has complained that the 2016 accusations against him were politically motivated smears. He won the primary election, and the board complaint against him was dropped before the general election in which Democrats did not field a candidate. The senator says he has no intention of cutting back on travel.
"I can't stress enough that I am on the road almost every day," McCann wrote in his email. "That is how I have been able to withstand three contested races in a six-year span and survive being outspent by a collective 3-1 margin. It's because the people know me and they know me because I show up. And I will continue to show up."
Contact Bruce Rushton at brushton@illinoistimes.com.