Frank Edwards acknowledges many things.

He isn't polished. He isn't warm and fuzzy. He's an underdog. And the man who would be Springfield mayor also is prone to thinking out loud, saying things that he hasn't thought through or researched. What he said recently about red-light cameras is one example.
During a March 12 press conference called to unveil his plan for battling crime, Edwards endorsed red-light cameras, a red-flag issue in other cities where motorists complain that cameras are more about enhancing revenue than improving safety. Four days later, in an interview with Illinois Times, Edwards said that he'd changed his mind: Red-light cameras wouldn't be a good idea. He said he'd discovered that red-light cameras have prompted litigation.
"After I said that, I went and researched it," Edwards said. "You'd love to be able to do something and then you read about it being tossed out in court. The last thing I want to do is put us into a position where we're in a court battle. … I think I'd like to do it, but I don't see how you do it without being challenged by the law."
It's classic Edwards, a man who's spent a lifetime in the public sector, first as a Springfield firefighter who rose to fire chief, then as a city alderman, then mayor for less than five months following the 2010 death of former Mayor Tim Davlin. Once prone to wearing sweatshirts at city council meetings, Edwards the mayoral candidate now sports suits, but some things never change. He acknowledges floating ideas without doing his homework.
"I don't know – it's just me," he says. "I think you should be open to other people's thoughts and be willing to say, 'Maybe that's good,' and then go look at it. … I am what I am. People have said my press conferences aren't very polished or slick."
Incumbent Mayor Jim Langfelder has done the same sort of public pondering with calls to put trolleys on the Third Street rail corridor that would run between North Grand Avenue and South Grand Avenue when and if Amtrak and Union Pacific trains are relocated. Trolleys? The idea, pitched during ward meetings a year or more ago, seemed out of the blue. It hasn't gained traction and seemed more a "gee, this would be neat-o" idea than anything imminent.
Edwards' political career seemed over four years ago, when, barred by term limits from seeking another term as alderman, he got clobbered by Misty Buscher, a relative unknown, in a race for city treasurer. Buscher now is regarded as a potential mayoral candidate in 2023, when the time might be more ripe for a relative newcomer to take on Langfelder, who's now seeking a second term. Other would-be candidates who bowed out before getting in include Sangamon County board member Tony DelGiorno, who decided not to run after conducting a poll last fall, and state Rep. Tim Butler, a Republican who wouldn't have had to surrender his seat in the General Assembly to take a shot.
Edwards announced that he wouldn't run in a September Facebook post: "(A)fter careful deliberation and consultation I feel I can better serve the community working to lower property taxes as a private citizen and not as an elected official." One month later, Edwards appeared at a meeting organized by Laborers Local 477, which billed the gathering as an effort to find someone to run against Langfelder. He's been running ever since.
Endorsements, money
Prevailing political wisdom holds that Langfelder is a prohibitive favorite – first a Sangamon County board member, then city treasurer, he's never come close to losing an election. Asked if he's seen any polls, the mayor says he's heard some numbers that put him comfortably ahead. "People have told me it's double digits, 15 to 20 percent," Langfelder says.
Moneywise, the race has been somewhat a snoozer compared to past mayoral campaigns. Between the primary and general election in 2015, Langfelder raised more than $160,000 – including the primary election that year, the campaign raised more than $250,000. Through Monday, Langfelder's total stood at slightly more than $90,000, although he said he has two more fundraisers planned before the election. Edwards pushed past the six-figure mark this week, thanks to more than $30,000 received from two county Republican groups, which donated more than $26,000, and the South Central Illinois Laborers Political League, which gave $5,000. The totals don't include contributions smaller than $1,000 received since Jan. 1.
Edwards predicts he'll bring in $175,000 before it's over, meaning he's either gotten a lot of contributions of less than $1,000, the threshold that triggers reporting before quarterly disclosure forms must be filed after Election Day, or he's expecting a big money dump or there will be some combination of the two. Langfelder figures he'll receive $120,000 or so.
When it comes to endorsements, Edwards leads by a wide margin, having won support from the Republican Party, labor groups and prominent former officeholders, including former Sangamon County Sheriff Neil Williamson and former Mayor Karen Hasara, both Republicans. The city police union, for the first time in memory, has issued an endorsement in a municipal race, picking Edwards. During the March 12 press conference, retired cops said morale is low and the department hasn't done a good job of fighting crime. Then again, Langfelder has angered police by pushing for a residency requirement, with police the city's only bargaining unit that hasn't agreed to some form of residency since the mayor took office four years ago.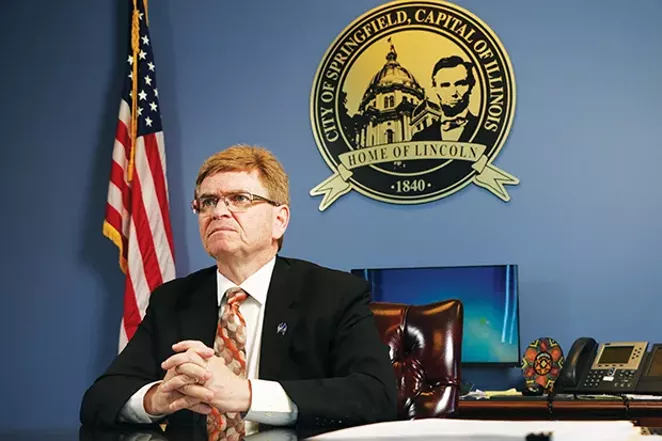 Meanwhile, county Democrats declined to endorse anyone, an in-your-face snub of a Democratic mayor in the officially nonpartisan race. It's not the first time a Langfelder has been rejected by Democrats. In the mid-1990s, when Ossie Langfelder, the current mayor's father, sought re-election to a third term, the party supported Mike Curran, a Democrat, instead of the incumbent. Ossie Langfelder didn't survive the primary, and his son, then a committeeman, blamed fellow Democrats for his father's defeat and accused them of "stabbing him in the back," according to a 1995 report in the State Journal-Register.
Today, Langfelder blames party leaders for the failure of Democrats to endorse anyone – if it were up to rank-and-file Democrats, he says, he would have gotten the nod. Langfelder says he wasn't at the endorsement meeting but says he's heard there was no discussion of the mayor's race before leaders adjourned the meeting after endorsements for lesser offices were made. "Numerous precinct committeeman expressed frustration," Langfelder says. "One important lesson our father taught us: Run for office knowing you can do the work yourself. You don't want to be left twisting in the wind."
Langfelder sees parallels with 1979, when he says his father ran for streets commissioner and won, even though both parties supported someone else. Springfield, he says, has a history of Democrats and Republicans getting behind the same candidate, often without success, and savvy voters know it.
Why didn't Democrats back him? Langfelder says he's heard complaints that he hasn't endorsed other Democratic politicians. He also acknowledges friction with unions. One of his top lieutenants, corporation counsel Jim Zerkle, is a Republican. "Some people are frustrated," he says. "They don't feel I'm Democratic enough."
Langfelder has landed just two significant endorsements, one from former Mayor Mike Houston, who lost a re-election bid four years ago when he didn't make it past the primary, and another from Inner City Older Neighborhoods, a coalition of neighborhood groups from the city's geographic core.
It was a rare endorsement for Houston, who isn't known for throwing support to any politician. The former mayor says Langfelder, a rival four years ago, has become a better mayor as his term progressed. He praises the mayor's handling of City Water, Light and Power and Langfelder's support for Hunter Lake.
"I think Jim has stood up as mayor for the city and dealing with the unions and approaching economic development and trying to lay out and determine a plan for CWLP for the future," Houston says. "This is, really, not a race – in my opinion – that you need to focus on what's happened in the past. The real question is, how are we going to deal with the future? And I think what he's attempted to do is do that. I have really seen him grow in the position."
Edwards says that he opposes residency. Houston didn't pursue the issue while he was mayor. He says he favored requiring city employees to live in Springfield, but didn't think it was possible to negotiate collective bargaining agreements requiring residency, which Langfelder has done. "He proved me wrong," Houston says.
Houston is sharp in his criticism of Edwards.
"The reality is, I have to compare him (Langfelder) with his opponent," Houston says. "I disagree with almost everything Frank is saying."
Edwards has taken credit for putting the city on a sound financial course after he became mayor for less than five months following Davlin's unexpected death. Houston says Edwards claims too much. While Edwards says that he pushed a balanced budget through the city council, Houston says that severe financial issues faced the city when he took office. "I had no idea when I walked in there that the average daily balance in the corporate fund was negative $3.5 million per day," Houston says. "From a banker's perspective, not from a legal perspective, I considered the city to be bankrupt."
Houston also questions Edwards' assertion that Springfield is in the midst of a crime crisis. To bolster his contention that crime has skyrocketed in Springfield, Edwards has cited ratings by websites such as alarms.org that say the capital city is one of the least-safe cities in Illinois and has one of the state's highest violent crime rates.
However, websites cited by Edwards are suspect, as the State Journal-Register has pointed out. For example, alarms.org, which maintains a website promoting home and business security systems, says that its conclusion that Springfield has a high rate of violent crime was based on information from at least 7,639 cities, according to a February report from the SJ-R, which pointed out that Illinois has fewer than 7,000 units of government, including thousands of sewer districts, townships and other entities with no police departments. According to alarms.com, the most dangerous city in America is Springfield – the one in Missouri. Included in the top 10 most dangerous cities, according to alarms.org, is Spokane, Washington, Billings, Montana, Davenport, Iowa, and Portland, Oregon. According to the website, we're number 27 when it comes to danger, below such cesspools as Berkeley, California, and Anchorage, Alaska.
Langfelder prefers statistics published by the FBI, which show that crime has dropped over time in Springfield. The FBI stats are based on numbers provided by police departments across the nation. Langfelder says that city police have been consistent in how numbers are reported, and so the FBI reports are a more reliable indicator of crime trends.
CWLP, economic development
Houston isn't the only one to break habits this political season.
Sangamon County board chairman Andy Van Meter, according to Illinois State Board of Elections records, has contributed $2,000 to Edwards, which marks the first time the chairman has contributed to a municipal candidate since he gave $250 to Ward 4 Ald. John Fulgenzi in 2014. Before that, Van Meter, according to state records, hadn't given money to a municipal candidate since 2007, when he gave money to Tim Griffin, city council coordinator, who was then running for alderman in Ward 10.
Van Meter is a player moneywise – state records show he's contributed more than $100,000 to candidates and political committees since 1999, and he's been broad in his generosity. For example, Van Meter, a Republican, during the past two decades has contributed $8,750 to House Speaker Michael Madigan, D-Chicago, and $2,700 to Democratic Majority, a political committee aimed at electing Democrats to the state House of Representatives.
Van Meter says it doesn't sound right that his donations to Edwards stand apart from previous giving habits – he says he's certain he gave money four years ago to Paul Palazzolo, the Sangamon County circuit clerk who lost the 2015 mayoral race to Langfelder, as well as various aldermanic candidates. "The data's wrong," Van Meter says.
Nonetheless, Van Meter says he's for Edwards. He's on board with Edwards' assertions about crime. "I think crime is a problem," Van Meter says. "It shows up as a problem on those statistical analyses that businesses looking to come in here are going to look at."
Van Meter says he's not in lockstep with the challenger. Take Capital Township, for example, which Van Meter says should be absorbed by county government. "Frank said he's for keeping Capital Township as it is," Van Meter says. "I don't agree with that. I'm for consolidating and reducing the cost of government."
But Edwards says he's in favor of following the wishes of voters, who in an advisory vote last year recommended putting the county in charge of township duties. "My position is this: The voters voted, let's quit arguing over it," Edwards says. "Let's do it."
No matter where Edwards might stand on Capital Township, Van Meter says Springfield is adrift under Langfelder, particularly when it comes to economic development.
Langfelder initially opposed efforts to create the Land of Lincoln Economic Development Corporation, which the county pushed hard after commissioning a 2017 study that asserted economic development efforts have been haphazard and ineffective. The city ultimately contributed money for the corporation, which also is funded by the county and the private sector, but not as much as the county wanted. Even as the city in 2018 gave the corporation $250,000, it kept, at Langfelder's insistence, its own economic development department.
"Why can't we get focused, together, on one effort?" Van Meter asks. "Why are we duplicating? I don't understand."
The county board chairman also points out that CWLP is charging more for power than Ameren, and that, he says, isn't good for business. CWLP, he says, should be a major component in drawing businesses to Springfield.
"Something's seriously wrong," Van Meter says. "I like Jim Langfelder. He's a nice guy. But Jim's been there for four years. We're not confronting these problems."
Langfelder counters criticism of economic development efforts by pointing out that the state, at the city's behest, extended the life of the downtown tax increment financing district during his first term. He also points out that the state went two years without a budget and says the city weathered that storm well.
Edwards has attacked Langfelder for his handling of CWLP, but he didn't seem in command of his facts during a March 5 press conference in which he called on the mayor to release a study on the utility's future and what steps should be taken to ensure its health and viability. While calling on the mayor to release the report, Edwards acknowledged that he wasn't sure if the study was complete. Langfelder says there's a draft that he hasn't read, and he said objections by an alderman last year, before the study began, resulted in a delay in getting the report done. Langfelder didn't name the alderman, but Ward 10 Ald. Ralph Hanauer opposed awarding the contract to The Energy Authority, which ultimately was awarded the job.
CWLP borrowed $500 million to build a power plant that fired up in 2009 and was facing bond default, Langfelder says, when he took office. "One more misstep and the utility would have gone by the wayside," the mayor says.
Edwards opposes Hunter Lake; Langfelder is pushing it. At the March 5 press conference, Edwards held up a sheaf of paper, saying it was a report showing that the city's supplemental water needs are eight million gallons per day, not 12 million gallons as the city had stated in the federal permit application to build the lake. He said he didn't know who wrote the report, and he refused to say who gave it to him.
Union woes
Not every organized labor group opposes Langfelder. It just seems like it.
The mayor this month received $2,500 from a political committee of the International Brotherhood of Electrical Workers, which represents CWLP employees. It was a rare show of support for the mayor from organized labor.
Unions once were generous with Langfelder – two years ago, on St. Patrick's Day, he got a $2,500 contribution from Laborers Local 477. But unions largely have stopped giving money.
Brad Schaive, business manager for Laborers Local 477, attacks the mayor for not ensuring that workers were paid prevailing wages on a failed effort to develop downtown apartments that was funded by tax increment financing money. He also blames Langfelder for not making sure workers were paid prevailing wages by a contractor who was retained by the city to demolish the vacant Day's Inn on Stevenson Drive in 2017. The Day's Inn matter is the subject of pending litigation, with the city denying any wrongdoing.
"I think that Frank Edwards has shown, when he was an alderman, that he respected working men and women of this community," Schaive said. "I think that Jimmy has shown very, very clearly that he doesn't. He was never asked by me or my organization to do anything but enforce the law."
Schaive also criticizes hiring, pointing out that four of the mayor's relatives have been hired by the city since Langfelder took office. Langfelder says there's been no favoritism based on family, and the city's inspector general, after receiving a complaint, has found no wrongdoing.
Schaive says he thinks the race is tighter than folks might think, within four points. "I think it's extremely close," he says.
The mayor, however, says otherwise. And the more folks who vote, he says, the better he'll do.
"The more people vote, I think the wider the margin is," he says.
Contact Bruce Rushton at brushton@illinoistimes.com.