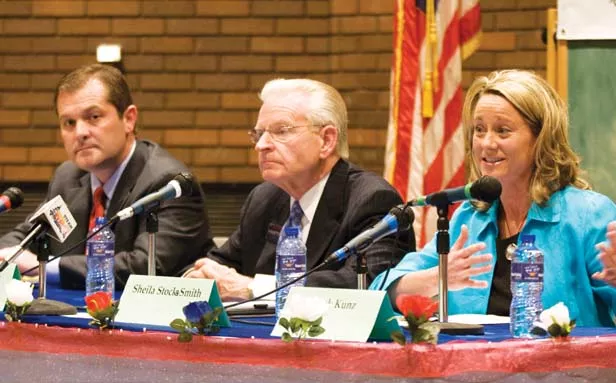 Reform is the theme in the race for mayor, as the candidates begin outlining their plans to change how the city operates.

At a public forum on March 3, three of the four candidates for Springfield mayor addressed issues of transparency, political patronage, minority representation and more, each saying their administration would represent a break from the past. Hosted by the Springfield-based Faith Coalition for the Common Good, the forum brought an estimated 200 people to the city's Lincoln Library, 326 S. Seventh St., to hear the candidates answer questions concerning city operations, redevelopment and community issues. Candidates Mike Coffey, Mike Houston and Sheila Stocks-Smith spoke at the forum, while Frank Kunz, the fourth place finisher in the Feb. 22 primary, did not attend.

Questioned whether they would seek new revenue for the city or cut the budget to handle the expected $4 million deficit for the next fiscal year, the candidates said they would first look for ways to streamline city operations and eliminate redundant or unnecessary staff, especially those hired as political favors.

"I think it is important that we take a comprehensive look at the budget," Sheila Stocks-Smith said. "I do think we're going to have to have cuts, and I will focus those cuts at the management and supervisory levels."

The candidates touted their commitment to fostering a better relationship between police and minority citizens while increasing minority representation in city government.

"We have to have a competent effort to recruit minorities to the police and fire departments, as well as all of city hall," said Mike Coffey. "We've got to create some programs so that we get the young people used to the police force, get them integrated to doing things with the police and fire [departments], let them know that they are honorable trades that they should be participating in, and try to get them active in the community to help police their neighborhoods."

Mike Houston says the city's workforce should reflect the makeup of the community, adding that the city's current way of hiring doesn't adequately represent minorities.

"You can't just keep doing the same thing that you've been doing for the last 50 years and expect that you're going to get a different result," Houston said, eliciting applause from the crowd. He said his administration would hire 25 percent minorities over a two-year period to bring the police and fire departments to 15 percent minority representation each.

"If, at the end of the two-year period, we look at it and we say, 'Well, this isn't working,' then we can try something else," Houston said. "But to simply sit here and say, 'I'm going to aggressively go out and recruit [minority hires]' – I'm going to tell you, this city has aggressively gone out and recruited for the last 25 to 30 years. It was working much better back then, but look at the results you've got today. They're abysmal."

Attracting economic development to the city's east side and downtown will require a new focus on infrastructure, beautification and business, the candidates said

"What I would like to see is to take South Grand [Avenue] going out and starting on the far east side and moving down toward 11th Street, and start working on a square-block by square-block basis," Houston said. "In order to really attract investment into east Springfield, one of the things we're going to have to do is to seek federal funds to redo the infrastructure. Before anyone makes an investment in any area of Springfield, not just the east Springfield area, what they want to know is that the infrastructure is in place that their investment is going to be protected."

Though the city is not directly involved in education, the candidates said they would create an environment in which education can thrive. Houston called for increasing police presence in Springfield schools to ensure the schools are safe, while Stocks-Smith and Coffey said they would push for more economic development within the school district to bolster education through property taxes.

"We will not have businesses coming to Springfield; we will not have families coming to Springfield and staying if we don't have good schools," Stocks-Smith said. "We have to have partnerships between the city and the education systems. … Increasing parental involvement in decision making in schools, reducing dropout rates, reducing truancy – all those are areas in which the city and the schools can partner together."

Stocks-Smith and Houston spoke in favor of requiring city workers to live within the city, an idea that drew applause from the crowd. Coffey told reporters after the forum that he did not favor such a requirement because it is divisive, adding that he doesn't want to start off a term as mayor with a divisive issue.

The candidates also spoke in favor of preserving or even increasing funding for the police and fire departments, as well as getting tough on owners of abandoned houses.

Click to hear the full mayor forum, courtesy of WUIS.