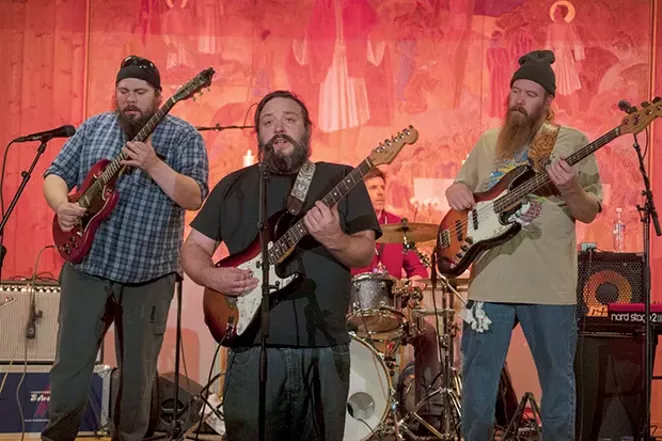 With the Memorial Day holiday behind us, this weekend of "May into June" shows the full colors of a full slate of fun-filled things a-happening, exclaiming the summer season is fully here.

Sadly, we start this week off with a death in our musical family, as Dave Wright, a lifelong supporter of roots music - and blues in particular - passed away on Sunday, May 26, after a battle with cancer. Originally from the Peoria area, Dave hosted a blues show on WEFT community radio in Champaign-Urbana for decades and basically was here, there and everywhere supporting blues artists, doing interviews, attending shows, exposing music on the radio and most importantly, being a good friend when you needed him the most. There will forever be a big hole in the hearts of those who knew him on whatever level. Rest in peace, Dave, and thanks for all you did to make this earth a better place while you were here. Now we're off to experience what you loved and supported most, live music done well with heart.
On Thursday, May 30, (tonight, for you quicker picker uppers of Illinois Times) the long-awaited, much desired and successfully acquired, Levitt AMP concerts begin, starting a summer long, Thursday night, live music run by national touring acts, downtown just north of the Governor's Mansion on the area popularly known as the Y block. Local acts are scheduled to open the shows and it's all there for the taking, so let's get to it, shall we.
In neighborly city excitement, Decatur flexes some entertainment muscle with an incredible, summer long lineup at their new Devon G. Buffett Lakeshore Amphitheater. On Friday, a CSNY tribute band called 4+20 (featuring our pals and regular Springfield performers Rogers & Nienhaus) takes the stage and Saturday, Kevin Chalfant's Journey Experience is on the bill. You should check out the lineup and make a trip to this lovely venue on the shores of Lake Decatur. This is a sure example of a community coming together to make a cool thing happen for the good of all.
Nothing says summer in Springfield like "ringing them bells" at the Rees Carillon in Washington Park, as this weekend kicks off the 58th annual International Carillon Festival. Every night next week from Sunday to Friday (except Wednesday) the finest carillonists and/or carillonneurs from around the world perform at what is known as one of the world's most important and prestigious carillon events, right here in the capital city. Our very own carillonneur Carlo Van Ulft starts and finishes the event that also includes local entertainment and a fireworks finale on Friday. Look 'em up online for more info at http://carillon-rees.org.
Another sure harbinger of the summer season, the 14th annual Little Flower Parish Heritage Days Summer Fest, runs all weekend with live music by Captain Geech on Friday, Brat Pack on Saturday and Dave Grady on Sunday. They have all the good and usual stuff including carnival rides, cold beer, hot food and more fun than should be allowed.
In the bar band goings on, the usual parade of the usual suspects has begun at the outdoor venues and they, among many other worthy and talented acts, are faithfully listed in our Live Music calendar. In other happenings, on Saturday, the wonderfully wonderful King T'Z pops into George Ranks, Secret Society slips into town for a reunion at the Blue Grouch and the Blue Note Boosters encourage young musicians to join them for jazz jams at Lime Street Cafe (and on Friday as well).
That does it for me. Catch ya next week.