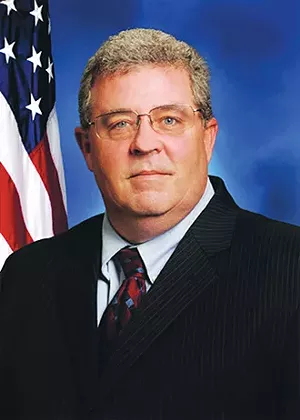 Campaign workers for Illinois auditor general Frank Mautino while he was a state legislator have received federal grand jury subpoenas, according to a source with direct knowledge of the matter.
The source who confirmed the federal investigation spoke on condition of anonymity because he is not authorized to publicly discuss the situation. He said subpoenas were sent more than a month ago.
The status of the investigation isn't clear, nor is the number of subpoenas issued. The U.S. attorney's office as a matter of policy does not comment on pending investigations or confirm their existence.
Mautino won't say whether he is under criminal investigation.
After a May 5 press conference called by GOP legislators who are demanding that Mautino explain campaign spending while a legislator, Illinois Times asked Ryan Keith, a public relations specialist hired by Mautino, whether the auditor general is under criminal investigation. Keith said that he would check with Mautino. He subsequently sent an email to the paper saying that Mautino had no comment.
Mark Wykoff, a Springfield criminal defense lawyer, said that grand jury subpoenas don't necessarily result in charges.
"In federal court, grand juries are often, in a lot of ways, used as an investigative arm of the U.S. attorney's office," said Wykoff, who is not involved in the Mautino matter. "A grand jury can be used as a vetting mechanism to assess the strength of a case."
Mautino, who is facing a probe by the Illinois State Board of Elections in response to a complaint about his campaign spending, has told legislators that he's retained J. William Roberts, a Springfield attorney and former U.S. attorney and Sangamon County state's attorney who is considered an expert on criminal defense, in response to questions about his campaign spending.
Anthony Jacob, an attorney in Roberts' firm, represented Mautino at a March 1 closed hearing before a hearings officer with the state election board. Jacob presented no evidence but asked that the case be dismissed on the grounds that the elections board has no jurisdiction over Mautino because he dissolved his campaign committee last year, after being named auditor general. Hearings officer James Tenuto declined to dismiss the case, and the elections board on Monday gave Mautino until July 1 to amend campaign disclosure reports and provide further details on spending, including who received money and for what purpose.
Mautino's campaign disclosure reports show that he spent more than $200,000 at Happy's Super Service, a Spring Valley service station, in the space of 11 years. Much of the money was paid in round figures. The expenses are described as auto repairs and gasoline in campaign disclosure reports. Mautino also reported paying tens of thousands of dollars to Spring Valley City Bank for parking, travel and other expenses that have nothing to do with banking.
Mautino, who served in the legislature from 1991 until last December, has refused to answer questions about his campaign spending. He has not returned calls from Illinois Times, and he's told GOP legislators who have inquired that he needs time to compile records to ensure that any response he gives is accurate.
GOP legislators first asked Mautino to explain questionable spending in a letter sent in February. Eleven lawmakers signed that letter. Legislators subsequently sent a second letter but still got no answers. Earlier this month, 20 GOP legislators signed a third letter to Mautino demanding answers and documents showing that campaign spending was appropriate.
"The people of Illinois deserve answers," legislators wrote. "We believe sufficient time has lapsed for you to fully explain these irregularities in the accounting, record keeping and spending of your campaign account, which occurred over the course of many years."
During a May 5 press conference, state Rep. Grant Wehrli, R-Naperville, said that if the auditor general is under criminal investigation, he should say so. Wehrli also said that he has no confidence in any audits performed by Mautino's office.
"I'm sorry, but if our auditor general cannot be forthright with his own expenses and auditing practices, then I place a high level of scrutiny on any work product coming out of the office under his leadership," Wehrli said.
After the press conference, Steve Brown, spokesman for House speaker Michael Madigan, D-Chicago, dismissed lawmakers' demands as a partisan effort. Asked if the speaker believes Mautino should disclose whether he is under criminal investigation, Brown said that he didn't believe that the speaker has an opinion.
Contact Bruce Rushton at brushton@illinoistimes.com.