The Mature Mob was born in 1991 as a fundraiser for Senior Services of Central Illinois, a revue of talented actors, singers and dancers aged 50 and over. Few Mob shows in recent memory have been as successful, in terms of popularity and audience acceptance, as last year's "Flashback to the 50s," a salute to the music of that decade. So successful, in fact, that they decided to return to that theme this year with "And the Beat Goes On."

The director of last year's effort, Herb DeFreese, has to his credit years of one-nighters and appearances as a singer, musician and actor, as well as several previous Mob shows. But he found some elements of those past shows wanting: "I was getting tired of those shows consisting of just someone at a piano playing show tunes and old standards. I wanted to do something different, and that's how I came up with the idea to do a fifties show. It's the music a lot of my generation grew up with, and our audience last year seemed to like it."
As for revisiting the music of that musically diverse decade, Herb said, "Two hours of last year's show just wasn't enough to begin to get to everything I wanted to do. This gives us the chance to do some more songs." It also means, once again, a bigger backing sound. This year's "house band" consists of a pianist, two guitarists, two saxophonists and a drummer.
A show devoted to the music of the fifties will, necessarily, be heavy on rock 'n' roll. That's evident from the very beginning with the chorus' first two numbers, the Bill Haley and the Comets hit "Shake, Rattle and Roll" and "Sea Cruise," made famous by Frankie Ford and Huey "Piano" Smith.
There are also novelty songs such as "Witch Doctor," "Along Came Jones" and "Love Potion #9" and old-fashioned pop such as "Music, Music, Music," "Ebb Tide" and "You Belong to Me," along with multiple hits first made popular by the likes of Bobby Darin, Dion DiMucci, Brook Benton and the Everly Brothers.
Most of the Mob cast has been at it for years, but there are some newbies in this year's group. Dale Beechler first heard of the Mob auditions this past spring through a notice in Illinois Times. He came out of curiosity, and noted, "There weren't that many people there, so I auditioned." A retired carpenter, Dale, in his first Mob appearance, was given a pair of Dion hits, "The Wanderer" and "Ruby Baby," and also sings a personal favorite, the Buddy Holly classic "True Love Ways."
A member of his school's choir years ago, Dale, more recently, has done karaoke and considers that good preparation for the Mob.
Most of the Mobsters' musical experience is limited to playing or singing in their church choir, but there are some with professional experience. One of them is another first-timer, Kathy Yazell. For 28 years, she was a certified nursing assistant at St. John's Hospital, but for a time in the 90s, she fronted a band, "Kathy's Country Breeze," and recorded a CD of country cover songs in Nashville.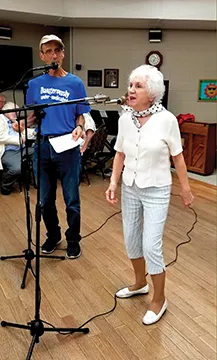 Ruthie Gorsek is another Mobster who got the majority of her musical experience in her school band. But her family has a solid background in music – her father was a band director, and her brother played in a Dixieland band, as well as a jazz group. As a child, she first learned, from her dad, the song she performs in this year's show, the Patti Page hit "Doggie in the Window."
"I was just two years old when I first learned it," recalls Ruthie. "He played piano, and I sang as much of it as I could understand then, just the first verse." In her current version, Ruthie shares the stage with a Mob veteran, Rascal.
Rascal is the toy poodle of two more Mobsters of long standing, Ron and Diane Waltrip. He first began attending rehearsals 14 years ago, usually just sitting beside Diane while she plays piano, but he's also appeared in occasional sketches and numbers, such as this year's role as the featured "doggie."
So, are the recent tributes to classic rock 'n' roll a sign of things to come for the Mob? Herb observes, "Maybe it's the beginning of a trend, maybe not. They may not ask me to direct again next year, but while I'm here, this is what we're doing."
If it is part of a trend, it would make sense, as the Mature Mob generation evolves from the big band years to something more contemporary. In the words of the show's title, the beat goes on.
Will Burpee is a freelance writer and occasional singer and actor. This year's show is his 13th.