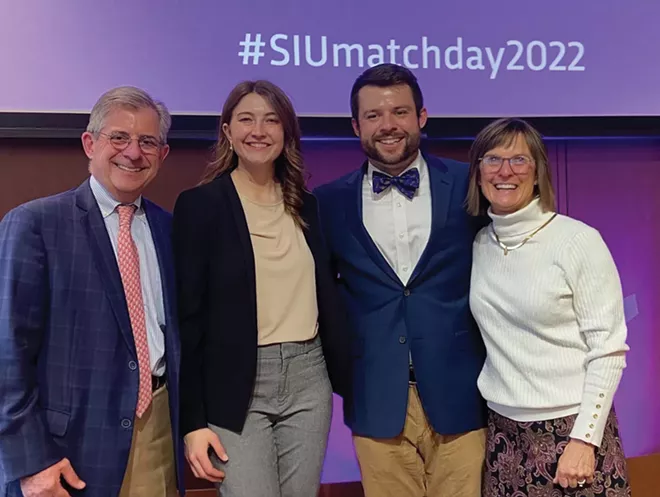 Match Day is an exciting milestone in the life of a medical student. Fourth-year med students across the country learn at the same time where they will be going for their advanced training. On Monday, March 14, students were informed by email if they were matched for a residency. The following Friday students find out where they were matched. At the March 18 Match Day celebration at Memorial Learning Center, 64 SIU School of Medicine students opened an envelope to discover the location of their residencies, which begin July 1.
Becoming a physician involves four years of college, four more years of medical school and a multiyear residency. Fourth-year med students choose their specialization and apply to upwards of 50 or more institutions. An extensive interview process follows. In February students submit a list of preferred destinations to the National Resident Matching Program. The culmination is match week in March.
Bennett Stephens of Springfield and Lauren Hall, LaSalle-Peru, pursued the couples match. They will be going to the University of Iowa, Stephens in OB-GYN and Hall in family practice. Stephens discovered he likes being in an operating room and that nothing quite compares to labor and delivery. He wanted a specialty where there is a long-term relationship with patients. While match week provides big moments to celebrate, Stephens says there is a lot of stress and long days to get to that point. Knowing you are matched is a relief, but there is anxiety anticipating what comes next. Stephens applied to 46 programs and had 16 interviews. Hall applied to 34 and had 17 interviews. They are both excited and happy to be within a day's drive from family. However, Stephens says he will miss SIU and the excellent faculty who provided great training.