The Springfield City Council on Wednesday approved a measure allowing police to ticket people who aren't wearing masks in retail establishments.
The measure allows for $50 fines and comes as the city and Sangamon County have defied Gov. JB Pritzker, who has ordered an end to indoor dining and drinking in bars and restaurants. Under the measure, any retail business where unmasked patrons are found could be fined $250.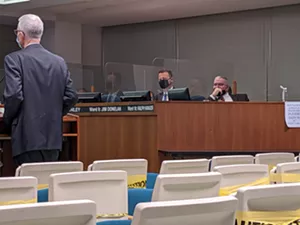 For months, the city has had the power to issue $500 fines to bars and restaurants where social distancing, capacity and mask requirements aren't met. Police chief Kenny Winslow told the council that a half-dozen or so fines have been issued under that measure.
Violations of the mask measure passed Wednesday on a 9-0-1 council vote — Ward 4 Ald. John Fulgenzi, who owns a restaurant, voted present – will be code violations as opposed to offenses handled by the Sangamon County state's attorney's office.
Contact Bruce Rushton at brushton@illinoistimes.com.