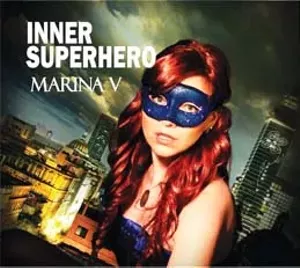 What separates the dreamers and schemers of the world from the believers and achievers? Some say hard work and some say circumstance, but most would think it's a fair amount of both that make the dreams of a lifetime come true. In the case of Marina V, a singer-songwriter-musician with ties to central Illinois, all that and more makes her life a happy home for realized dreams, completed fantasies and continued aspirations.
Living in Moscow as a teenager during the tumultuous 1990s after the fall of the Soviet Union, Marina looked for a way to escape a life that restricted her creative impulses. Circumstances landed the Russian minor immigrant in a Springfield high school where the influences of local citizens encouraged her on to a college degree and into a life of artistic work as a full-time performing musician and songwriter. Experiences during these formative years in central Illinois shaped and nurtured an inherent sense of creativity that sparked a whirlwind of activity. Her formation here allowed Marina V to eventually touch the lives of thousands of fans across the globe.
Born Marina Gennadievna Verenikina in Moscow, Russia, on Oct. 3, 1982, to a nuclear physicist father and child psychologist mother, the young child showed an early inclination for music, with her mother claiming "she could sing before she talked." In recognition of this aptitude, from age 6 to 14 Marina attended a special music school for classical lessons and piano practice after her regular daily class work. This extra training time, intense and involved, left little room for creativity or imagination, yet the young Marina felt the urge of songwriting even then. At age 10, she composed a little ditty for her piano teacher who promptly labeled it "nonsense" and swiftly returned her to Russian classical masters and folk songs of the people.
During these difficult years of extensive studies, Marina felt forced to bury her creative impulses and toe the line, while making excellent marks in school as she prepared for a professional career in the remnants of the Soviet Union. A bright light came in the form of a bootleg cassette of the Beatles (no recollection if Back in the U.S.S.R was a favorite cut), at the time still an illegal item in a country that attempted to bar all Western influences. Inspired by music of the Fab Four, Marina began secretly composing songs again, and acquired English language knowledge through the lyrics of Lennon and McCartney.
At 15 she worked at and won an exclusive national competition for a fully funded scholarship called Future Leaders Exchange (FLEX) of the Freedom Support Act, sponsored by then U.S. Senator Bill Bradley, that allowed a Russian student to study in the United States. Through various means she wound up in Springfield and attended Lanphier High School for a year in 1995. After returning to Russia, the budding young artist felt determined to head back to the States as soon as possible, where her creativity and individuality could flourish. Around this time her mother moved to Australia and the Russian school system decided not to accept her American school credits, so Marina finished her Moscow high school, got a job, saved her earnings and bought a one-way ticket to the United States.
By 1996 she returned to Springfield, her adopted American hometown, working many odd jobs to bide the time and pay her way, including "selling cheeseburgers" at the Illinois State Fair, handling the concession stand at a flea market near the fairgrounds and working with the Junior Blues hockey team as a merchandise attendant (she also played a fair amount of ice hockey herself), all the while impatiently and incredibly waiting the year and a half it took to clear international visa hurdles. From the recommendation of Gary Wilhoit, her Lanphier history teacher and an Illinois College alumni, she decided to attend the small, private liberal arts college in Jacksonville, graduating summa cum laude in 2001 with a combined degree in international studies and economics-business plus a minor in Spanish.
"I found that being a foreign student, the state colleges actually cost three times what they would if I lived in state, but private colleges prices stayed the same," Marina commented. "After I visited the IC campus, I enrolled and received a scholarship."
Normally it's a tough time emotionally for any college freshman adjusting to a new life and independence, but multiply those difficulties for a young girl from Moscow attempting to break into central Illinois culture with little preparation. Marina dealt with the severe emotional concerns and intermittent depression by doing what an artist does: she created.
During her early days at IC she wrote songs that expressed her feelings and began playing her first live shows. An entry into a college-sponsored talent contest garnered her first prize for the performance of "Leaving," an original composition. Next came a full-capacity show at a local coffeehouse, then shows in Springfield and other towns across the Midwest. Inspired by her success, Marina decided to finance a CD recording from pre-orders (not as common a thing in 1999 as it is today with fan-supported CDs all the rage) and easily sold enough to produce Let Me Dream, her first (now out of print and collectible) recording of self-composed material.
"I remember playing a show back then at college and heard later that a girl in the audience started crying during a song of mine," she says. "I never in my life thought my music could move someone like that. I was absolutely amazed."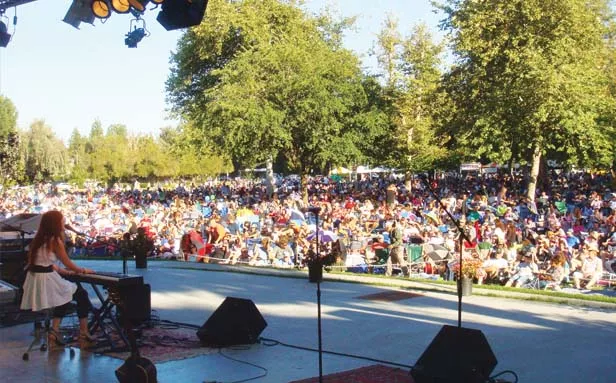 Right before this productive time of creativity and promotion, Marina met Nick Baker, a fellow musician and a Springfield native also attending Illinois College. From Baker came the encouragement to take her music seriously and develop it to the level needed for full-time success. Behind all this artistic and emotional growth was the support and dedication of Nick, who quickly became a working musician in the duo and songwriting partner of the newly christened "Marina V." As the two developed musically and professionally, they also grew romantically, eventually marrying, combining life and love as a complete package.
"He is always there supporting me, emotionally and musically," she says. "He calls himself the 'Soft Focus Guy' because when we're in pictures, I'm in the front and Nick is in the background in the soft focus. Without him there would be no Marina V. I give him the credit for being amazing and always there."
In 2001, the couple implemented a planned move to a major music industry center and relocated to the Los Angeles area just a week after graduating from Illinois College.
Since the move to LA, things just keep getting better and better for Marina V and life partner Nick Baker. From the early days of taking any gig available to make some cash and get noticed, such as a Borders bookstore tour and noisy, inattentive bars, the tune-making team always looked ahead to better days. In the span of a little more than a decade, they've accomplished a great deal of respectable work. It's not the kind that necessarily gets an artist to the top of the pops, but the good stuff that gets achieved only through hard work and perseverance in tandem with talent and ability.
The accomplishments notched by the singing-songwriter piano player from Moscow, with invaluable aid from the guitar-playing wordsmith from Springfield, are varied and valid. They signed for a time with David Krebs, a big-time music industry manager known for his work with Don McLean, Trans-Siberian Orchestra and Aerosmith, among others. In 2005, the well-respected producer Jack Douglas, a favorite of John Lennon, George Harrison and Aerosmith, gave of his time and produced two tracks for the Simple Magic album. Marina sang on the long-running NBC daytime drama, "Days of Our Lives" Christmas special in 2012, playing on air with cast members. Several other songs of hers were played during the program over the last few years.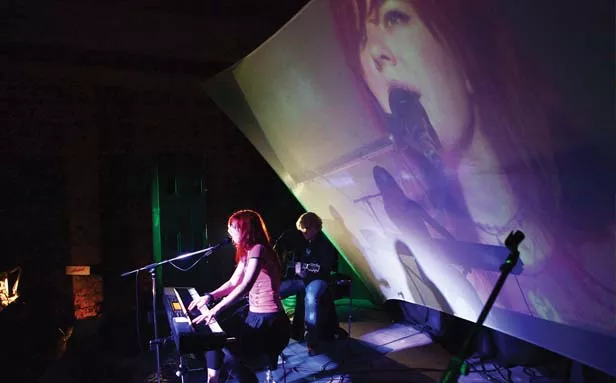 Let's see, what else can we add to the list? How about licensed airplay on, among other shows, a National Geographic program and Oprah Winfrey's network? Her song "Pesnya o Tebe" made it in Direct Contact, a 2009 Danny Lerner film starring Dolph Lundgren. In 2011, as a finalist in the international song contest YouBloom, she and Nick performed at London's Cobden Club during the YouBloom concert and ceremony, receiving a hand-delivered award from Sir Bob Geldof for her song, "You Make Me Beautiful." Back in 2009, Marina's own "Sunshine Guaranteed," appeared on Tap Tap Revenge 2, a popular iPhone game and "You Make Me Beautiful" got nominated for a Hollywood Music Award. They also composed, arranged and produced a Pepsi jingle played in the Ukraine and they toured extensively in Eastern Europe.
In a not-so-public event, Marina reports that once, when playing in London, she and Nick received a guided tour that eventually ended up on the roof of Parliament, a venue not often visited by American singer-songwriters. In 2010 they attracted more than $30,000 in fan support to make the record My Star and continue to add to the more than 7,000 names on the Marina V Komrades email list and fan club. By combining all her album releases (and she keeps an organized account) she has sold nearly 20,000 physical CDs worldwide and thousands of downloads of individual songs and records. In the past she performed more than 120 live shows annually, but last year reduced the number by choice, down to a more manageable 60.
"When I first started, I played every gig I could for experience, but now I feel I can choose more of where I play and do more quality shows," she says. "I could never play a loud bar again. I care about my music and it just breaks my heart to play when nobody is listening. I would rather stay home than play a gig that upsets me."
Album titles often tell much about an artist's progression, and with Marina V the list reads like a positive advancement toward fulfillment and completion. Her first record was aptly titled Let Me Dream (1999), and then came Lift (2001), as the couple moved to LA. Out in southern California, Something of My Own (2003) and Simple Magic (2005), were the next telling titles of happenings in the life of Marina V. The next records, Marina V: Live at SoundMoves (2006) and a Russian Bootleg (2007) show a bit of a holding pattern as the artists struggled to get a strong foothold in the business. Then with Modern Fairytale (2008), My Star (2011) and the latest, Inner Superhero (2013), with a Small Collection of Interesting Songs included during 2011, the songwriting team achieved a striking maturity of creativity with inspired songs of hope and discovery.
"In songwriting, it really is my release. I try to get myself from down to up. It inspires me to go beyond no hope," she says. "We write pretty much about 99 percent of the songs together, except for the ones I do in Russian. I always come up with the music and then Nick adds to every song in some way, sometimes the last three words, sometimes half the lyrics."
Along with the developing song-composing partnership, the couple experienced growth in producing sounds and arranging the music on each successive recording. On the most recent effort, Inner Superhero, Nick picks up the ukelele as Marina stretches herself to new heights in non-instrumental ways.
"This is the first time I've sang without playing the piano part as well on every song. With our great producers, who are fabulous musicians too, on some songs they replayed my piano parts and left me to sing," she says. "It's amazing and kinda fun too, to realize that Nick and I wrote the songs and these guys make it sound so good that I can just sing what I want and it's done and sounds great. I just go with the flow with what works for the album and I'm really happy with the way it sounds."
In other innovative work on the new record, Marina asked several supporters and friends to add claps and vocals to the songs "Light Up the Dark" and "Say Hello" by sending prerecorded parts through email. The effect adds a friendly and warm feeling to the songs, especially on "Say Hello," where "a handful of people who meant a lot to me" are singing on the song and "a lot of my good friends are there and our voices sound really cool together." Central Illinois singer-songwriter Eva Hunter, an early supporter of Marina V, as well as me and my son John, are among the lucky ones who are on the cut.
Besides the music, there's a lot more behind the scenes keeping the Marina V machine chugging along. Like most independent artists, one part is the creative idealist, but the businessperson side keeps the gigs coming, the fans informed and the bills paid. She spends a good deal of her day on the computer following leads and doing the work necessary to keep the ball rolling, updating her MarinaV.com website continually and promoting herself through other social networking devices.
"My one wish would be only that music wasn't related to money, but I know it is," she revealed. "It's so rarely just about the purity of the music. I do need to make money from music, but I just wish it weren't that way."
What does Marina V see in her future and where would she like to be in five, ten years down the road?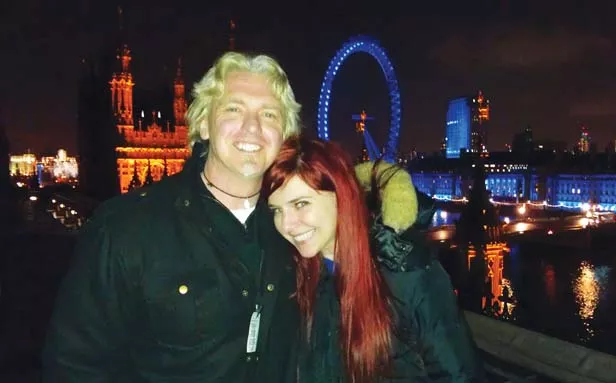 "I don't have a specific plan. I'm really, really happy with my life now. I say that every time, but it's true," she exclaims. "I try to do different things that are exciting to me and hopefully some of them or one of them or all of them will lead to bigger and better things. I want to do more – more collaborations, more cool venues, more listeners. That's the dream."
And dreaming is good, but working the dream to reality is wonderful and continually reaching to find the power behind it all is sublime.
"I cannot imagine my life without music in it. Some people have religion, I have music," Marina muses. "Lots of people, including singers and artists, can identify with the idea that music can save you when you're down, that it lifts your spirits. Music is spiritual. Music is my salvation."
Contact Tom Irwin at tirwin@illinoistimes.com.