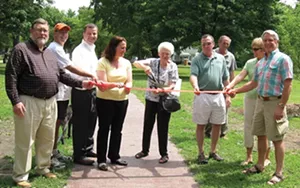 Marilyn Piland was known for her work in many areas: the Enos Park Neig hborhood Improvement Association, serving as its executive director for 17 years; the Democratic Party as a precinct committeewoman and secretary; Elliott Avenue Baptist Church and Kumler Food Pantry. She had a huge personality. A word for each letter in the alphabet describes Marilyn Piland.
She was a strong Advocate for Enos Park and everywhere she went that was broadcast, even through her license plate that read "EnosPark1."
She loved to Bake. Sara Smoczyk says, "She baked all kinds of things and her focaccia was made from scratch." She was known for making tasty bites – cookies and tiramisu – but she could "bite off your head," as one friend acknowledged. Sue Anne Law, her daughter, says, "If she believed in something, she was all in."
Committed, Dedicated, Energetic, and Ferocious are all words that describe her pursuit of enhancing the Enos Park area and protecting the safety of the people. Law says her mother was "a force to be reckoned with."
She had Grit and was Hard-driving when it came to Improving the neighborhood as she sought Justice for all.
She was Kind. "If someone needed help or money, she would give her shirt off her back," says Law. She volunteered at Kumler Food Pantry, helped provide meals to the homeless, ran food drives and volunteered at her own church, Elliott Avenue Baptist.
She Loved her family, which included three grandchildren, ten great grandchildren and five great-great grandchildren.
She was a Leader, the Mainstay for the Enos Park area projects and other causes. Many say she Never backed down.
Outspoken and Opinionated are often used to describe Piland.
"Push and Pray until something happens," was her motto.
She Questioned ideas, and never Quit, which often angered reporters, politicians, even those in the Enos Park association. But, as longtime Enos Park property owner Owen Anderson says, "without her huge, huge hand in the work, we couldn't have accomplished what we have."
Her Reputation as a strong advocate earned the Respect of many, despite often being Sharp-tongued and a Stickler for her ideas.
She was Tireless and didn't shy away from taking on anyone who disagreed with her efforts.
She had an Unwavering support for her Vision which she once said was "to replace the vacant and decrepit buildings, drug houses and crumbled sidewalks of Enos Park..." with " nicely painted homes, well-trimmed yards, picturesque landscaping, brand-new curbs and gutters, historic lighting lining the sidewalks and neighbors who walk the streets in the evening, greeting one another by name."
That vision drove her constantly. Anderson says, "In every organization there are about 10% who do about 80% of the work and of the 10% there might be 1% who do everything else. That was Marilyn."
She Wrote the Enos Park newsletter, the Banner. One room in her home housed a photocopier, tables, reams of paper, computers, printers, books, filing cabinets and paperwork. Her 34-year career as a printer for the Springfield State Journal-Register helped. She did all the layouts, editing, printing and folding. She once explained, "When I do the newsletter, I usually work straight through from Sunday morning until Monday night. I don't go to bed usually. I run the newsletter all night on Sunday night."
She had an X-ray vision of what needed to be done and Yearned for the Enos Park area to be recognized as an important area of the community.
She was a Zealot for her causes, and her Zest for life was noticed by all. She once took on zoning issues which had been a constant source of aggravation for residents of Enos Park, so Piland attended all zoning-related meetings of the city council, often arriving first to get a seat in the front so she could be seen and could hear the discussion.
In her later years, her feet bothered her, but Smoczyk says, "That didn't stop her. She put a healthy person to shame and never quit."
Piland loved to garden and tended to her flowers and vegetables with the same care she devoted to the causes she believed in.
Marilyn Piland contributed tremendously to the community and accomplished so much for the area she loved. It only takes a drive through the Enos Park neighborhood to see the legacy Marilyn Piland left behind.
Cinda Ackerman Klickna wishes she had known Marilyn Piland.