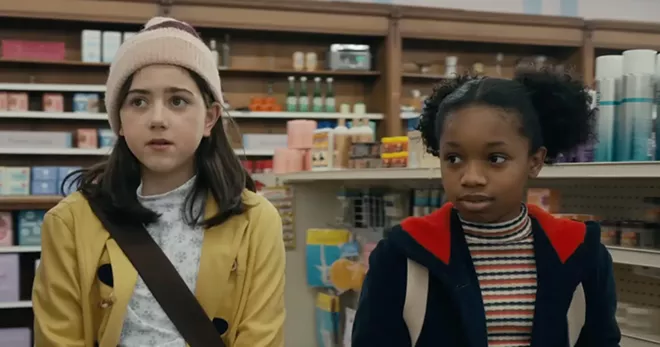 Margaret matches quiet power of Blume's classic
While I was in grade school, devouring every Encyclopedia Brown book I could get my hands on, apparently my female peers were reading Judy Blume's Are You There, God? It's me, Margaret. Having finally gotten around to reading it at age 57 and seeing Kelly Fremon Craig's delightful adaptation, I can see why.
Insightful, honest, and funny, this coming-of-age story is a template that I'm sure other authors in Blume's wake tried to duplicate but fell short of the sincerity on display here. Again, I'm late to the party here, but it becomes readily apparent why this work has endured. Blume isn't afraid to tackle hard-to-talk-about issues, yet is able to do so with a sense of humor and candor that's refreshing and all too rare.
Margaret (Abby Ryder Fortson) is an 11-year-old trying to adjust to having moved to New Jersey from New York City. She falls under the spell of Nancy Wheeler (Elle Graham), a mean girl in the making who Margaret initially thinks is fun, loyal and smart. Discovering that this girl is not who she seems is one of the many life lessons Blume's heroine learns over the course of her school year.
Much was, and continues, to be made about the intimate issues Blume addresses, those that concern the many physical changes Margaret and her peers are undergoing. Like Blume, Craig handles these moments with a deft touch, these scenes taken seriously, yet with a slight bit of humor beneath. A bit more weighty are moments dealing with spiritual questions Margaret is trying to get answers to. Torn between following her grandmother's Jewish faith or exploring various forms of Christianity, the conclusions she draws prove poignant and are a significant part of her maturation process.
More than anything, this is a story of self-actualization. Margaret is allowed to seek her own path by her understanding parents and then finds the courage to go her own way. She learns the consequences of her actions, as well as how to make amends when necessary. And while this may sound heavy-handed and staid, that couldn't be further from the truth. A sense of fun and optimism courses through the film, as Margaret's curiosity is the truest sign of her character. She is eager to see what life holds for her, the questions she asks are essential to her being, the answers spurring yet other questions. Her inquisitive nature, coupled with her genuine concern for others, make Margaret who she is and those who love her recognize this gift. Watching this curious girl blossom into a kind young woman is the quiet power the film possesses. In theaters.
Flawed Clock still taps into primal fears
Tapping into every expectant mother's deep well of fears, Alexis Jacknow's Clock is a genuinely disturbing, if flawed, horror film that benefits greatly from brisk pacing and a dynamic lead performance from Dianna Agron. As Ella, a woman in her late 30s who' s concerned about her lack of desire to be a mother, the actor holds nothing back in portraying her fear and desperation. Caving into subtle peer pressure and outward anger from her father (Saul Rubinek), she visits a fertility clinic specializing in a radical approach to combat fertility issues.
Dr. Simmons (an icy Melora Hardin) does her best to assure her that, while the procedure she is undergoing is safe, it is irreversible. Still, Ella proceeds, and after a round of meds and the implanting of a mysterious device, the effects are immediate. Horrific hallucinations, disturbing dreams and mysterious blackouts occur, all testing her mettle and causing her to question whether she does, in fact, want to be a mother or not.
For the most part, Jacknow's script is rather smart as she folds in elements of Jewish history, Ella's grandmother having been a survivor of the Nazi concentration camps. The memory of her is used by her father to guilt her into continuing the bloodline, and how this all ties into our heroine's troubles is quite clever.
Unfortunately, this subplot isn't developed enough, and the potential for a more intimate horror story is left to wither on the vine. There are also some questions regarding her husband's role in this plot that go frustratingly unanswered. Still and all, the end result is a disturbing one, Jacknow effectively plumbing each woman's greatest fears with horrific images you'll find hard to shake. Streaming on Hulu.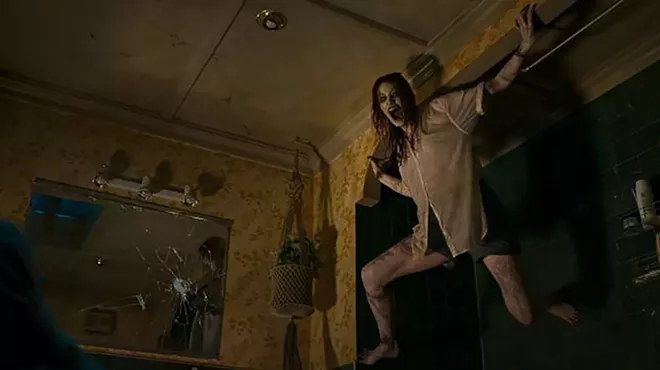 Dull, repetitious Rise lacks imagination
The premise of writer/director Lee Cronin's Evil Dead Rise has the nefarious Book of the Dead being found in the basement of a rundown apartment building. Danny (Morgan Davies), a teenager whose mother, Ellie (Alyssa Sutherland), is trying to keep her family together after the boy's father abandoned them, absconds with it. His sisters, Bridget (Gabrielle Echols) and Kassie (Nell Fisher), are coping in their own ways, while the sudden appearance of their troubled Aunt Beth (Lily Sullivan) only adds to the familial tension. Unaware of the inherent evil contained in the book but thinking, due to its obvious age, it may be sold for a healthy profit that could help his mother, Danny delves into its contents. In doing so, he unleashes an evil entity that possesses Ellie, turning her into a flesh-eating monster intent on consuming anyone who crosses her path.
It takes nearly a half-hour before this takes place, far too much time taken attempting to establish the premise and characters. Unfortunately, they're all from Central Casting, nothing particularly interesting about them or their plight. While confining the action to a single location – an earthquake hits which destroys the building's stairs and makes the elevator unreliable – Cronin paints himself in a corner he can't get out of. A sense of tedium sets in as the director fails to find fresh angles in which to present the cramped space while the repeated assaults of the ever-increasing number of monsters lacks imagination as well; a been-there-done-there feel sets in far too quickly, never to be shaken.
This is a slowly paced, dim-witted effort that mistakes buckets of blood for horror. Eschewing plot and metaphor for one unimaginative set piece after another, each upping the ante where gore and bloodletting are concerned, the result is an exercise in numbing repetition. In theaters.