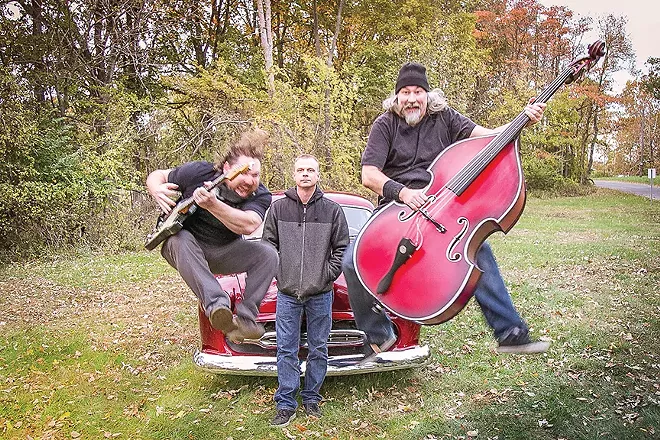 Here we go into the first full weekend of March and with some nicer weather happening, you can almost feel the outdoor venues popping up to prepare for a summer of fun. In the meantime, let's see what marches on in the music scene for now.


Thursdays continue to shine and this week we have a couple of standard bearers holding down the music beats as Frank Parker presents his Jambalaya Jam at Buzz Bomb and Johnnie Owens brings his band of friends into Pease's at Bunn Gourmet. Friday gives us our first look at the Celtic coming for 2020 as Skibbereen takes on Robbie's with a blend of world music and Celtic classics, along with some rock 'n' roll, blues and jazz. Next Saturday, March 14, is the big downtown St. Patrick's Day parade, officially marking the local celebration of all things Irish and Celtic.


Other Friday shows demonstrate the variety and breadth of our scene, from the intimate venues where you can catch Kevin Ellis & Groove Orbit at Anchors Away, Pinch of Grace at the Butternut Hut or Jay Larson Band at Craft Beer Bar to the bigger places with popular bands such as The Mudbugs at the Blue Grouch, Off the Wall at Longbridge and 3's Company at the Curve. And you can go see the Mary Jo Curry Band at the Dew Chilli Parlor on North Grand and congratulate them on the success of their recent CD release, Front Porch, which is garnering boatloads of attention from critics, DJs and fans across the country, even as you read these very words. And for something completely different, the UIS Performing Arts Center offers Russian Masterpieces by pianist Hana Lim in the Studio Theatre on Friday, and on Saturday the UIS Jazz Ensemble performs in the same space.


As we keep rolling along, Saturday gives us a bunch of good times to be had by those willing to seek adventure in the music scene. You can support your county fair with a trip to New Berlin to see a concert by The Longmeyer Band when the Sangamon County Fair Pre-Fair Party happens in the Main Building on the fairgrounds. Doors open at 6:30, the music starts at 8 and $5 gets you in the door where you'll find a silent auction, a "few big items" at the live auction and a cash bar, plus the Fast Break Food Truck on the grounds. Sounds like a fun and fine way to support the little fair that could, can and does, year after year.


Moving back to downtown, Anvil & Forge continues to host cool shows on Saturday nights with this week giving us the high octane "punkrockapsychometalbilly" of Los Injectors with Jeff Williams of NIL8 opening up the gig with a solo set. Fueled by three of our finest musicians, including Damon Soper (electric guitar, vocals) back from his hand injury, Jeff Cunningham (standup bass) back from his adventures with blues harmonica man Brandon Santini, and Chris Warren (drums and anything you put in his hands) back from visiting family in Pana, Los Injectors plays back to back sets featuring old rockabilly classics from days gone by and original tunes from now and forever, all in support of their 2018 release, Rock Apocalypto, recorded with Camron Yates at his Waterfront Recording Studio.


Lately we haven't taken the time and space to talk about our lengthy list of Sunday Funday afternoon shows, but they are there and due to increase as the weather warms.
See you next week for several situations of the ceremonial St. Pat's party plans.