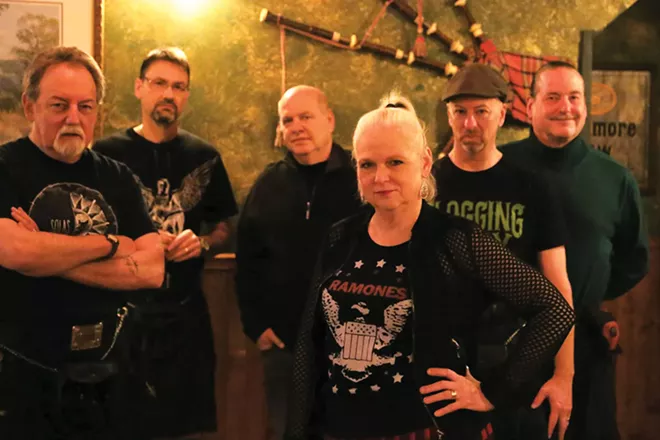 Come one, come all, to enjoy the fine fixings we are about to show you in this second full weekend of March 2022. The weather is chilly now, but gets better soon, and with Daylight Savings Time springing forward on Sunday, hang in there, those delightful days of live music in our abundant outdoor music venues are not far away.
Saturday was supposed to mark the return of the famed St. Patrick's Day Parade in downtown Springfield after a two-year, pandemic-forced absence, but organizers made the decision this past Tuesday to move the whole shebang to next Saturday, March 19, in search of better weather conditions. So this week there will be some remaining St. Pat's shows that couldn't be moved and others that are postponed until next week, with the majority of our Springfield scene not being affected much at all. I guess you could say we are using the luck of the Irish in getting three "St. Paddy's (don't say Patty's, the wags say) Day" celebrations this year, counting the actual March 17 date, which really is the only one that matters anyway.
So with that being said, all the Irish-influenced music I found this weekend is out at Danenberger's Family Vineyards when The Emerald Underground declares a "St. Pat's Uprising" happening Saturday evening from 7 to 10. TEU, most definitely the longest-running of the several groups that have been playing Irish-y tunes around town in the last decade or so, has gone even more Celtic-fusion lately, including songs from groups such as Flogging Molly, Enter the Haggis and Dropkick Murphys into the sizzling setlist that already included music from bands like Gaelic Storm and the Young Dubliners, plus an assortment of hopped-up traditional jigs and reels. So go get your green-on early at DFV, then also catch the kilt-clad group at Third Base on Thursday, March 17 (7-10:30).
By the looks of our listings, there is plenty of music blasting all over town regardless of what holiday is being celebrated (or not), so let's take a peek at what we got.
Friday is becoming our consistently relentless night of live music and consider this for proof: Boone's hosts the weekly Friday Night Jazz series with the Mark Tonelli Trio on tap this Friday (5:30-7:30). Mark, a music educator and professor of guitar at Millikin University in Decatur, has accumulated an astounding performance resume over several years of travels, and the resulting talent will be there for you to experience up close and personal at this Springfield Area Arts Council-sponsored show. Then to continue with even more excellent and absolutely hip jazz guitar stylings, drift on over to Anchors Away as the House Trio (8-10) with Jose Gobbo just tear it up.
From here, Friday goes wild and crazy as Deja Voodoo do what they do at the Curve, Captain Geech lights it up at Casey's Pub, Kapital Sound brings it to Weebles and Blacktop South rolls into Motorheads. Then, Angel Brown's Smooth 'n' Blue Band does a Friday/Saturday at Lime Street while Jeff Young and the Bad Grandpas take on Mowie's Cue with a mix-it-up jam night featuring multiple band combinations. Keep it coming as those Lucky Funks funk it up at the Keg, Sarah Schnieder Band gets down to it at George Ranks and Seattle traveler Domanic Rincones brings on his grunge-influenced, trap production show to Buzz Bomb.
And here's the part when I say, "Hey, there's lots more where that came from," and you discover all the other upcoming shows in our live music listings in print and online.