A man found dead early Sunday in a public bathroom at a city building that includes headquarters for the Springfield Police Department may have been homeless.
Someone found the body of Nicholas Gipson, 33, shortly before 1 a.m. on Sunday. He was discovered hanging in a stall and is believed to have died from asphyxiation.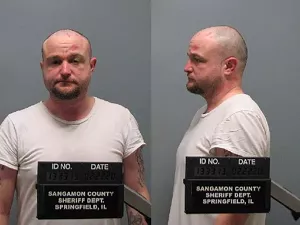 Gipson was found dead less than six hours after his release from the nearby Sangamon County jail, where he'd spent 90 minutes in custody after being arrested by Springfield police on suspicion of resisting a peace officer, according to the Sangamon County sheriff's office. Last year, he was arrested on charges of public indecency, trespassing and criminal damage to property, all misdemeanor offenses. The indecency charge stemmed from a December incident at Stone Cold Creamery, where Gipson was alleged to have masturbated in front of employees.
Jim Allmon, Sangamon County coroner, said his staff has been told that Gipson may have been homeless. He provided police with an address on North Stevens Street when he was arrested on Sunday, then released on his own recognizance, the coroner said. He had a state ID card in his pocket that gave his address as the Salvation Army Adult Rehabilitation Center on 11th Street.
"As far as I know, he was homeless," said Commander Brian Oakes of the Springfield Police Department. "He came across the street (from the jail) and used the bathroom." Oakes said police believe that Gipson may have been in the stall for hours before someone found his body. Oakes did not have details on Gipson's reported arrest hours before he was found dead.
Oakes said the tragedy didn't happen in police headquarters proper. Rather, he said, the bathroom is in part of the building reserved for non-police business. "It's not like he was next to a police lieutenant's office," Oakes said. "These bathrooms are accessible to the public." Homeless people commonly inhabit the building's first floor during cold weather.
Police have examined surveillance footage and found no signs of foul play, Oakes said. Footage shows that Gipson entered the building before 8 p.m., nearly five hours before his body was found. Employees are assigned to the lobby.
"The problem is, the front desk personnel gets very busy," Oakes said. "Multiple people go in and out of the bathroom. You can't keep track. It's very difficult."
Contact Bruce Rushton at brushton@illinoistimes.com.