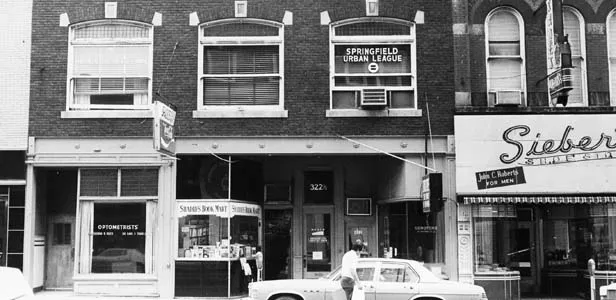 "'Intellectual oasis' might be asking the venerable place to shoulder more weight than it could plausibly bear, but homage is overdue." I was trading anecdotes about Shadid's when Michael Skube said that. He is the Eastsider who went from a cub reporter covering prep games for the old Illinois State Journal to book critic for the Atlanta Journal-Constitution and a winner of a Pulitzer Prize in criticism, among other awards. "Shadid's" is Shadid's Book Mart, which for a generation of book-lovers was the most interesting and the most important part of Springfield.

It has been more than 20 years since the original Shadid's closed its doors at 322 Sixth St. It was not the only place in downtown Springfield to buy interesting books — I bought Never Trust a Naked Bus Driver by Jack Douglas off a rack at the Walgreen's that used to occupy the old lobby of what had been the Ridgely Bank at Fifth and Monroe. It wasn't even the best bookstore, if you were one of the many readers who believe that a good bookstore is a bookstore that makes it easy to find and buy the book that everyone else is reading. But it was the only bookstore for the serious reader.

It might better have been called Shadids', as it was a family enterprise owned and managed by second-generation immigrants from Lebanon — brothers Mitch, Woody and Phillip Shadid, with the help of sisters Gladys and Linda. They got their feet wet in the book and magazine business — not to mention frostbit — running a downtown newsstand. They came in out of the cold in 1958, when they opened a shotgun house sort of store, maybe 15 feet wide and several times that deep, across the street from the Leland Hotel.

The crowded front of the store was where the gift books and best-sellers and new hardbacks were displayed. The back half of the store (especially the north wall) had little to tempt casual tourists to the bookish world. Shadid's stocked judiciously chosen lines aimed at the non-academic reader who was cultured rather than credentialed. For example, Skube found there George H. Sabine's A History of Political Theory in 1966, a book he says "I own and cherish to this day."

Cramming a large selection of wares into a small shop meant that many of them had to be displayed edge-on. This is a discouragement to all but the most motivated browser. Those of us who were spent hours, heads cockeyed as we read titles sideways, like paleontologists bent over a fossil bed until we caught a glimpse of something tantalizing that, pulled out and examined, revealed unexpected worlds.

"I remember seeing all the Penguin books and thinking that this made Springfield suddenly a much better place," recalls John Garvey, an Orthodox priest and longtime columnist for Commonweal magazine whose most recent book is Seeds of the Word: Orthodox Thinking on Other Religions. "I learned where the small stock of City Lights books were. I was able to get books by Beckett and Kerouac and Ginsberg, not to speak of the Odes of Pindar — the world's first sports writer, I'd bet."

Shadid's back-of-the-store stock was shelved by publisher rather than by subject or author. To this day I recall not only the names of favorite authors but their publishers, including most of the "quality paperback" lines of major houses from New York, Boston and San Francisco — the Viking Portable Library, Penguin, Anchor Doubleday, Harper Colophon, the Vintage Library from Random House (portable and affordable hardbacks) Modern Library, Grove, New Directions. We quickly learned which publishers were congenial to us, and returned often to their shelf as one returns to a favorite restaurant, knowing that even a dish you haven't tried before will be good because you have confidence in the chef.

The eccentric system rewarded the industrious browser. "You come in here, you look for a particular book. By the time you find it, you've found three others you want to buy too but didn't know were back there," Mitch Shadid once told me. "I'm happy, you're happy." Brother Woody, who has his waggish side, once explained that they resorted to the display-by-publisher system because "We didn't know where [into which category] to put half the stuff anyway."

Shadid's customers were as varied as their stock. They ran the gamut from Pearl Buck and Red Skelton to George Bunn, Jr., the bookman turned banker who ran Marine Bank, as it then was. Such people went there to buy books. Bookish boys my age went there to discover them. Not a few of us went on to adult lives spent happily in the world that spins between printed covers that we first encountered at the Book Mart.

"Years after I left Springfield," says Skube, "I would make pilgrimages to bookdom's holy places – Powell's in Portland, the Strand in New York, City Lights in San Francisco – but I owe to Shadids' little shop on Sixth Street and the South Branch of the Lincoln Library on South Grand Avenue no small part of the person I became."

Mr. Krohe wrote about the store for this paper in "Shadid's Book Mart," Jan. 21-27, 1977.

Contact James Krohe Jr. at peptobiz@mindspring.com.