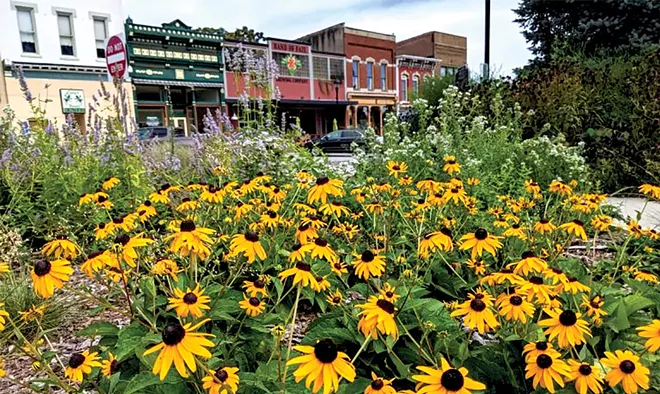 "Why are there caterpillars in your lunchbox?" my father asked my elementary school-aged self.
What is your first memory of butterflies? When you think of butterflies, do you picture a monarch? How would you feel knowing there are 90% fewer monarchs now than there were in the 1990s? Unfortunately, this is true, and in December 2020 they became a candidate under the Endangered Species Act, meaning monarchs meet the definition of an endangered species, ("listing...is warranted") but they are not currently being protected.
Each monarch weighs as little as a paperclip. It takes four or five generations of these butterflies to fly up from mountain forests in Mexico every spring to as far north as Canada. By late summer, a single super generation emerges to travel the entire 2,500 miles back to Mexico for overwintering. They lay their eggs only on milkweed plants and monarch caterpillars feed only on milkweed as they grow into adults before they fly off and eat sugary flower nectar. Did you know monarchs are the Illinois state insect?
In the Midwest, a major cause of monarch decline is thought to be the loss of two-thirds of all milkweed since 1999, largely due to glyphosate use and herbicide-resistant crops as more acres are converted to cropland. Milkweed planting remains one immediate action that may be taken and is believed to be the conservation measure that will have the greatest impact. And, in 2017, milkweed became the Illinois state wildflower.
In an attempt to avoid monarchs being listed as endangered, and the regulations that would follow, the Mid-America Monarch Conservation Strategy was started with a 16-state regional goal of adding 1.3 billion milkweed stems. The Illinois Monarch Project (IMP) has established a statewide goal of adding 150 million of those milkweed plants by 2038.
Introducing IMP's Route 66 Monarch Flyway: a 66-mile-wide corridor from St. Louis to Chicago with the goal of restoring habitat, including milkweed and native wildflowers. So, if you plant within 33 miles of I-55, you are contributing to this collaborative effort.
An example of a completed project is that of Alana McKean, curator of the woody plant collection at Starhill Forest Arboretum. With help initially from PORTA High School horticulture students, in 2019 more than 900 "plugs" were planted on the square in Petersburg.
Springfield residents Susan Helm and Francy Cobern partnered with the Springfield Park District to develop pollinator pockets at Bunn Golf Course, Comer Cox Park, Kennedy Park, Stuart Park, Vredenburgh Park, and Washington Park. In Elkhart, Mona Maas and Cassidy Clark are currently planting over 70 native species from now through May.
The local Sangamon Valley Group of the Sierra Club has grant approval for future projects at Douglas Middle School and Enos Park Community Garden. Sustainable Springfield Inc. is working on projects on Clear Lake Avenue and at the Springfield Art Association (Go to "subcommittees" "vegetation" on the website to sign up).
Finally, IMP is urging mayors and other heads of local government to take the National Wildlife Federation's Mayors' Monarch Pledge for their community, choosing any number of actions from an extensive list – the deadline for sign-up is April 30. Locally, Springfield's Mayor Jim Langfelder and Petersburg's Mayor Rick Snyder have already pledged.
The U.S. Fish and Wildlife Service has estimated up to an 80% probability of population collapse for all monarchs east of the Rockies within 50 years. May we come together to ensure that doesn't happen.
Erin Kirkpatrick is a lifelong learner, physician assistant and Sangamon Valley Group of the Sierra Club volunteer. She once hiked the entire Appalachian Trail.