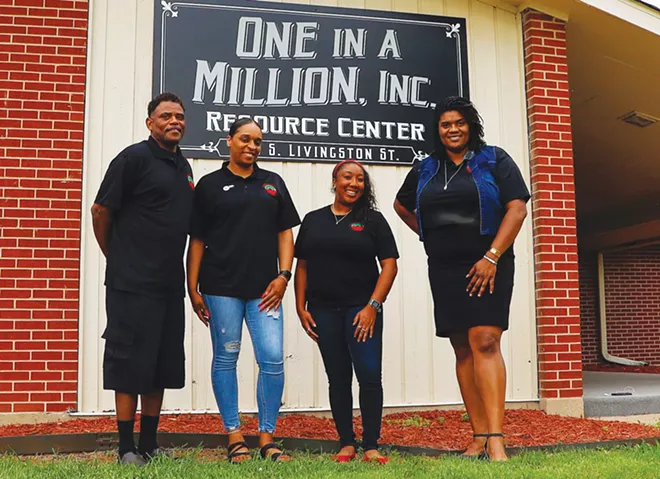 "Free...ish since 1865." So goes the slogan you may see on some T-shirts if you celebrate Juneteenth in Springfield this year. While June 19, 1865, is celebrated as Freedom Day, the struggle for equality continues.
Juneteenth organizers in Springfield are still lobbying for state, city and county recognition of the day. The state legislature passed a measure this past session that would make Juneteenth a paid state holiday. The bill awaits a signature from the governor.
For about 25 years in Springfield, Juneteenth has been an organized effort, almost always based at Comer Cox Park on the east side of town. Music, a parade, basketball, dancing, food, family, faith and community are key parts of the festivities. But last year, instead of a regular parade with dancers and people throwing out candy, marchers descended on the Capitol and organizers gave out hand sanitizer and water bottles.
Cherena Douglass, now the co-director of Springfield-based Juneteenth, Inc., stood at the podium before a large crowd gathered in front of the Abraham Lincoln statue outside the Capitol last year. "We have some politicians here," she said. "Don't you let them leave here without being real about their commitment."
Following those comments, Springfield Mayor Jim Langfelder took the podium. "Appropriately, we're standing in the shadow of Abraham Lincoln," he said before declaring, "We're going to present an ordinance to make June 19 a city holiday," to which the crowd erupted in applause. But a measure to make it an official city holiday has yet to get a vote.
Looking back, pushing forward
On a recent weeknight, Juneteenth organizers gathered at the headquarters of One in a Million, Inc. – a community center on the east side of town. The organization was started by Springfield natives who had participated in the Million Man March in Washington, D.C. in 1995. They heeded the call to return to their hometowns and work toward bettering them. Community organizer Michael Williams said he became president within a few years, a position which he holds to this day. The organization hosts a Black History Ball and provides school supplies and scholarships, among other resources.
Williams started taking a major role in planning Juneteenth festivities in the 1990s, through his affiliation with One in a Million. "I can remember our first one where we had about 25 kids. And we had a lot of hot dogs left over," he said. But the events grew to include both Saturday and Sunday of each Father's Day weekend. The biggest crowd in the park in one day was about 4,000 people, said Williams. He would always announce the event as drug, alcohol and violence-free. "If that's what you came here for, you are in the wrong place," he would tell attendees.
The location at Comer Cox Park, "gives us east side residents ownership of a big event," he said. "For the most part, when we go to a big celebration, we have to go outside our community. Juneteenth is inside our community, and that's what makes it so special." Williams said the push behind Juneteenth is to promote equality. "We were all promised that we will be treated as equals. The world knows that's not true to this very second that we sit here today."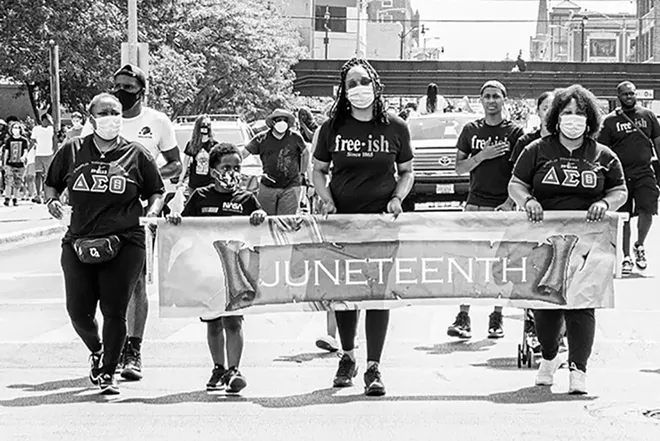 Williams, 58, said he has plans for growing One in a Million. He also wants to help others in his community grow their own businesses. He's now handed the Juneteenth organizing reins over to Douglass and Shymeka Kerr-Gregory, who are both in their mid-30s. Last year they created a business – Juneteenth, Inc. – to help grow the effort. Kerr-Gregory is related by marriage to Ward 2 Ald. Shawn Gregory, who has been a longtime organizer of Juneteenth, and he got her involved as a volunteer.
Before that, she participated as a child. "It was one of those events where your parents could drop you off, and you knew all the elders. And you knew they were going to look after you. You knew there wasn't going to be a problem," she said. "To do that for my kids to see, and my nieces and nephews, it's something to be proud of."
Erica Austin, Springfield Public Schools board member and deputy director for the office of community care at SIU School of Medicine, is also a member of the Juneteenth, Inc. board. As a child growing up in Springfield, she was part of the dance team that would perform in the parades. She said it showed her the meaning of unity from a young age. "It helped shape who I am today."
Douglass said to this day, racist policies affect who gets the most and best resources. She said the major driving force behind Juneteenth activities in Springfield is to abolish racism, and to do that, "You have to inform." She's pushing for the event to lead to broader educational efforts.
Organizers say the hometown of Abraham Lincoln should host one of the biggest Juneteenth celebrations in the country. "We could bring in tons of outside artists to make this a tourism attraction, and that helps everybody. All wards, all businesses – Black or white," said Douglass. This year, the organization partnered with many groups in the community for a rally and multiple museum exhibits, among other offerings. The parade and park celebration will also come back this year.
And organizers are still pushing for further government recognition. The Springfield City Council is discussing whether or not to make Juneteenth an official city holiday, with a vote expected June 15.