Bob Stenander and Ross McIntire may be decades apart in age, but both are pretty proud of Galesburg and its success in making the city's history come alive.
Stenander, a retiree and tour attendant at the Galesburg Railroad Museum, loves to walk visitors through the restored mail car, engine, caboose and Pullman sleeper car on display outside the building. He points to original blankets on beds, dining car place settings and mailbags ready for delivery as a train passes through towns.
McIntire's venue is the city's renovated Orpheum Theatre, built in 1916 as a vaudeville house but used today for live shows and movies. He notes the theater once had a segregated section for African-Americans even though Galesburg and Knox County were a "hotbed of abolition" and a stop on the Underground Railroad helping slaves escape to freedom.
McIntire, technical director for the theater, says several major fires destroyed some downtown buildings, but the city was not deterred. "Galesburg has retained a lot of its history," he says of the city 120 miles northwest of Springfield.
Much of that history centers on railroads, both above and under ground. You easily can spend a day exploring the Railroad Museum, the Discovery Depot Children's Museum, Knox College's link to abolition and Abraham Lincoln, and tributes to native son and poet Carl Sandburg.

For a break from sightseeing, head to historic Seminary Street for gift shops, clothing boutiques, a bakery and restaurants. Nearby is a brewery, a caramel corn shop, an antique mall and a civic art center with galleries.
At the Railroad Museum, you will learn that the first train into Galesburg was in 1854, lured by a local investor, and how it quickly became a hub as "one of the few places trains go out north, south, east and west," according to Stenander. Railroad memorabilia, equipment, tools, photos and books fill the museum.
Outside are the rail cars and a monument to the 18 ethnic groups that helped build the railroad. Many immigrants lost their lives laying track and coupling rail cars.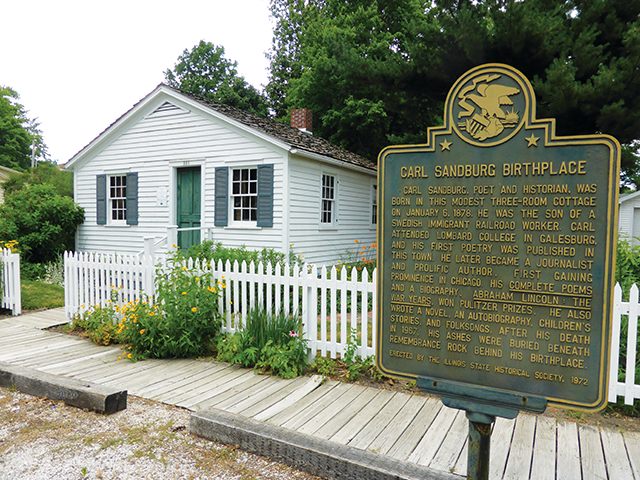 Volunteer Karen Godsil-Patrick explains that Galesburg became the second largest "classification" yard in the United States. "This yard was just phenomenal," she says, in that rail cars containing goods from different parts of the country were sorted to myriad destinations.

Today Burlington Northern's modern version sits just outside town, with five BN lines radiating from Galesburg. She says the seventh and eighth generation of some families still work for the railroad, which remains a major employer. With a train passing through Galesburg every eight minutes, train whistles are ever present.
Across the street from the current Amtrak station and railroad museum is the two-story Discovery Depot Children's Museum, geared for children ages 1-12. A real caboose and a playground are outside. Inside exhibits include a play fire station, vet clinic, pizzeria, train depot, science and engineering challenges and toddler ball ramp. The museum plans to open a water area, science lab and climbing area upstairs in 2019.
Stop by the Orpheum for an informal tour, a live show or free "Throwback Thursdays" old movies. The theater hosted vaudeville acts until the 1930s, when it switched to movies. Community groups saved the building from the wrecking ball when it closed in 1982. After renovation to its former splendor, the theater reopened in 1988.
The 920-seat hall features an Italian Renaissance frieze, classic Corinthian columns and French baroque medallions. McIntire says Those Were the Days, starring William Holden, premiered at the theater in 1942, but the actor refused to attend until the theater desegregated.
The segregation was a little surprising, given Galesburg's and Knox College's founding in 1837 by antislavery advocates from upstate New York. Information from Knox notes that the city and college "were perceived as the leading downstate center of abolitionism and Underground Railroad activity in Illinois."
---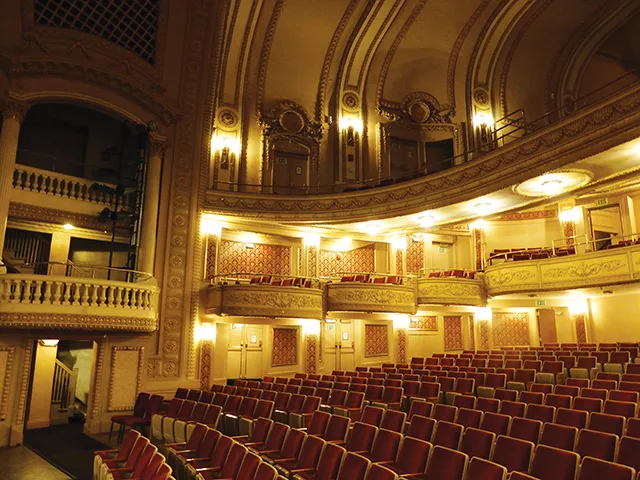 Knox College also has the only remaining building that was an original site for the 1858 Lincoln-Douglas debates. Old Main houses displays about the Galesburg debate and college history. It is open during the school year except on major holidays.
A life-size statue of Lincoln graces the outside of the Amtrak depot while native son and Lincoln biographer Sandburg stands tall in a statue on the public square downtown.

Sandburg's boyhood home, a state historic site in a modest neighborhood, is open Thursday through Sunday. Sandburg was born there in 1878 to Swedish immigrants and went on to become a Pulitzer Prize-winning author and poet.
Galesburg celebrates his legacy with the Carl Sandburg Days Annual Festival in April. The last full week of June brings the Galesburg Railroad Days, and a Great Balloon Race with 25 hot air balloons is on tap this year July 27-29.
Galesburg Heritage Days are Aug. 17-19 this year at Lake Storey Park, just north of town. The 600-acre park has a large shaded campground, a small water park, ball fields, boat rentals and extensive walking and biking paths.
For more information, contact the Galesburg Area Convention and Visitors Bureau at 309-343-2485 or www.visitgalesburg.com.

Mary Bohlen of Springfield writes a monthly travel column for the Illinois Times celebrating Illinois' bicentennial in 2018. She is an emeritus professor of communication at the University of Illinois Springfield.