If you could wish for anything right now, what would it be? That's the question that's been posed to residents of Lewis Memorial Christian Village, a senior community in Springfield.

"I think people are at their best when they're serving others," said Kelley Tierney, director of sales and marketing for Lewis Memorial. The effort is a way for residents to stay connected to the outside world. Nursing homes no longer allow visitors, part of efforts to stem the spread of the new coronavirus. "People are feeling helpless right now, especially if they are home, quarantined," said Tierney.
So earlier in March, she asked the residents to come up with three things they want and posted pictures with each person and their corresponding list of items on Lewis Memorial's Facebook page. With great success. Donations immediately poured in. The gifts have been a way to combat the loneliness of elders and those who miss them. "I get paged all the time: You just had a delivery, you just had a delivery," said Tierney. "It's not just from Springfield. It's from everywhere. We've had things sent directly from Amazon. We've had things from out-of-state." Facebook posts by Lewis Memorial have reached people by the tens of thousands, she said.
Wishes include: that my kids are happy and healthy, a birdfeeder, flowers, my wife and to see my kids. Resident Bob Vaughan had simple requests: Cheerios, Hershey's chocolate and peanuts.
Now Bob has several boxes of Cheerios stacked up in his room, as his daughter Shelley Vaughan noted while outside, on the other side of his window. "I did go the other day and stood outside his window and waved," she said. She knew she couldn't visit with him in person but wanted to be face-to-face, at least in some way. The separation has been tough. Bob is originally from Decatur where he worked in HVAC. "He could fix anything. I'm really thankful that I had him as a dad because he taught me to fix a lot of stuff," said Shelley.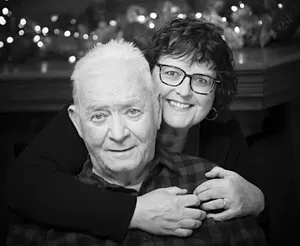 Bob moved into Lewis Memorial residential care after suffering a stroke last June. He had previously been staying in its independent living. He can no longer walk, and shows signs of dementia. "He's given up a lot, but he always has a smile on his face when we see him," said Shelley. And he smiled really big for a photo with his chocolate and cereal boxes. In times like these, it's the little things.
"Many of the wishes are for the virus to be gone, for their families to be healthy, to be able to walk again or to live in their own home, those types of things, which obviously we can't deliver," said Tierney. But most have been able to come up with more tangible items when prompted. One resident decided to go big, asking for a plane, boat and car. Many Matchbox versions of those have shown up for her, said Tierney. "Which is adorable."
Some requests have been very specific. Walter Hoyt asked for a Great Dane puppy. He received a stuffed animal version. In a video posted on Facebook he held it with a great smile on his face and said, "This has really made my day."
Like other nursing homes, Lewis Memorial is implementing the use of video-chatting for families to keep connected. "We have iPads here in the building that are used for medical purposes, charting that kind of stuff. And so our IT department did whatever they do, their magic, to make a FaceTime app on them. And so now, all the staff has access and the capabilities to FaceTime with family," said Tierney.
And like other hospitals and medical facilities, Lewis Memorial is also collecting paper hearts. "If you want to send us hearts, we'll put them in our windows to support our health care workers," Tierney said.
For Shelley Vaughan, a piece of her heart stays at Lewis Memorial. "He misses us, I know," she said of her dad, Bob. She's sent him letters and various items, though "it looks like he's pretty good on snacks for now" she said with a laugh. Shelley said she's lucky to count Kelley Tierney as a good friend. Tierney shares photos of Bob with Shelley and keeps her posted about how he is doing. "I feel very, very blessed that she's there and that someone that I know and love is there with my dad."
Contact Rachel Otwell at rotwell@illinoistimes.com and follow her on Twitter: @MsOtwell