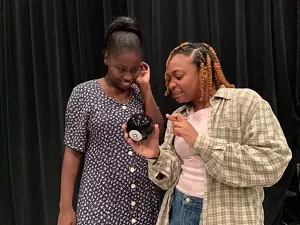 Audiences are returning to live theater at a time of uncertainty and discord. Stop Kiss, Diana Son's dark romantic comedy (and near-tragedy) speaks directly to the fears, anger and longing in our hearts. This fine UIS production under the capable direction of Missy Thibodeaux-Thompson – with a cast of exceptional actors from the theater program and the community is hilarious, heart-felt, and thought-provoking. It is a must-see.
The story is deceptively simple. Two young women, Callie, a cynical New Yorker and Sarah, a newcomer from St. Louis, meet, discover a growing and unspoken attraction between them and finally, inevitably, share a first kiss. That public display of affection sets off a savage (off-stage) gay-bashing, leaving Sarah in a coma. Although set in 1998 New York City with period authenticity (no cellphones and a swipe at then-Mayor Rudolph Giuliani) nothing about this story is dated in the least. Intolerance is still with us. And so, of course, is love.
The story of their relationship and the aftermath of the attack are told out of order. But as with The Audience, concerning Queen Elizabeth II and her prime ministers (recently presented by Spencer Theatre) that nontraditional structure clarifies the themes of the play and reveals the characters' hidden lives.
Playwright Son has said that, aside from the tragedy that dominates the action, the heart of the piece is in Callie's transformation. Callie, perfectly portrayed by Siobhan Aviel Hoskins, is irresponsible and floundering. She is a news radio traffic reporter (a job she detests) peering down at The City from a helicopter the same way she floats above her noncommittal life. She has a huge apartment she doesn't care for, a friend-with-benefits she takes for granted (the terrific DeJoie Simmons), and a key part of her identity that she keeps secret, apparently even from herself.
Sarah (Nia Tiller, marvelous as usual) is her opposite. She's chosen a meaningful new life teaching kids in The Bronx, running away from a "nice" boyfriend (Carter Coryell, who has a powerful, pivotal, deeply moving scene late in the play), her parents and St. Louis. She has ideals she wants to fight for, while Callie, as Sarah puts it, has a tendency to "swerve" when confronted with anything uncomfortable.
But Sarah also has her hidden places. More than Callie, she seems to understand from the beginning that she and Callie need each other to grow, which is another way of saying that they will fall deeply and unwittingly in love. And we fall in love with them both as well, making the intolerance and hate they must face even more tragic.
The rest of the cast is very fine. Kayla Sarabia might seem an unusual choice for the blithely homophobic Detective Cole, who interrogates Callie after the attack, but her open demeanor makes the undercurrent of victim-blaming all the more chilling.
Judy Nichols is pitch-perfect as a blasé New Yorker who witnesses the attack. Samantha Wetter makes a big impression as Sarah's nurse, who makes too many assumptions about Carrie, but also challenges her to take responsibility for her feelings towards the grievously injured Sarah. The scene where Callie accepts the Nurse's challenge and dresses the partially paralyzed and mute Sarah – it's the first moment of any kind of physical intimacy between them – is heartbreaking.
Dathan Powell's design and especially lighting (despite some glitches on opening night) contrast an almost "kitchen sink drama" verisimilitude with stark drama. A hospital bed dominates our view. Glowing panels loom above the stage. Are they disembodied skyscrapers or huge shards of glass signifying the violent dismemberment of Sarah's and Callie's dream? The costumes (Joanna Chum is billed as "coordinator") certainly suggest the period and signal Callie's move towards personal responsibility and commitment as well as Sarah's outsider status.
Since Stop Kiss, playwright Diana Son has had a career as a TV writer and showrunner on "American Crime," "Law and Order: Criminal Intent," "Southland," "Blue Bloods," and famously, and perhaps even notoriously, the Netflix series "13 Reasons Why," which focused obsessively on teen suicide and its aftermath. The successful show was soundly criticized by educators and health care professionals for romanticizing teen self-harm. Son works with powerful, even dangerous, subjects. In her best work, like Stop Kiss, she strikes a balance between a borderline exploitative use of tragedy and an admirable affirmation of life.
The power in Stop Kiss hasn't gone away, and it's not a period piece. Despite all the changes – same-sex marriage, the rise of LGBTQ+ consciousness, acknowledgment of intersectionality, and all the rest – intolerance and hate still live on in ways small and large.
Stop Kiss has the power of the great romantic tragedies haunted by hate, like Romeo and Juliet, where risk and love are intertwined. In the end, Callie has grown and discovered courage within herself, all of which is summed up in two words, the response to which is far from certain. To Sarah she pleads, "Choose me." It's a breathtaking moment in the theater.
Stop Kiss will move you deeply. It is both an indictment of hatred and a sharp-eyed and loving look at the perils – and the considerable rewards – of living life fully.
Tickets for remaining shows
Thursday, Oct. 28, through Saturday, Oct. 30, at 7:30. Tickets at UISPAC.com. UIS now charges $5 for parking for every event. Face masks must be worn, and attendees must provide proof of vaccination or a negative COVID-19 test. More details and tickets at uispac.com.
Dennis Thread is a freelance writer, director and producer experienced in theater, opera, immersive experiences, public ritual, film, TV and institutional and corporate communications. Contact him at dthread@creativethread.com.