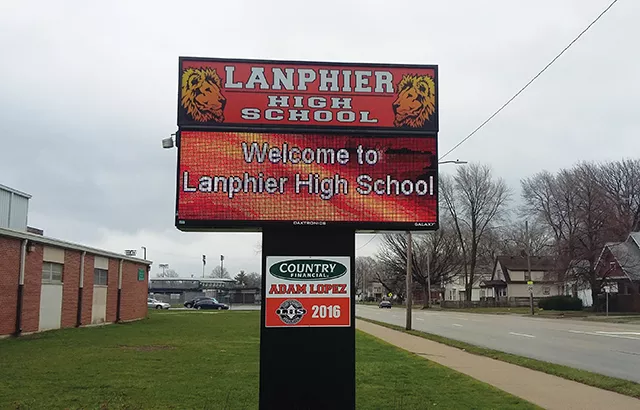 Amid accusations of skullduggery by a Republican businessman, Springfield School District 186 no longer will put the name of Adam Lopez, a Democrat who is school board chairman, on a basketball tournament held at Lanphier High School.
The decision comes after Frank Vala met with district officials, including Superintendent Jennifer Gill, then publicly accused Lopez of abusing his power as school board president to promote himself and his financial services company via the annual Adam Lopez Country Financial Basketball Tournament, which is held on Thanksgiving weekend at Lanphier High School. Vala owns an in-home health care company and has donated nearly $400,000 to Republican political causes; Lopez in 2015 lost a Democratic primary to replace former U.S. Rep. Aaron Schock, R-Peoria.
Vala says politics has nothing to do with his concerns. There is no contract between the school district and Lopez or Country Financial. Tournament organizers have not been required to pay rent or acquire insurance, as is required for events on school grounds deemed to be run by groups apart from the school district. Taxpayers have paid for custodians, who cost nearly $5,000 for the most recent tournament held in November.
In addition to removing Lopez' name from the tournament, district officials say they are rewriting policies governing athletic tournaments and rental of district facilities. They acknowledge shoddy bookkeeping in keeping track of tournament finances. While the district says it hopes that the tournament will continue, there are no guarantees.
"I realize there is some policy that needs to be cleaned up around this," Gill says. "We're going to have checklists. We're going to have everything."
After meeting with Gill and district lawyer Roland Cross, Vala went to the school board on March 19. Lopez cut him off in mid-sentence when the businessman reached the end of the three minutes allotted to people who sign up in advance to address the board.
"Time's up, meeting's adjourned," said Lopez, who then stood up to leave without waiting for a motion to end the meeting. In an interview, Lopez declined to respond to Vala's accusations in detail.
"His claims are, I think, false, and I'll leave it at that," Lopez said.

"I'm not involved"
In two letters sent to Vala last December, school board secretary Julie Hammers wrote that the district doesn't sponsor the tournament and so has no power to name it. When asked why the district has neither collected rent nor required insurance pursuant to policies governing the use of school facilities by outside groups, the district says that those policies aren't pertinent because Lanphier students participate.
"It's delusionary," Vala says. "You cannot tell me…that it is a non-district event and then turn around and tell me that it is a district event."
Tournament money flows through district coffers. As of Dec. 31, the tournament account, which was nearly $700 in the hole at the beginning of 2017, was more than $4,100 in the red, according to district files. Joe Bascio, the district's business manager, says that payments from sponsors made since Jan. 1 have put the tournament nearly $2,400 in the black over the past three years, but it is, essentially, a break-even proposition. Besides Lopez, sponsors have included the Springfield Police Department, civic groups such as Big Brothers Big Sisters and businesses, including R.W. Troxell as well as a liquor store, that have purchased ads in tournament programs.

According to records provided to Illinois Times by the district, Lopez, Country Financial and Justin Chance, a man described as an office assistant on a website for Lopez' agency, have paid more than $40,000 in costs for the past three tournaments, including $20,000 in appearance fees for former pro players Nick Anderson and Spud Webb, who came to the 2016 tournament. Lopez and his company have also picked up participation fees paid to Lanphier and the seven schools that send teams, with each school getting paid $2,500 for the most recent tournament held last Thanksgiving weekend.
District officials say they've gone through checks and determined that Lopez has paid more than $37,000 in tournament costs. Country Financial, Lopez' financial planning company, has contributed an additional $10,000, Bascio said. Lopez says that he doesn't know how much he's paid.
"I'm not involved with any of that stuff," said Lopez, who makes his living providing financial advice. "Those numbers, I'm not involved with any of that."
The largest payouts from the tournament account provided to Illinois Times by the district have been for three electronic signs provided by Daktronics, which received nearly $52,000 in 2016 on the same day that a like amount was deposited in the account in two payments, with no notations showing sources of the money. Last spring, Daktronics received another $52,000 from the tournament account, according to district records.

Records show $7,500 for a sign came from Lopez on the same day that Daktronics got a check for $7,100. Daktronics got an additional $44,871 payment three weeks later, on the same day the tournament received $42,500 for a sign from a source that isn't identified in records the district gave this newspaper.
Lopez deflected questions about signs, including whether he or his company was the source of the $104,000 paid to Daktronics for signs from the tournament account. Asked how his name and the name of his company came to appear on a sign posted outside Lanphier on North Grand Avenue, Lopez couldn't say. One of the signs, installed in the school's gym, includes the notation, "Donated by Adam Lopez," according to a Daktronics website that includes a picture of the sign.
"I wasn't involved with any of that," Lopez said. "That was the school involved with that. … The school did all that stuff with Daktronics. I had no role."
Gill and Bascio also say they don't know how Lopez' name ended up on the signs. "He donated quite a bit of money," Gill offers. The decision to put Lopez' name on signs, Gill and Bascio said, was made at the school level, not by district headquarters. In addition to $7,500 from Lopez, Bascio said that the district has determined that student government at Lanphier contributed $20,000 for the signs, with money typically coming from sales of t-shirts and various fundraisers. The remaining $76,500 came from donors, he said, but he could not be more specific. In any case, the signs are permanent fixtures, and expenditures for them should not be considered tournament expenses, Bascio said.
Bascio and Gill acknowledge problems with bookkeeping.
Entries in balance sheets provided by the district are sometimes vague or incomplete. Last Sept. 7, for example, the records show that the tournament received $500, but there is no indication where the money came from. In May of 2016, $12,000 was deposited in the tournament account. According to files provided by the district, the money was from gate receipts. The tournament had ended six months earlier.
Bascio said the district has determined that the money deposited in May of 2016 wasn't from gate receipts. Rather, the funds came from checks that had gone undeposited since the previous September, he said, with $10,000 of the $12,000 in uncashed checks having been written by Lopez.
"It's a bookkeeper issue," Gill says. "We had a bookkeeper, she's no longer here. … It's another thing for us to shore up on our end."
Vala says sloppy books are inexcusable.
"If they're responsible for $193 million for our students and they can't keep track of a four-day tournament, what is happening to the rest of our money?" he asks.

A positive environment
At least one school board member agrees with Gill that the district needs to tighten policies.
"I'm appreciative of Frank for bringing the issues to our attention," said board member Donna Moore.

"Looking at it, yes, there's a lot of grey areas. We need to improve it. Thank you, Frank, we're going to improve it."
In the meantime, the district is on the hook for next November's tournament without a solid sponsorship deal.

Gill says she wants the tournament to continue, but money needs to come from somewhere. The district has contracts with seven schools to play in the upcoming tournament, and they are due fees for participating.

The tournament unites the community and draws college basketball recruiters, Gill said. "The gym was filled to the brim," Gill said of the most recent tournament, where Mayor Jim Langfelder presented Lopez with a certificate of appreciation from the city.
"We can't thank him enough for bringing competitors, family and communities together," Langfelder told Lopez and the crowd. "Springfield will continue to thrive because of residents like you who take their passion and combine it with their hard work to create a positive environment for our community."
Lopez said he hopes to stay involved with the tournament even if his name is no longer attached to it. "There will be a future for it," he predicts. "It will be here many years."
Vala says he's willing to help. He said he's told the district that he'll pick up costs for the next tournament to avoid cancellation, but he hasn't heard back. And he said he isn't impressed by vows to change policies and the decision to remove Lopez' name from the tournament.
"They're trying to cover their butts," Vala says. "He shouldn't have had his name on it in the first place."

Contact Bruce Rushton at brushton@illinoistimes.com.