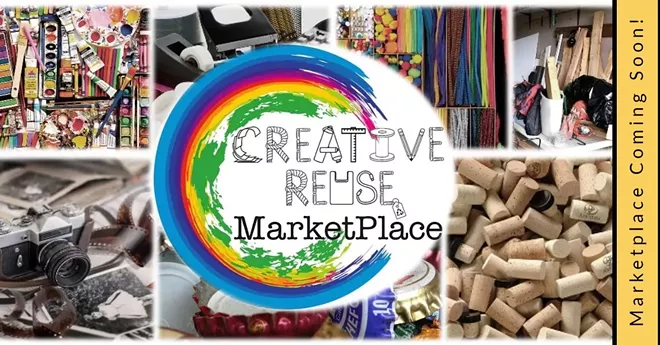 "This is a really good time to go with the flow," says Adena Rivas of launching Creative Reuse Marketplace during 2020. Rivas works for the City of Springfield as the waste and recycling programs coordinator, in addition to her volunteer work as the founder and project manager of the Creative Reuse Marketplace (CRM). Beginning in 2018, Rivas worked with community partners to collaborate and clarify ideas which would eventually evolve into CRM.
This spring, CRM was awarded a $52,500 grant from the Women's Fund, an endowment fund that operates through the Community Foundation for the Land of Lincoln. Stacy Reed, vice president of programs and marketing, says the mission of the Community Foundation "is to connect people who care with initiatives that matter. We are drawn to innovative and collaborative projects which help women and children, especially underserved communities. CRM spoke to all of these priorities."
One of the facets of CRM is reducing waste. CRM takes items that cannot be recycled and are not candidates for donation to a thrift store and sells them to crafters, teachers and other community members. Examples include items such as pieces from incomplete puzzles, partially used boxes of crayons and other craft supplies, bottle caps and the like. Rivas states, "If it can't be recycled or donated to a thrift store, it's likely something we're interested in." Rivas adds that they are in the process of creating partnerships with area thrift stores so that donations can be funneled to the appropriate destination to decrease waste.
As of Dec. 1, CRM will be moving into a permanent location downtown at 122 S. Fourth St., becoming a part of the vibrant Adams Family. Though Rivas anticipates the brick-and-mortar store will not open until spring, in the meantime the location will serve as a drop-off site for donations, as well as a pick-up spot for purchases through the online marketplace.
Items available through the marketplace are sometimes sold in bulk by the pound, such as yarn, puzzle pieces or CDs, or as lots, such as individual game boards and grouped game pieces. Handmade items are also offered for purchase and will eventually expand to include items created by local artists.
Another facet of CRM is its workforce development initiative. CRM has partnered with Inner City Mission, which in non-pandemic times offers 20 transitional housing units for homeless women and children and provides wrap-around case management for residents.
"At Inner City Mission, we are trying to unwind trauma," states director of operations Caleb Payne, noting that the residents find "a source of dignity and pride in work."
"Women need skills to get out of the cycle of poverty," explains Rivas. "The idea is that CRM will not provide long-term employment, but give them skills, including soft skills like creative thinking." As women in the program gain experience and self-confidence, they will be better equipped to proceed to the traditional workplace. "We hope to filter a lot of women through this program," states Rivas.
Women at Inner City Mission also make items by hand to sell on CRM's online marketplace, which currently features their cards and shadow boxes. Eighty percent of the proceeds go back to the women at the shelter, with the remainder kept by CRM.
The downtown store will eventually include a section of donated items for resale, as well as a creative nook for educational workshops featuring crafts that show how items available for purchase in the store can be upcycled. Rivas plans for these workshops to be online in the spring and in-person when coronavirus mitigation measures ease.
Rivas encourages people to keep donating, as CRM has already kept 300 pounds of items from the landfill in its first month of operation, projecting 100,000 pounds of items could be upcycled instead of thrown away in the first five years of operations. With the upcoming holiday season, Rivas hopes people will make use of CRM's online marketplace as a way to keep creativity alive this season in making presents for loved ones as well as for making holiday decorations and crafts.
Carey Smith is a big fan of community efforts that bolster creativity and support women and the biosphere.
Visit www.creativereusemarketplace.org to see a list of items accepted for donation and available for purchase. CRM's community partners and financial supporters include the City of Springfield, Enos Park Neighborhood Improvement Association, Third Presbyterian Church, Sustainable Springfield, Inc., Inner City Mission, Springfield Art Association, Frye Williamson Press, The RE-AMP Network, Community Foundation for the Land of Lincoln and Women for Women.