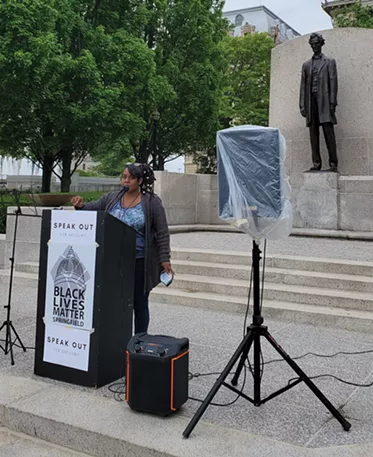 Shatriya Smith wants to be the capital city's first poet laureate – an honor that doesn't, but should, exist – and should first be bestowed on Smith, partially for her being creative and visionary enough for the idea in the first place. In addition to her writing, Smith is a fierce community organizer who likely has as many connections as any public official in Springfield. Currently she is helping lead the Marcus Garvey-Harriet Tubman Cultural Arts and Research Center, a nonprofit with a focus on empowering impoverished and disadvantaged kids through arts education.

Even through the pandemic, she has kept busy, helping organize music lessons for kids who wouldn't have access to them otherwise, for instance. She has recited her poetry at multiple rallies during the recent Black Lives Matter movement uprising, as she has for numerous years prior for other human rights causes. Smith is open about overcoming dyslexia in order to work with words and make them mean something that moves many.
Smith lives on the east side of Springfield, in a home that once belonged to her late grandmother, who was also heavily involved in the community. Smith credits her grandmother with urging her to share her feelings, something that otherwise was not encouraged during her childhood. "My grandma broke that curse for me. So I'm free because I am able to be descriptive about my feelings, and share this understanding of where I'm coming from," Smith told Illinois Times in an interview earlier this year.
Springfield is lucky to have Smith as someone communicating across many divides that have historically segregated the capital city. Her genuine commitment and embodiment of a progressive, welcoming spirit is an asset to Springfield and her star only continues to rise.