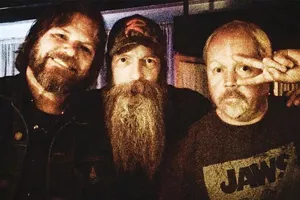 You hear a lot (or at least I do) about the burgeoning and flourishing Springfield music scene. People talk about how musicians play well together with excellent, diverse and progressing musicianship. This weekend especially seems to be jam-packed with some of the best of the best of our finest music groups from near and far, past and present.

sThe capital city does seem to support and develop bands and musicians that hang around town and play for years and years. Not to say that other area cities don't have local scenes (of course they do), but from talking to other musicians and observing available venues, it appears Springfield owns more incredibly vibrant and active live music happenings when compared to other places.
Perhaps it's because folks tend to stay here or come back to settle. We don't have the transient nature of college towns or the blue-collar tastes of labor-intensive industries driving the venue bookings. A stable job market offers musicians the opportunity to hold steady employment with regular hours, not consisting of too much back breaking or mind-bending qualities, and also creates a well-paid workforce looking for familiar and long lasting quality entertainment. Lots of people around here prefer to go hear bands playing cover songs they know or grew up with and hang out with friends they've known for years through school, work or family. This, then, creates a consistent environment for bands to flourish economically and grow artistically, thereby making a scene that offers years for musicians and audiences to enjoy each other, building a community of venues and interactions. All in all, and for whatever reasons, we sure do seem to have a cool and capable collection of bands, players and places to play, with people determined to support the music.
When starting out this week on your musical adventures, be sure to check out the numerous open mic events on Thursday (you missed even more on Wednesday), and the karaoke nights, too. No matter what you think about either of these types of gigs, the community produced around the scenes is integral to the longevity and development of the greater good.
On Friday you've got 2nd Chance Band at Crows Mill Pub, a combo with a name proving the point of musicians staying in town working and raising families, then playing when the time is right. Over at the Brewhaus, check out three artists with The Cold Stares from Nashville opening at 8:30, then Los Injectors and The LoveHogs, both acts of long standing pedigrees going back decades, finishing up by midnight. More groups with veteran musicians continue the Friday romp as Off the Wall bounces into Weebles, Captain Geech knocks out the Blue Grouch, Harmony Deep lands at the Koo Koo's Nest, After Sunset drops by Longbridge, The Shunpikers drive through The Curve Inn and White Lightning drops into the VFW on Stockyards Road. That's crazy to think all those bands, and even more are playing in town on Friday.
On Saturday the craze continues with Groove Daddies at The Curve (next Thursday features Cats on Holiday), Lowder and Manning at It's All About Wine, Mary Jo Curry Blues Band at Casey's Pub and many more listed in Pub Crawl, including repeats of Friday bands. And please, by no means think I've slighted anyone by not mentioning a group. There's just not enough space to cover all the talent in one column. Plus, I've not included the special music events held downtown during the day at PrideFest and The Old Capitol Art Fair or anything from the all-ages venue of the Black Sheep Cafe.
I do believe there is a happening scene around here to be seen and heard.
Contact Tom Irwin at tirwin@illinoistimes.com.