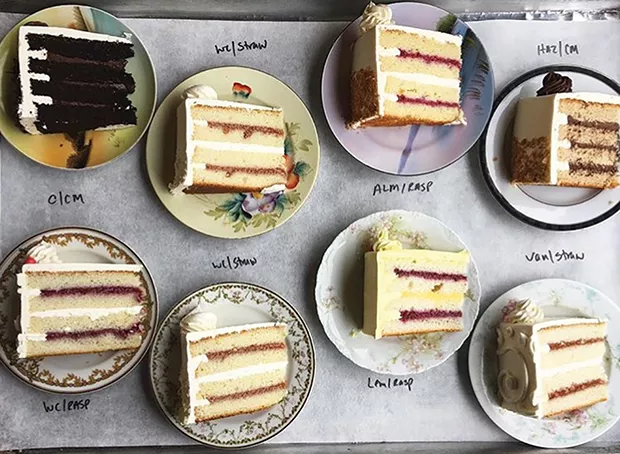 5flavors Catering
Off-site catering, custom menus, customized service style (buffet, family-style, plated, stations), upscale events, unique presentation, bar service. Service for 10-2,500. 3086 Normandy Rd., 217-787-4654. 5flavors.com. info@5flavors.com.

Arena Food Service, Inc.
Custom menus and service proposals are always available. Unlimited number of guests served. Prices are dependent on services rendered. 993 Clocktower Drive, Suite D, 217-698-2944, ext. 304. arenafoodservice.com. pnovak@arendafoodservice.com.
Conn's Catering & Events
Sample menus items include a taco/fajita bar with margaritas on the rocks for the rehearsal, a wedding ceremony appetizer of our signature parmesan artichoke dip served with toasted pita chips and for the reception dinner a parmesan coated chicken breast topped with lemon, caper and mushroom cream sauce. Service for 20-500. Prices begin at $15.95 per person. 835 S. Second St., 217-523-4466, ext. 2308. connscateringandevents.com. julied@connshg.com.
Cooper's StrEATside Bistro & Cooper's AlleySide
Meal styles include a traditional buffet, customized menus by Chef Cooper, build-your-own options, family style and food stations. Service for 25 and up. A food truck is available. 3115 E. Sangamon Ave. (inside King Pin Lanes), 217-415-3852. cooperstreatside.com (under construction). info@cooperstreatside.com .
County Market Catering
From full entrées, pastas, appetizers and even build-your-own food bars, we'll customize the food experience for you. 3001 Veterans Parkway, 217-617-3516. mycountymarket.com.
Cured Catering
We offer full-scale catering with an eye toward presentation of gourmet hors d'oeuvres, soups, salads and entrées. We specialize in weddings and custom events. Service for 25-1,000. Prices vary. 1510 N. 15th St., 217-494-2425. curedcaters.com.
Fulgenzi's Catering
Select from Italian, American and Cajun dishes. Service for up to 10,000. Prices begin at $5.50 per person. 2700 W. Lawrence Ave., 217-971-7517. fulgenziscatering.com. fulgenziscatering@gmail.com.
Hamilton's Catering Service
We offer a range of entrées from prime rib to fried chicken and from breakfast for dinner to taco bars. Customized menus are available. Prices vary and per-guest prices include uniformed staff, delivery and set up, buffet maintenance and clearing. 101 Main St., Franklin, 217-675-2720. hamiltonscatering.com.
Hy-Vee
Buffet-style catering. Service for 10-1,000. $11-$20 per person. 2115 S. MacArthur Blvd., 217-726-1001. hy-vee.com. 1640cateringmgr@hy-vee.com.
McCormick's Smokehouse Catering
Smoked craft meat. Service for up to 2,500. $8-$20 per person. A concession stand is available. 1510 N. 15th St. 217-793-1183 or 217-899-4117. mccormickssmokehouse.com. jdmfoods@comcast.com.
Nelson's Catering
Formal buffet, family style, plated and served. Some favorites include beef tenderloin with bourbon peppercorn sauce, grilled chicken breast with brandy mushroom sauce and roasted pork loin with Dijon cream sauce. Entrées include sides, salads and dinner rolls. We also offer bar service, appetizers, late night snacks and desserts. $15-$35 per person. 3005 Great Northern Road, 217-787-9443. nelsonscaterng.com. wanda@nelsonscatering.com.
Poe's Catering
Prime rib, fried chicken and pulled pork. A concession stand is available. Service for 20-10,000. Prices begin at $10.95 per person.295 E. Andrew Rd., 217-487-7601. poescatering.com. poecater@msn.com.
Pour Bar Services
Off-site bar service, cash/hosted bar packages, trained and professional bartenders, gourmet cocktails, signature drinks, customized menu planning. Service for 25-2,500. Hosted packages start at $8 per person. 3086 Normandy Rd., 217-7887-4654. pourbarservice.com. info@pourbarservice.com.
Robert's Seafood Market
From heavy appetizers to full course meals and everything in between, we can cater any type of event. We specialize in buffet style, but also do formal sit-down events. Besides a full line of seafood, we also offer a large variety of beef, pork, chicken, pasta and vegetarian dishes. $10 and up as tailored to your requests/budget. 1615 W. Jefferson St., 217-546-3089. robertsseafoodmarket.com.
arobert@robertsseafoodmarket.com.
Secret Recipes Catering
Off-site catering, traditional and affordable menu, build-your-own table, buffet options, bar service. Service for 10-2,500. Options start at $10.50 per person. 3086 Normandy Rd., 217-585-1100. secretrecipescatering.com. info@secretrecipescatering.com.
Turasky's Catering
Some meals grilled on-site. Entrées include stuffed pork chops, roast beef top round with au jus, marinated grilled chicken breasts, pulled pork, Italian beef and ribeyes. A food truck is available. Minimum of 50 people served. 1020 W. Jefferson St., 217-626-2803. turaskycatering.com.