Jordan and Aurora Coffey are a married couple in their early 30s. They have a young child, and another on the way. Their love of food and the community it creates is one of their most sacred bonds. And it's been tested over the past week, in light of efforts to mitigate the spread of coronavirus.
On Monday night, friends and family gathered at American Harvest Eatery for a sort of Last Supper, at least for now. "There's a distinct chance that last night is the last time that we're ever going to cook dinner service in that space," said Jordan. Under the governor's orders, all dine-in facilities must close, or at least switch all their sales to pick-up, drive-thru or delivery. Coffey is the chef and owner, his wife, Aurora, is also a chef and does a bit of everything, under the title of general manager. Like many locally owned businesses, they are bracing for the uncertainty of the days and weeks to come.
Jordan said while the dining room remains closed, he's considering ways for folks to pick up orders. Still, he describes that effort as a "Band-Aid on a gunshot wound." The overhead for the restaurant is high. There are refrigerators to operate and other utilities, not to mention rent on the west side of town. "I just spent three years paying back a business loan to buy my share of the company. And that money came from the restaurant, so whatever extra cash flow we've had for the past three years, it's gone to buy my shares." Without a steady stream of revenue, the prospect is troublesome. A two-week hiatus is survivable, he said. "But four, or six, it's catastrophic for any restaurant owner."
Jordan said another thing weighing on his mind is his own family's health. "As a husband and a dad, my biggest concern is whether or not I'll be able to pay my health insurance, which is very expensive."
While the restaurant is usually closed Mondays, this Monday night friends and family not only came to eat, they also ordered gift cards to the tune of $1,000 or so. Jordan was touched, and said the gesture "helps for cash flow in the moment, but it's essentially just a micro loan." The Coffeys have also been helping their staff figure out how to get unemployment benefits, and look into temporary work.
"Because things are changing so much, we're trying to not make too solid of plans," said Aurora. "We don't know if in two weeks we'll be able to do anything differently than we're doing now." She said the most immediate plan is to clean and decide what to do with the food in stock. One idea is to prepare meals for friends working in health care. And a top-most priority is helping her staff cope.
The Coffeys' concerns are shared across greater Springfield, and the country. A recent survey of 835 U.S. workers by public media found that 25% of those making less than $50,000 a year reported they have been laid off or had their hours reduced.
Lisa Clemmons Stott is the executive director of Downtown Springfield, Inc. "In Springfield, the margins are not very wide. And so when something catastrophic like this coronavirus happens, it's a very tough time for small businesses," she said. Current guidance from the government is that the public not leave their homes unless necessary, especially those considered high-risk.
"I think that we're obviously seeing more restaurants move quickly to online ordering and things like that," said Clemmons Stott. Like with American Harvest, some consumers have chipped in with more gift card purchases. DSI has a page on its website where residents can stay abreast of which restaurants are offering curbside pick-up or delivery. There's also a new online effort to help service industry workers in central Illinois get free meals during this time.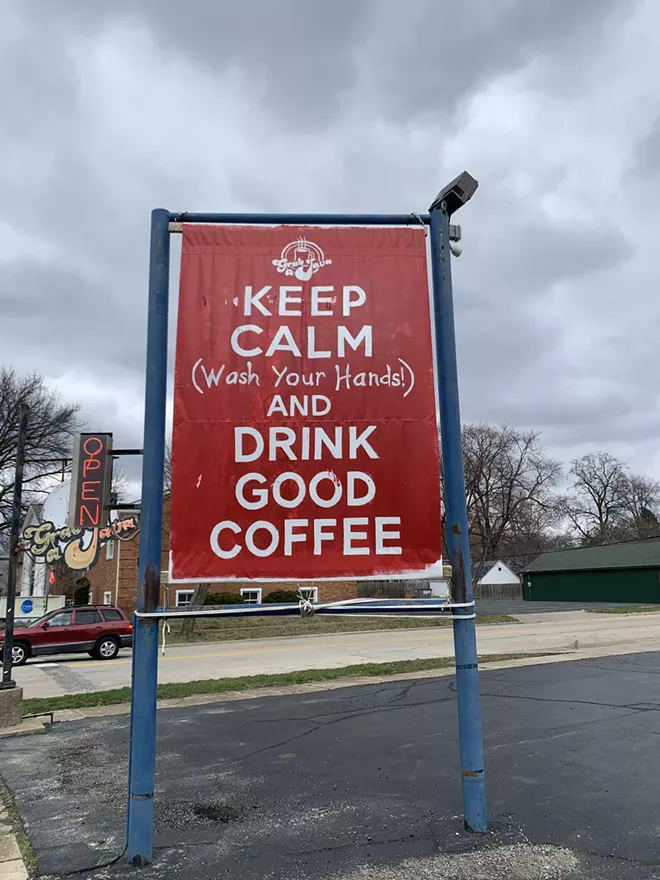 Grab-a-Java is still operating. As a drive-thru coffee provider without a dine-in option, it's allowed to keep operations going. Still, owner William Legge said he is taking many precautions. Workers' temperatures are taken before they begin shifts. An alarm goes off every 15 minutes to remind them to wash their hands. Anyone who wants to stay home from work can. Hand sanitizer dispensers are by the service windows to remind customers to be hygienic as well.
Legge said he recently witnessed a customer lick his fingers to handle his money, and then put his punch card in his mouth. "Having the hand sanitizer right there, front and center, even if you're not gonna use it, it's reminding you we're in a moment where this stuff's important. Don't do stupid stuff, don't put things in your mouth."
Business is slower than usual but, he said, "We'll worry about profit another day. Right now it's just about how do we get through this together safely, and do what's best for our internal family and our customers."
Back downtown, Dumb Records has canceled or postponed all upcoming shows, and won't be scheduling more for the foreseeable future. The music store also functions as a performance space. Owner Brian Galecki is focused on selling some of his 6,000-plus vinyl records and CDs online. The operation is unique, as it runs on volunteer support. But it's how Galecki makes ends meet.
"Everything's changing so fast, and I'm always worried that the next day is gonna bring no sales at all," he said. He said some people have come in to buy records as they stock up on groceries and prepare to stay home as much as possible.
As a new business, Galecki said Dumb doesn't have "a ton of money saved up in case of emergency or a case like this. We're not really prepared." But Galecki is making do as best he can. He's created an online store for merchandise like t-shirts, and will continue to sling his records online. And, a silver lining, he'll have even more time to create the bizarre illustrated letters he sends to those who buy records by mail.
Most business owners are holding out hope that the government will intervene, not only with unemployment benefits, but additional assistance for struggling small businesses. Workers who have been laid off can apply for benefits through the Illinois Department of Employment Security. (Offices remain closed in an effort to halt the spread of coronavirus, but the application is accessible online.)
As parents with another child on the way, the Coffeys are pragmatic about the drastically new reality they face, but also hopeful. "When the baby's due in July, I hope that he is born into a much less chaotic situation than what's going on right now," said Aurora.
Contact Rachel Otwell at rotwell@illinoistimes.com and follow her on Twitter: @MsOtwell.