It's more than you,
It's more than me,
No matter what we are,
We are a family.

This dream is for all of us,
This one can be real,
And you can't stop us now,
Because of how you feel.
The words at left are what Jimmy, C.C., Curtis and the others sing in a Miami Beach dressing room to remind each other of how far they've come. It's part of Dreamgirls, the Springfield Muni Opera's latest production, which tells the story of black musicians in the 1960s and their behind-the-scenes struggles to cope with the pressures, power-plays and personas as music transforms from Motown to disco.

"No matter what we are, we are a family."

The Dreamgirls preshow ritual includes a prayer circle. Members of the cast and crew hold hands, or stand arm-in-arm, or lean on each other as they bow their heads and pray for the upcoming performance. There's laughing, and embracing and tears.

Reggie Guyton, a performing arts major from Blackburn College in Carlinville, plays Jimmy "Thunder" Early. It's his second Muni show, which makes Guyton a veteran compared to many of his counterparts who have never performed in Springfield or had leading roles of their own. Twenty-one out of the 44 actors are new to the Muni stage. "Lots of us only learned to sing in church. They might not read music or know how to match tone, but their raw talent and passion bring something unique to the production that I really love," Guyton says.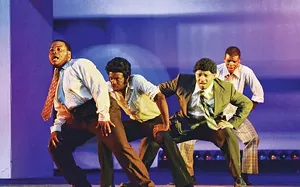 Calia Cole (Lorrell) will be a sophomore at Springfield Southeast High School. She credits her late grandfather with teaching her to sing, dance and perform. "He saw something in me and really brought it out," she says. Although Dreamgirls marks her Muni debut, Cole says friends have tried to recruit her for the past decade. "I was scared of being underqualified, but I've learned to trust myself and lean on my faith in God," she explains, adding that she's learning from veteran performers like her singing partners, Fania Bourn (Deena) and Tuesdai Perry (Effie).
Perry lives in Gary, Ind., but studies theater at Western Illinois University. It's her first time in Springfield ("Why is everything a one-way street?") and her first time at the Muni. The show, she says, has changed her life. "I've been handed the opportunity to be all that I can be. I never would have thought I could do this, but the staff put their faith in me and trained me to do it." Perry says she considers Dreamgirls an unusual choice for a Springfield theater, and was overwhelmed when "they chose a random girl from Western to play such a major role."
Director Craig Williams II says he lobbied for the show and convinced Muni's play reading committee to select Dreamgirls for the first time since 1992. (The Springfield Theater Center last ran it in 2008.) Williams knew Springfield had the talent to fill a predominantly black cast, but he used unconventional methods to find that talent. "Everyone auditioned in the normal way, but we went to schools and churches and groups to ask people to try out," he explains. Williams then catered his call-back system for first-time actors, inviting some who appeared nervous during auditions back for a second chance. "If you pay attention to talent and look beneath the surface for raw instinct, it can really work," he says.
The strategy helped him land the right people who have formed what the director calls a "joyful and encouraging family." Newbies bring an attitude that contrasts with "showhoppers" routinely performing in "just another show."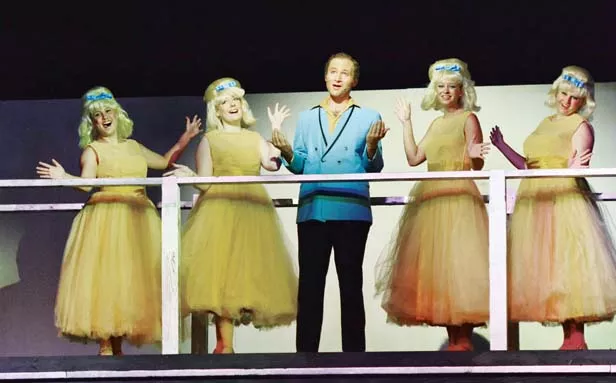 The actual performance – perhaps appropriately – is a little like the cast and characters themselves. It starts off a little unsteady and unsure. Backup singers render leads inaudible, one of the three Dreamettes dances in the dark, and an emcee mysteriously lacks a spotlight. But just when it looks like things are about to settle in to mediocrity, something shifts and the audience finds itself rooting for the performers and the protagonists. By "Cadillac Car," and "Steppin' to the Bad Side," jitters have subsided and the cast has hit its stride. We see agents and film executives and composers on stage instead of performing arts students and their friends. Perry's raw and emotional "I'm Not Going" proves Williams right for taking a chance on her, and Guyton brings the right touch of arrogance and humor to his portrayal of Jimmy.

Much of the time, Guyton performs without a spotlight, often teetering on the edge of darkness. He's hard to hear in "Fake Your Way to the Top" and hard to see during other songs. But then again, maybe it's good that Guyton doesn't always have the spotlight. After all, he's willing to share it with the rest of his Muni family. "This isn't an obvious show for Springfield, but it shows the versatility of the Muni and the board's willingness to get a little edgy," he says. "No one person stands out. We're all in this together."

Dreamgirls continues July 17-21 at 8:30 p.m. and lasts 2 hours and 45 minutes, including a 15-minute intermission. For tickets, call 217-793-MUNI or visit www.themuni.org.

Zach Baliva is a filmmaker and media producer living in Springfield. He is currently prepping a feature documentary on the student loan crisis.