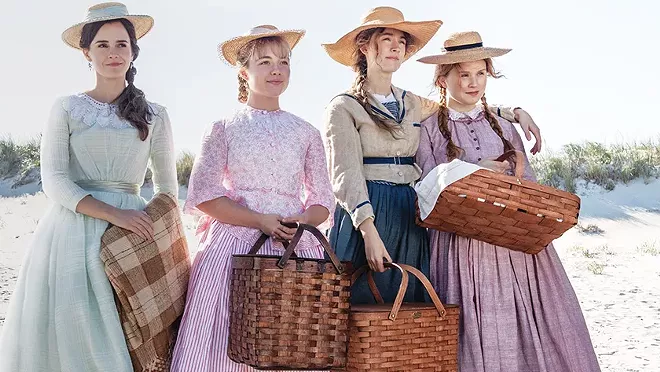 Do we really need another big screen version of Little Women? What with seven previous adaptations as well as numerous television productions and updates, one would think that Louisa May Alcott's saga about the March women had been played out. Yet, it could be argued that the novel's message has never been more timely or vital than it is right now. Seeing Jo, Meg, Amy and Beth mature into young independent women is a sight that each generation should be presented with, an example for girls and women of all ages to cut their own path without apology or excuse.
In Greata Gerwig's hands, there's a vitality to the film that holds it in good stead and while she obviously loves these characters, she doesn't set out to give the viewer idealized versions of them. Rather we see them as passionate, yet mercurial and fallible as well, women with good hearts who sometimes fall victim to their own self-interests. They're not that far removed from Christine in Gerwig's lovely Lady Bird, effectively underscoring just how universal and timeless Alcott's characters are.
Instead of telling the story in traditional linear form, Gerwig plays around with the novel's timeline of events, establishing the March household with a quick introduction of the main players – Jo (Saoirse Ronan), Meg (Emma Watson), Amy (Florence Pugh) and Beth (Eliza Scanlen) – and then giving us scenes of future events before coming back to the Civil War setting that begins the story proper. The four sisters are a handful, something their mother Marmee (Laura Dern) is all too aware and proud of, yet their good hearts guide them in muddling through their day-to-day lives while their father (Bob Odenkirk) is away at war.
Petty fights occur between them as Jo longs to be a writer, Meg simply wants to settle down and have a family, Amy hopes to be a painter and Beth serves as an inspiration to them all in the most tragic of ways. There are suitors along the way, including Laurie (Timothy Chalamet), the nephew of the rich and reclusive Mr. Laurence (Chris Cooper) who lives next door, as well as the teacher who catches Jo's eye, Friedrich Bhaer (Louis Garrel). Of course, there would be no interest in the relationships that develop between the ladies and their beaus if all went smoothly.
What stands out most is the desperate longing each of the young actresses conveys, as their characters are passionate in wanting to reach their goals and make something of themselves. All are good but of particular note is Pugh, perhaps the most exciting film actress working today. Her Amy is a fierce creature that, while initially selfish and needy, ultimately blossoms into a mature, strong young woman who doesn't suffer any fools. Seeing Pugh take the character through this transformation is remarkable. It comes as no surprise that Ronan is equal to her, taking Jo through her many highs and lows, her moments of elation and doubt with a sincerity that allows us to share in all she's going through.
Perhaps the greatest contribution Gerwig makes are two scenes between Jo and her publisher, Mr. Dashwood (Tracy Letts), which bookend the film. Longing to be published, she initially accepts his vicious comments and suggestions simply so that she can provide for her family. However, in the end, when the tables are turned and Dashwood wants to publish her work, we see an assured woman taking charge of her own destiny. Having witnessed Jo's journey, it still proves to be a cathartic, meaningful experience, one that speaks to the nature of Alcott's simple yet powerful story.
Contact Chuck Koplinski at ckoplinski@usd116.org.