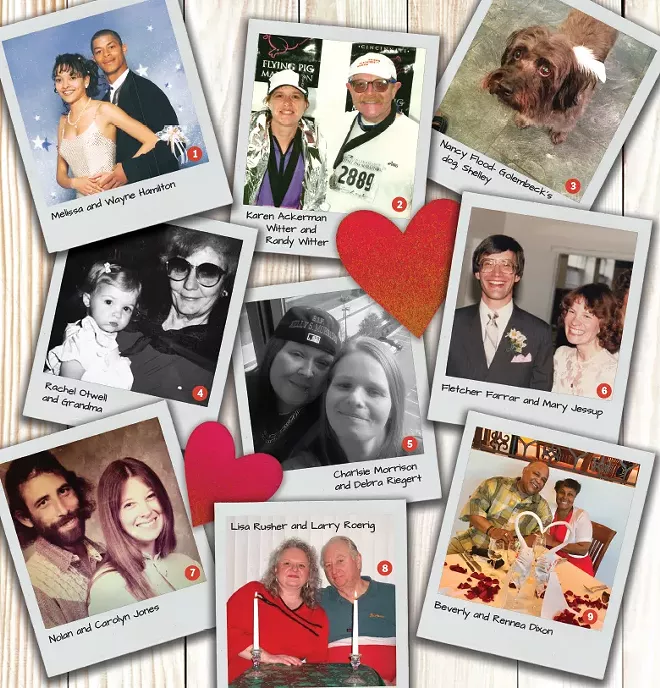 Millions of words have been written on the subject of love, whether in books, poems, plays or songs. In honor of Valentine's Day, we asked Illinois Times' readers to share their own love stories with us, but in 100 words or less. The responses encompass not only romantic love, but stories of family members, dear friends and even furry (or feathered) loved ones. These little love stories run the gamut from happy to sad and funny to sweet, but all speak to the universal truth of our human experiences of love.

Beverly and Rennea's love story
We celebrated 30 years of marriage in 2018 and went on a second honeymoon. You start out as starry-eyed kids and think you know everything. As you can see, if you look closely at our faces, life is tougher than we thought it would be. Every line and every wrinkle is proof of how hard life is. But, see the smiles? We made it! The kids are grown and we're starting our second half of life together. Praying God gives us plenty of time to enjoy our retirement. Rennea Dixon. (9)

A husband and father

I will never forget the moment we found out we were becoming parents. It was just before you stepped on the train to go to India for weeks. When I saw you change from a husband to a father, with a smile on your face and love in your heart, is a time I will never forget. I knew I married my soulmate, my life's love, but now I know I have the untainted package – my husband and my son's father. I love you, Tim! Molly Hahn

The blessing of love
A dear friend from 30 years ago met me at the Albuquerque Balloon Fest last fall. We spent a marvelous day gazing at the balloons and the sky. Ever since then we have met at beautiful spots nearby – Cape Girardeau, the Katy Trail, etc., and exploring these historic and wild places has fulfilled our dreams and melded our hearts together. Though my life has already been full of love with family and friends, it is now fuller with a wonderful partner who is all I could ever imagine. Love is such a blessing. Jodi Perko (13)

Danyel taught us all how to live
She wasn't afraid to die; she told me so multiple times. Danyel Pitts was the rare person who prayed "thy will be done" and actually meant it. She kept a smile on her face and continued to praise God from her initial diagnosis of breast cancer to stage four, as it progressed despite multiple surgeries and rounds of chemo and radiation. Her physical body deteriorated, but her spirit grew stronger. Everyone who knew her was better for the experience, including me. I am afraid of living in this world without her. I know she would tell me, "But God!" Michelle Ownbey (18)

He was our father and Abe Lincoln
Our father, Harry Hahn, was Mt. Pulaski's own Abe Lincoln. He won look-alike contests in Springfield and Kentucky and appeared on national television and in the Associated Press book, Moments in Time, along with a book by Edward Russo, Prairie of Promise. Harry Hahn started portraying Abe Lincoln in 1961 and died Feb. 10, 2000. He is missed greatly by his family and friends. Steve Hahn (14)


Love from the bartender's perspective
After a long respite from the emotion, the barkeep loved and lost again. Some say the third time pays for all, but before the third time's charm, he waits. For an emotion with more clichés than bubbles in a beer, he's inclined to think it can't be defined; plenty of poets have tried. Despite being no poet, he has seen love bloom and blossom. Not just lust – though he's seen plenty. Love. As he refills their glasses, he has the same thought he had so many times: "These two are in love." There are few experiences more visceral than serving lovers beverages on their anniversary at the bar where they first met. Jay Wheeler

It started in a coffee shop
Two people meet at a coffee shop in Thailand. The year is 1972. He is an American fighter pilot. She is a Norwegian flight attendant. They write letters for two years. She comes to visit him, and they realize they are meant to be together. They get married, have a child, build a life, grow old. Twenty-nine years later, holding her hand as she slips away, he doesn't see the ravages of the cancer that is taking her. He still sees the young, beautiful woman from the coffee shop. She is the love of his life. Erika Holst (15)

A memory
It was Christmas. Maybe a birthday. Perhaps just an occasion where gifts were exchanged. The box was small, maybe 6"x9" and full of tissue paper. Inside was a hand-painted mirror – a lamb on the left and a boy with a shepherd's crook on the right – and the words, "I will never leave nor forsake you." My sister said, "Do you like it?" Down deep it started, a twinge, then a burn like a sniff of whiskey straight to my sinuses and into my tear ducts, the essence of a memory full of fire and light, music and unimaginable beauty. Every smile and every kiss and every forever goodbye I'd ever heard or spoken welled up inside and, distilled, fell down my cheek. I dabbed it and saw myself in the mirror. "I love it," I said. "I love you," she answered. William Furry

Grandma's gifts
The first time we met I was zero days old. She was there for every moment of darkness and celebration. In her white Buick we'd fly through seemingly endless fields to her town of 80 people where she was Queen. The days there were slow and sweet: walking to the cemetery, visiting neighbors and nursing homes. "Que sera, sera," her mantra. "You are my sunshine," her ode to many. Wanda was raised in Oklahoma during the Great Depression. She knew dust and she knew grit and she lived lavishly with little, always sharing her riches. And her greatest gift, her unending love. Rachel Otwell (4)

Moments of love
It's all in the eyes – the still loving look between my parents after 70 years of marriage, the loving gaze between my son and daughter-in-law on their wedding day, their look of joy at the birth of their son, the look of wonderment at his first view of Christmas lights. Moments of love carry us through life. Cinda Klickna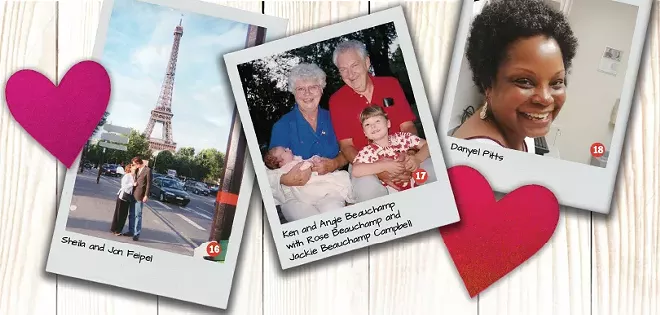 A nonromantic love story
A new friend in grad school invited me to her apartment for tea. I discovered we were neighbors, our buildings at right angles to one another, sharing a parking lot. I pointed to my window and she said, "Oh! Now I know where I saw you before! When the cherry trees were blooming, I saw you walk across the parking lot with your eyes closed and your face lifted to heaven enjoying the fragrance – and I loved you in that moment." She then gifted me one of her original ink paintings, which I still cherish. Bobbi Dykema

You go first
It is a great blessing once to have fallen, held hands and stepped over the edge and fallen, fallen in love. In a car at a stop sign in Decatur, on a brick street in sunshine after rain, I said, or maybe thought, "You go first, just say it." She said "I love you," then I, heart racing, said, "I love you." Over the edge we went. Adding 30-plus years only makes the moment more vivid and true. Fletcher Farrar (6)

Motorcycle walk 1971
I jumped onto the motorcycle and wrapped my arms around Nolan's waist. We flew down Fifth Street heading south towards the lake. After passing Lincoln Memorial Garden, the bike sputtered to a stop. We couldn't fix it and there was no way to call anyone. We walked, Nolan pushing the bike. He apologized, saying, "It's going to be a long walk home." I said, "It's a nice day for a walk." We talked all the way home, sharing our lives. The sky turned a warm pink as we walked west pushing our way into each other's hearts. Carolyn Jones (7)

One date
At seven years old, I told my mother that I would never marry or have children, but when I was 32, I met my best friend, Jonathan Feipel. We fell in love at first sight. After our first date, I handed him the key to my house (and my heart) and said, "I can't live without you." He took the key and said, "I can't live without you." Twenty-two years later we have never had an argument and our hearts beat ever stronger together. Jon is my hope, my dreams, my true love always and forever. Sheila Feipel (16)

For the love of Guinness
What says unconditional love? Knowing that when you pull into the drive, you will see someone looking out the window. Knowing that when you open the door, they will be there to greet you. Knowing that if you are having a bad day, they will be there to cheer you up or console you. Knowing that all they want to do is make you smile and say, "Yes, you are such a good boy, aren't you?" The love of which I speak is that of my four-legged companion for 13 years, Guinness Stout, the most amazing dog ever. I know you are chasing squirrels now with your sister, Princess Margaret. James Bengfort

Evermore
A green parrot appeared at the feeder. The native Illinois flocks gave her the stink eye and a wide berth. I recognized her as a Quaker, and having experience with parrots, I offered enticing treats. Her beak was chipped, and she was wary. All summer I wooed her. She stayed nearby, watching me from her perch in the pines. If I got too close, she'd squawk and fly off. When fall descended, so did she, right onto my head. That was 20 years ago. She still nestles against my neck, like Poe's raven, her heart beating against my ear, evermore.
Shawna Mayer (12)

The acts of love
In the past, love was a word with finite meaning I said to the ones around me. From a few amazing people I have learned that love is, in fact, action – not a word to describe how I feel, but a way to live my life. I can show love in the presence of impatience, intolerance, hate, greed, anger and sadness, even my own. When fear knocks, love can always answer. I know these things today not because I was told, but because people showed me. I am capable of more than just uttering the word, because I was shown the action. Do I honestly know what love is? Nope. All I really know is that when I practice the act of love in all of my affairs, my life is exponentially better. Jeremiah Sullivan

Angie
Her smile was warm and constant, her attitude positive, her personality generous. Even if she wasn't my mother-in-law, we would have been friends. She was obsessed with sweets, urging all to have just one piece – "there are hardly any calories in this," said with a smirk and a wink. Strawberry rhubarb pie and Scrabble and We Love Fortune. Parkinson's came on fast and hard. Even as her daily life became more difficult, her blues eyes sparkled and crinkled with a smile. Long after her speech was manageable, her eyes telegraphed her warmth and love. Our sweet angel. Diane Beauchamp (17)

Imperfect people, perfect together
As each year passes, "high school sweetheart" takes on a whole new meaning. In our teens, we were kids crazy in love, thin and youthful, with big dreams of building a life together. In our 20s, reality struck and we realized life isn't as easy as Disney made it out to be, but we continued to build together. Our individuality began to flourish when we were in our 30s, recognizing we were two imperfect people, perfect together. Now we are in our 40s and the truth is we will continue to change. But what will not change is the fact that we will always be high school sweethearts – crazy in love, building together. Wayne and Melissa Hamilton (1)

40 years
When Governor Jim Thompson called to appoint me director of the Department of Energy and Natural Resources in 1988, I asked to talk to my husband first. I was the governor's assistant for natural resources, 34 years old and mother of a two-year-old. Randy encouraged me to say yes. I wasn't surprised. Randy has been at my side through 40 years of marriage – supporting me unconditionally in my professional career, crossing the finish line with me in two marathons, encouraging my new adventure as a freelance writer (even when it involves going to Deja Vu to write about Stormy Daniels) and experiencing life to the fullest together. Karen Ackerman Witter (2)

I love to be a sailor
In a recess of my grandparents' house we grandkids found an ancient Victrola, its cabinet full of records. We loved to crank the handle, to lay the needle on a spinning disk. We were captivated by a once-famous singer, Harry Lauder – his hearty laugh and Scottish brogue. We sang lustily along. I Love to be a Sailor's last line about his "dearie dear" we heard not "I whisper in her ear" but "I wish her in the rear" but bawled "I KICK her in the rear!" How we adored that old Victrola and adjusting old lyrics! Jacqueline D. Jackson

The lucky one
I am so grateful you decided to allow me into your life. You were, and are, the best thing that ever happened to me. I miss your blue eyes and kind smile. Every day, several times a day you would ask, "Did I tell you how much I love you today?" You never really had to tell me, I knew. Moreover, when you asked, "Do you know how lucky I am to have you in my life?" I knew I was the lucky one. You completely got me and matched my quirky sense of humor. I miss your intelligence, big heart and generosity, but I truly miss talking with you. Miss and love you always, Larry Roerig. Lisa A. Rusher (8)

My mother's hands
At Christmas dinner with my mom, I noticed her fingernail is still split in two. The story goes that she was using a wringer washer and her finger got pulled between the rollers. She was left with a mutilated fingernail. Back then she had three small children and there were no disposable diapers, air conditioners or automatic washers and dryers – just two tubs and a wringer that showed no mercy. In her 96th year, I think of that split nail as a badge of honor, maybe a Silver Star for motherhood or at least a Purple Heart for wounded in action. Martha Miller (10)

Love does not require words
The dark, beseeching eyes said it all: I want to trust you, but you are human, therefore I fear you. This was my introduction to Shelley, my beautiful, intelligent schnoodle. From that initial meeting, an unbreakable bond developed, one that strengthened over the next eight years until she died too soon. The language of love does not require words, nor is it species-specific. Eye to eye, heart to heart, canine to human, it expresses itself in wordless eloquence. I don't know if we are reunited with our pets when we depart, but I know that if we are, the next existence will be a happier one. And, I know that love never dies. Nancy Flood-Golembeck (3)

My love letter to Charlsie Morrison
Sometimes I get caught up with life issues and I start to worry, I get down and alone in thoughts. I feel like a lost child without a home, but the kind of love you give me just keeps me hanging on. All I will ever need is you. Thank you for being there for me. Love you so much. I will never stop trying. Debra Riegert. (5)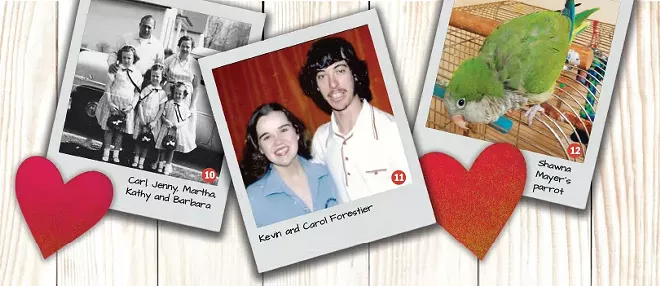 Years
Love is determination and fate, like wanting to meet a girl so badly that you pick her car up to put the front tires over a parking block so she can't leave until you get the nerve to approach her. Then, when she breaks your heart, you keep the flame burning in your heart for 20 years. She accidentally bumps into you, the stars in both your lives are aligned and you marry her 22 years after the first meeting. We were meant to be before we knew it. We just took years. Kevin and Carol Forestier (11)

It all began with a bet
He looked at me and said, "I bet you can't kiss." He was someone I had a crush on, so I had to take that challenge. That kiss made us parents of a 36-year-old man today. Looks like I won that bet. Lanondra Hill

My baby sister
I love my baby sister. She loves buttons, playing harmonica and gives the best hugs. Even though she makes me mad, like when she pulls my hair, I still love her. She's good at making block towers and even better at knocking them over. I can't wait until she's old enough to go sledding with me and drink hot cocoa with extra marshmallows. I love my baby sister because I love babies and I think that she's the best baby in the world. Maddie Meyer, age 7.