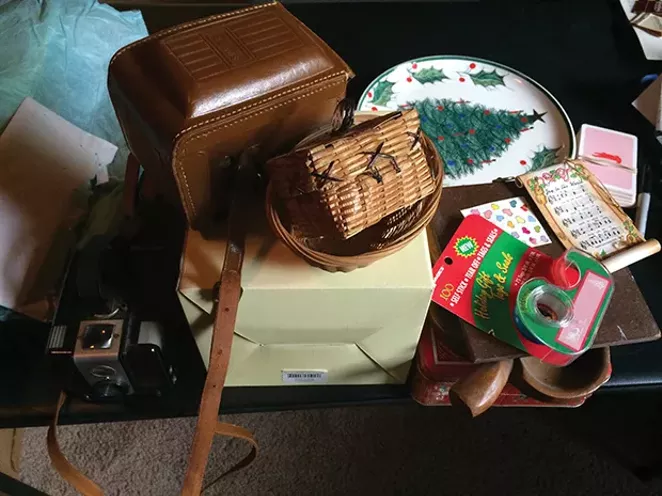 What's your clutter? Boxes of 30-, 40-, 50-year-old receipts and records? A set of dishes unused for years, but given to you by your mother's best friend for your first apartment? Your kids' outgrown bicycles that their kids might use someday? Two extra sizes of clothes, just in case?

Depending on who you are, what you're keeping and why you or loved ones think you need to pare down, all of those things, or none of them, could be clutter.
If those records are part of a centennial family business, they're part of the legacy. Keep. Do your grandchildren live close enough to visit often, and the bikes are out of the way? Keep. But, generally, say online sources, whether it's a house full of inherited items, personal collectibles, or things you Might Need Someday And Why Pay Good Money For It When This One Still Works, you'll benefit from reducing decades of accumulated mass. "Clutter is stress," says AARP contributor Barbara Reich in Declutter Your Life – Now!
Do your heirs a favor, says Reich, save the money you're spending on that storage unit full of mystery items, stop hoarding for an unlikely emergency, get rid of the extra appliance boxes, spare tools, ancient manuals and cords and treat yourself to a few new clothes when you lose those 20 pounds.
There's a practical reason to take a more minimalist attitude, according to Jim T. Miller in Huffpost's "Help for Seniors Who Are Drowning in Clutter."
"Common problems for seniors who live in excessive clutter are tripping, falling and breaking a bone," says Miller, "overlooking bills and missing medications hidden in the clutter; and suffering from the environmental effects f mold, mildew and dust, and even living among insects and rodents."
On the other hand, says Marilyn Lewis at MoneyTalksNews in "Downsizing in Your Golden Years? Decluttering Tips for Seniors," the benefits of clearing the clutter include the ability to "access what you want easily, enjoy memories stored in mementos, photos, letters, videos and other treasures you've been saving; [space to] reorganize possessions for safe reach and maneuver more easily through [your] home in case you become disabled."
Lewis adds to the list of benefits the kindness of a lighter load of updated, reduced possessions for your heirs, and the freedom to move into a smaller, more economical living space.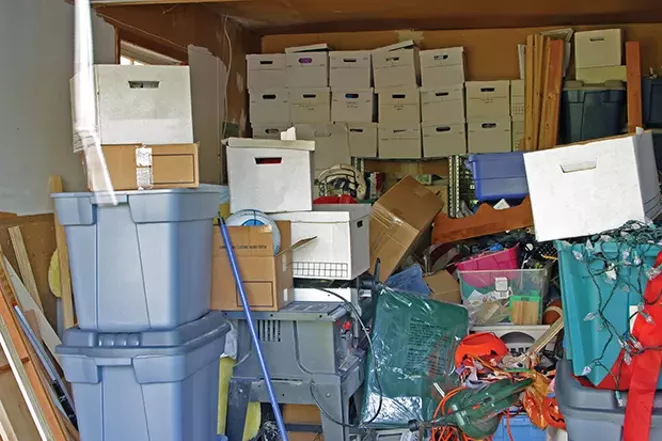 Tips
Assuming you're making the choice to declutter for yourself, not for someone else, one approach is the clearcut method, or ripping off the band-aid. This is bulk removal that looks at entire rooms at a time, not drawers. This method focuses on which things are most important to keep, not what to remove. Ask yourself: Have I used this at least once a year for the past three years? Does it bring me joy when I see it? Could it be moved into someone else's space for use or safekeeping?
Then, set aside realistic blocks of time each day or at least each week to sort and donate.
It's helpful to set aside one staging area where your helper will stack, itemize and photograph things to be donated and things to be tossed while you stay put making the executive decisions one room at a time. Then, take donations to the charity of your choice on the same day. No turning back!
Paper – Keep the minimum needed for tax purposes, then get rid of the rest. Call an affordable shredding truck who will come to your house, haul your barrels of paper to the street, let you watch a video of your confidential documents running up a conveyor belt and through a shredder and drive away to the recycling center.
Books, music and videos – Keep those that can't be replaced, that you love the most and actually use. Donate the rest.
Records – This is the time to start a system for tracking your donations for tax purposes. It's Deductible Online makes this easy – all you'll need is an electronic file of photos of your donations and the dated, detailed paper receipts from the charities.
Clothing, extra furniture, extra dishes, garden supplies, the bulky items that will show the fastest results when you look around and see what you've done – Donate!
Keepsakes – Keep the most special ones, distribute others to friends and family, and photograph the rest for the memories before donating them.
A slower, gentler approach
Another popular method that is more scalpel than bulldozer involves three piles or bins for keep, sell/donate, throw away. However, to reduce enough mass to downsize or repurpose a storage room this way takes a very long time and usually requires going back through the entire house multiple times because it's so gradual.
The key is focusing on selecting a few things to keep instead of what to clear out.
Your earned reward
By the end of the project, which will probably take several months of a little at a time, there will be more room to safely move around if you decide to "age in place," more places to store things in an organized way so they aren't misplaced and items you've been saving for the kids will be relocated to their homes where they belong.
DiAnne Crown is a frequent contributor to Living 50-Plus. She can be reached at info@seasonsofparenting.com.