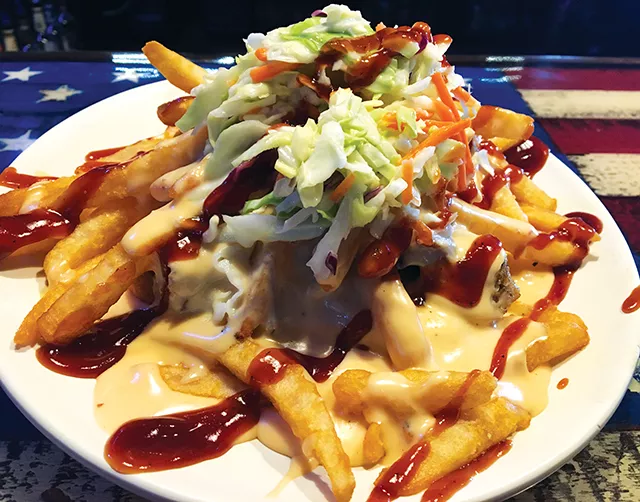 USE FOOD WEEKS TO PROMOTE TOURISM
My friends know I'm compulsively loyal. Maybe it was that trait that compelled me to take on 217 Pony Shoe Week like a champ. Yes, I ran the distance, going to all 14 participants on Illinois Times' official passport. I enjoyed everyone's presentation, ranging from creative to more traditional.
At each location, I introduced myself with a copy of Springfield's Celebrated Horseshoe Sandwich, the book that Carolyn Harmon and I recently co-authored. The reception was overwhelmingly positive. There was an instant bonding with a real sense of tourism spirit we should pursue to the fullest.
Illinois Times' 217 Food Week is a brilliant promotion. Frankly, I had never been to a third of the places, but I'll be back. Some had sold out for the day when I first arrived, and I was told later they had sold hundreds of pony shoes. The chefs' creativity was awesome.
The debate over someone's favorite or unique pony shoe won't end soon. I enjoyed the challenge, and being no fool, I closed the week with my annual checkup from my cardiologist. I'm going to survive.

There has been a lot of effort to promote Route 66 and tourism. I see it as an innkeeper when I provide lodging to foreign guests who stop in Springfield while adventuring west 2,448 miles from Chicago all the way to Santa Monica Pier. When Route 66 was in its prime, Americans often stayed at the Leland Hotel where the horseshoe sandwich was created. When I tell guests about the connection, travelers have to try this Springfield food sensation. Illinois tourism promoters need to work with IT to develop a plan for travelers to spend time in Springfield, the "Horseshoe Capital."

Tony Leone
Springfield


KEEP KIDS LEARNING IN THE SUMMER
This week is National Summer Learning Week, which is a celebration dedicated to elevating the importance of keeping kids learning, safe and healthy every summer, ensuring they return to school in the fall ready to succeed. At Compass for Kids, we're halfway through our summer learning program, Camp Compass.

For six weeks each summer, in partnership with Springfield Public Schools and United Way of Central Illinois, we work to counteract the summer learning loss that disproportionately affects low-income children, with the larger goal of closing the achievement gap and opportunity gap. Licensed teachers instruct students daily in math and reading, while afternoons are filled with enrichment activities, as well as field trips and swimming.

Voluntary high-quality summer learning programs adhering to research-based best practices are shown to be effective in improving students' learning outcomes, and we are proud to partner with District 186 to serve an increased number of kids this year. We believe all students should have the opportunity to learn and grow over the summer, and we hope to continue to serve more kids in the future to meet the need in our community.

Molly Berendt
Executive director
Compass for Kids