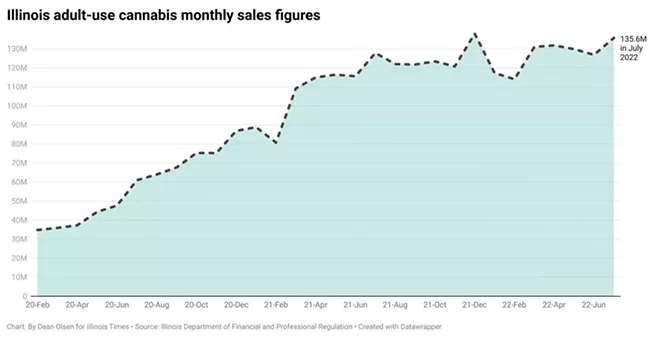 We welcome letters. Please include your full name, address and telephone number. We edit all letters. Send them to editor@illinoistimes.com.
—-

EXPAND IT
Let the craft-grow businesses expand all over the state ("Green growth," Aug. 18). Have you seen what Colorado and California have done? No need for high taxes, either. If you allow places to open up like bars and gaming parlors, you would have an increase in revenue. Plus, a lot more chill people. It's not about smoking to get high. There's so much more that cannabis and CBD can help with in pill form, gummies, salves and tinctures. I don't see what the problem is, other than people not being educated on it.
Lottie Stevens
Via Facebook.com/illinoistimes
—-

GROW IT
Get over it and let them grow. It is legal and would probably make money for all involved. We have breweries everywhere.
Nancy Crawford
Via Facebook.com/illinoistimes
—-

GENUINE GUY
Michael Leathers was so genuine, always pleasant even when you could tell he was physically worn down ("A journalist who did what was right," Aug. 11). It was such an honor to have worked with him these past years.
Dr. Nicole Florence
Via Facebook.com/illinoistimes
—-

NOT REAL REPUBLICANS
Once again, a writer like Scott Reeder proves how out-of-touch the media really is. To write an article on Darren Bailey and to interview two far-left RINOS is hilarious ("The growing GOP gap," Aug. 18). Jim Edgar, who wants to welcome illegal aliens and their ilk, is exactly what hard-working taxpayers in Illinois do not want. Pat Brady, a Democrat who chooses to put an (R) after his name, and Dan Rutherford, whose career was tanked because of men accusing him of unwanted sexual advances at the workplace, don't really represent me, a conservative Latina.
Come on Scott, you can do a lot better than that. These so-called Republicans are not following the Illinois Republican Party platform; therefore, they don't speak for me.
Rosanna Pulido
Springfield
—-

EARLY CHILDHOOD INTERVENTIONS
An effective approach to crime requires bipartisanship, and early childhood investments are key.
This November, crime reduction will be among the most urgent issues facing candidates and voters. As public servants from different areas of the state and with divergent partisan affiliations, we firmly believe the efficacy of any legislative approach to crime reduction will require bipartisan action premised upon the best available data. Our jobs require us to evaluate all available evidence in the assessment of any case, and the research on proven crime reduction strategies is undeniable: Investing in children is an essential element of any effective crime-reduction strategy.
Data-driven programs in the area of early childhood development are proven to reduce crime over the long term. Research shows that home-visiting programs that provide voluntary coaching to new and expectant parents reduce instances of abuse and other Adverse Childhood Experiences (ACEs). These instances of early trauma significantly increase the probability that a child will engage in criminal activity later in life. High-quality early child care and education programs help prepare kids to succeed in school and can prevent behavioral problems. Kids who have started life with disadvantages such as poverty, abuse, and other ACEs benefit the most from investments in these programs, which have traditionally received bipartisan support.
The people of Illinois should hold their legislators accountable to deliver a comprehensive crime reduction package that incorporates data-driven funding priorities and robust investments in early childhood development. Illinois needs a genuinely bipartisan strategic plan to reduce crime across the state and our elected officials should not let partisanship impede meaningful solutions.
Dan Wright (R), Sangamon County State's Attorney and Dora Villarreal (D), Rock Island County State's Attorney on behalf of Fight Crime: Invest in Kids Illinois, a group of 320 police chiefs, sheriffs and prosecutors in Illinois focused on supporting public safety by improving outcomes for children.