click to enlarge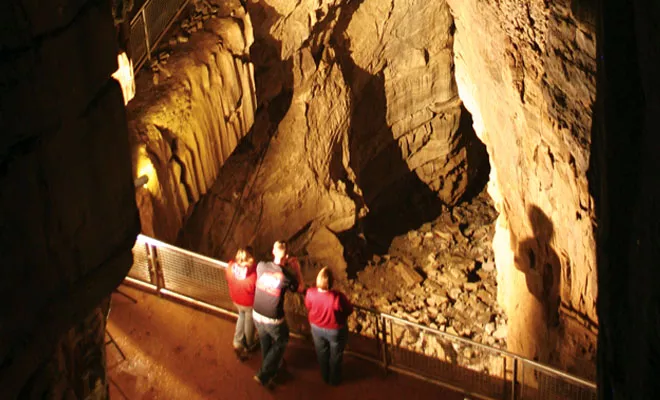 Photo Courtesy the National Park Service

MAMMOTH MEMORIES
Mary Bohlen's article about Mammoth Cave ("Cool off in Mammoth Cave, the world's longest," Aug. 7) reminded me of my trip so-o-o many years ago. I was about 35 years old (I am now 85) when my husband and I decided to take the Wild Cave tour. Our group of six consisted of us and four college students. One of the girls told me I was so brave to be taking the trip at my age.

It was wonderful to say the least. I'm not sure what it's like today but we were given hard hats with lights and warned to wear old clothes. After the trip of six hours we exited the cave with wishes for more. Our guide, who was a friend by the time it was over, was right. I have never been so dirty in my life. As we left the exit there was a group of about 200 people waiting to take a short tour. They were beautifully clean in summer clothes of white and pastels. Our guide turned to the new group's guide and said "Sorry, Sam. We weren't able to find the fellow you lost on your last trip." Awesome!

The college kids were camping and were having a cookout that night. We were invited and had another wonderful time. I will never forget Mammoth Cave.
Edith Smith
Springfield
ANGLICAN DOCTRINE
I'm no fan of Chris Britt's cartoons, but Larry Smith made him look good by comparison with his drive-by comment about the Church of England (See Guestwork, "
No understanding of Catholic teaching
," Aug. 7). I have no idea where he got the idea that "the government determines what is taught and believed, as well as who teaches it," but it's smug and condescending. And it demonstrates no understanding, to coin a phrase, of Anglican teaching. If Mr. Smith had bothered to check as obvious and elementary a source as Wikipedia, he might have learned:
Basic doctrine of the Church of England is spelled out, not by the government but in the Book of Common Prayer, adopted in 1549 and revised in 1662, and a document known as the 39 Articles, adopted in 1571. So if Smith were correct (and he isn't), it would be Edward VI, Elizabeth I and Charles II instead of the current British government telling today's Anglicans what to teach and believe.
Churches in the Anglican Communion, including the Church of England, have no central authority comparable to the Catholic magisterium. But in general they base their theology on scripture and the early councils of the church, including Nicaea and Chalcedon, as well as Calvin, Luther and other Reformation theologians. Individuals have considerable freedom in interpreting points of theology and personal belief.
While the Queen is the titular head of the established church, its decision-making body is the General Synod of the Church of England, consisting of a House of Bishops, a House of Clergy and a House of Laity presided over by the Archbishops of Canterbury and York. Synodical measures and legal canons are approved on an up-or-down vote of Parliament, which is denied the authority to amend them, and then promulgated by the Queen, but the decisions are made by the duly constituted deliberative bodies of the Church of England.
In short, it is the Church of England and its individual members, not the government, who determine "what is taught and believed, as well as who teaches it." Mr. Smith might find his opinions would carry more weight if he were more charitable about other people's beliefs.

Peter Ellertsen
Springfield


HOUSTON, WE HAVE A PROBLEM
I was infuriated to read Dick McLane's Aug. 7 published letter of accommodation (OK, Houston, no problem") for Mike Houston's going back on his word to only serve one term. McLane was criticizing Britt's July 31 cartoon that characterized Houston as a liar for breaking that promise.

McLane's letter failed to account for the thousands of voters who saw Mike Houston's pledge as an attractive feature that factored into their choice. Such "bait and switch" tactics lead to buyer's remorse. Whether it's a laundry detergent or a political candidate, when a product pledges one thing and results in the opposite, I have been lied to.
Chris Britt's cartoon was spot-on, and McLane's letter is an example of why we have government leaders who are trained to deceive a willing electorate.
David Randall
Springfield