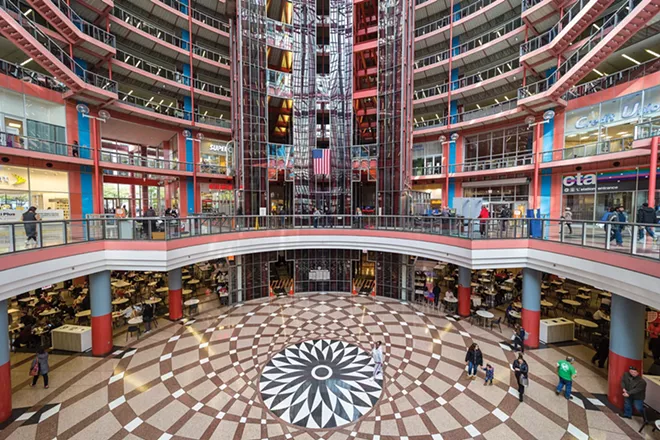 We welcome letters. Please include your full name, address and telephone number. We edit all letters. Send them to letters@illinoistimes.com.
—-
SAVE THOMPSON CENTER
I was in the James R. Thompson Center the other day for the first time in over two years. With the ongoing evacuation of many state offices and the hoped-for sale, the continued existence of the building plays on my mind. It made me think of other famous ruins – the Colosseum in Rome, the Mayan temples in the Yucatan and Angkor Wat in Cambodia.
Like those buildings, the James R. Thompson Center is a glorious ruin, a neglected showplace and an existential crisis. The state has committed architectural malpractice by the so-called "cost saving" shortcuts taken during construction and the years of misbegotten and forsaken maintenance.
But how many classic – or at least interesting – buildings have we lost to such narrow-minded and historically blind perspectives? Chicago is the home of architectural delights, despite such missteps as the destruction of the classic Prentice Woman's Hospital. JRTC is part of the panoply of Chicago Loop attractions.
Similar issues have existed in Springfield. And were their replacements worthy? I think of the classic movie theaters lost in downtown Springfield that were replaced with boring, disinteresting structures. Alternatively, compare to the classic performance venues restored and preserved in the Chicago Loop – the Palace and Nederlander theaters – and the preservation of the Lincoln home and the Old State Capitol.
Whether one hates or loves the Thompson Center, it is unique and provocative. It will never be seen again if destroyed. Every time we surrender such creativity to the exigencies of finances or convenience, we surrender part of our historic personality. Preservation of the Thompson Center deserves serious effort.
That is not to say every building must be preserved. Take the Stratton Building...please.
Dennis Rendleman
Springfield

—-
A BETTER SPRINGFIELD
The city and region are in dire need of an honest and transformative economic development strategy and implementation plan ("Springfield at a crossroad," June 24). This should be devoid of all politics and executed in such a way that stakeholders are engaged but realities are addressed, possibilities are explored, assets are emphasized and liabilities are mitigated. This isn't hard.
Many other cities of Springfield's size, and with its challenges, have done this. It takes commitment, time, money and the courage and will to do it – because warts will be exposed. I hope it does happen in Springfield, as it is my home. I don't live there any longer, but I do visit routinely.
Gabe Sanders
Via Facebook.com/ilinoistimes.
—-

LINCOLN LOVED HER
I have read the autobiography of Elizabeth Keckley, who was Mary Todd Lincoln's seamstress and comforter during her distress and disagree with the analysis of the Lincoln's marriage ("House divided," June 24). In it, Ms. Keckley discusses that when Abraham and Mary Todd came back together as an engaged couple, Mr. Lincoln gave his fiancée a wedding ring that had engraved in it, "Love is eternal." Ms. Keckley further wrote that Abraham Lincoln would never lie.
Further, I personally think their attraction came from their mutual political ideas and the theater. As a child, Mary Todd was allowed in the men's parlor room of her Kentucky home, where she listened to such early politicians as Congressman Henry Clay, a Whig. Lincoln, initially a Whig politician, learned to write great speeches through his study of Shakespeare.
Despite Mrs. Lincoln's peculiar behaviors, very possibly due to her migraine headaches and depression, Abraham Lincoln did love her.
Debbie Quick
Springfield