LETTERS
We welcome letters. Please include your full name, address and telephone number. We edit all letters. Send them to letters@illinoistimes.com.

——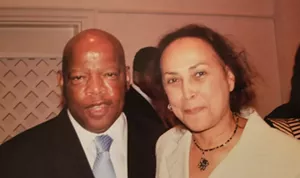 REMEMBERING REP. JOHN LEWIS
Some years ago, after a long wait, I met and spoke with Congressman John Lewis, who was the guest speaker at a public function here in Springfield. It meant a lot to me as I reminisced with him that I had traveled at age 16, in the middle of the night on a school bus, with my mom and other church people from New York City to the March on Washington in 1963. I made the point that he was only six years older than me at the time, yet, as "the boy preacher from Troy," he made an historic speech on the podium shared with Rev. Martin Luther King, Jr. We laughed and hugged about our youthful activities so many years ago, and a wonderful picture was taken of our meeting.
Phillipa Carroll Porter
Springfield

——
REPLICA OF LINCOLN HOME
In the 1950s, the Abraham Lincoln Association underwrote the publication of the eight-volume Collected Works of Abraham Lincoln, and in the 1960s it raised money to furnish the restored Old State Capitol. Now, under the leadership of Dr. Michael Burlingame, the group is proposing to build a replica of Lincoln's home before it was enlarged ("The 1 1/2-story Lincoln home to be rebuilt," July 2). Burlingame, the author of a multi-volume biography of Abraham Lincoln and a professor at University of Illinois Springfield, is a preeminent Lincoln scholar.
The replica will offer a realistic picture of the domestic environment of the Lincoln family for 12 of the 17 years they lived at the corner of Eighth and Jackson. The six-room cottage was later expanded and a second floor was added, so the house we see today does not reflect the modest beginnings of the Lincoln's married life and Mr. Lincoln's career.
The cottage could be used in ways that the current home cannot, for the rules governing a replica are not as stringent as they are for original buildings. Receptions with food and drinks could be held, classes could be taught, lectures could be given and exhibits could be mounted. There could be displays depicting the way houses were built in the antebellum-era and descriptions of everyday life then.
This project will enhance and enrich the imprint of Lincoln's hometown and is deserving of the support of the Springfield community.
Sarah H. Thomas
Springfield

——

WHY NOT HERE?
Facebook recently announced construction of a new data center in DeKalb, Illinois, estimating an $800 million investment and 100 operational jobs. Springfield, Illinois, was not mentioned.
Springfield could have at least tried to compete with DeKalb. Owning our own electric utility and airport, combined with University of Illinois Springfield and affordable land prices should have been enough to open a door and get an appointment with a high-volume electric consumer.
Springfield has the wrong mayor for any serious undertaking. He was elected because he's either related to you or one of your friends. His administration is more social endeavor than professional mission. His greatest accomplishment is implementing infrastructure plans former mayor Mike Houston set up.
Business opportunities will arise from China decoupling and modified employees at distance arrangements. Springfield has resources to compete. However, vision with aggressive action is necessary because smiling at church socials won't get us noticed. Langfelder needs to admit failure and honor his "best for Springfield" slogan by hiring professionally.
John Levalley
Springfield