We welcome letters. Please include your full name, address and telephone number. We edit all letters. Send them to letters@illinoistimes.com.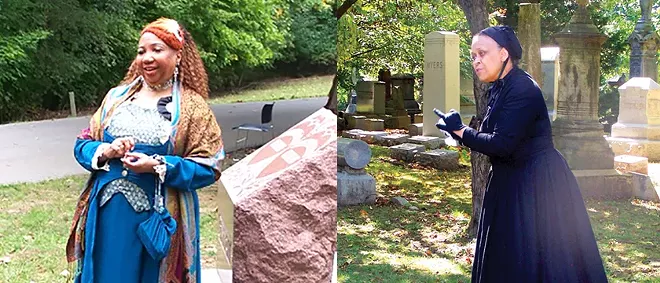 WALK THIS WAY
The Sangamon County Historical Society's annual cemetery walk, which was revived in 2015, has in the past included presentations about a number of those interred in the "Colored Section," Block 5 of Oak Ridge Cemetery ("The colored section," July 9).
Among those the society has highlighted have been Phoebe Florville, Martha Hicklin and Jameson and Elizabeth Jenkins. They were expertly portrayed, respectively, by Kathryn Harris, Veronica Betts and Robert and Patricia Davis. In 2017, Connie McGee (pictured and mentioned in the article) wrote the script and presented the story of her ancestor, Leanna Donnegan Knox, whose son was murdered in the 1908 Race Riot.
The society strives to preserve and promote all aspects of the history of Sangamon County. The 2020 Cemetery Walk is scheduled for Sunday, Oct. 4, and, we hope, will proceed as planned.
Mary Alice Davis
Chair, Cemetery Walk
Past president, Sangamon County Historical Society

——
WHERE YOU LIVE MATTERS
Regarding Mike Lang's column on racial justice ("What whites in Springfield can do for racial justice," July 2), if he truly practiced what he preaches, why doesn't he live on the east side of Springfield instead of Sherman? The 2020 demographics for Sherman indicate no blacks and a population that is 99.08% white.
Arthur John Yoggerst
Leland Grove

——
OPPORTUNITY FOR CHANGE
The University of Illinois announced they will soon release a new plan for "branding." I hope that plan includes ending the stereotyping and perpetuation of racism towards Native Americans inherent in the Illiniwek tradition.
Whether one cares to acknowledge it or not, current and potential students, particularly students of color and student athletes, continue to consider the Urbana campus as unwelcoming because of this manifestation of institutional racism.
Recent events, including the toppling of monuments to racism around the world, present a unique opportunity for the university to deal with this now. Mississippi and South Carolina have ceased using the Confederate flag and the University of Mississippi has stopped playing "Dixie" at its sports events. How long will Illinois remain behind the times?
Ending the faux Indian music at sports events and ending the merchandising of Native American imagery are essential. University support of student performances as Illiniwek is unconscionable and must stop. Efforts by some trustees and others to cajole permission from Native Americans to restore Illiniwek must cease. And establishing a new mascot is critical to moving forward. These changes are long overdue.
I sincerely hope Chancellor Robert Jones, President Timothy Killeen and the university trustees muster the will, join the national momentum in awareness, energy and action to end racism and act decisively to end all forms of discrimination that persist on the Urbana campus. Failing to accomplish this now, at this unique moment in history, is certain to negatively impact the university fulfilling its mission.
Stephen Kaufman
Urbana