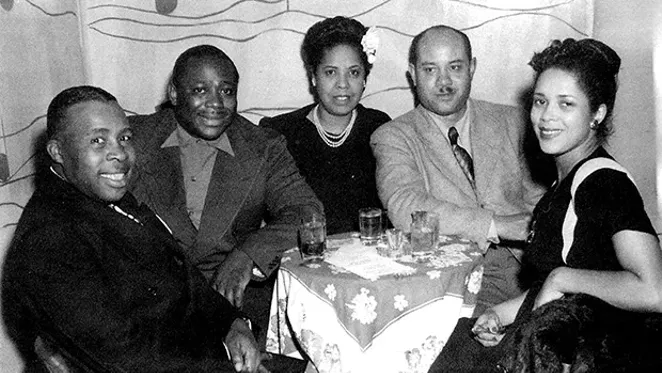 KEEP UP THE GOOD WORK

Erika Holst's "Discovering the east side" was the very best article I have read (May 16); superb in content, writing and era covered. I had the pleasure of meeting Holst last year after she and P.J. Staab did the remembrance article on my husband, Thomas R. Jones, Sr., and then a museum exhibit that included him. I have followed her ever since through Facebook, the newspaper and the Illinois State Museum.
I do not know Karen Ackerman Witter, but her article on the new novel by Taylor Pensoneau was also exceptional ("Fiction by a fact man," May 16). I met Taylor some years ago, and I think I have read most of his books. He is not only a great writer but also a most wonderful gentleman, a scholar and was a very good and kind mentor and friend to my late husband, Tom.
Illinois Times is to be commended most exceptionally for being an all-around paper for so many years. Thank you and keep it up.
Carol A. Irwin-Jones
Springfield
NO PARKING
I was looking forward to Marion van der Loo's final concert ("Springfield Choral Society" IT pick, May 9) but drove back home instead. There was no parking within five blocks of Central Baptist Church. However, hooded parking meters were everywhere. If there is a rationale for keeping meters hooded on a Saturday night, it escapes me. The hoods threatened that parked cars would be towed, with no mention of a Saturday or Sunday exemption. If downtown Springfield wants to attract visitors, dealing with the meter situation would be a good place to start.
Brigitte Franzen
Springfield
PROTECT CONSUMER CHOICES
Illinois state senators have called on the full General Assembly to pass SB 651, an act supporters claim will lead to greater regulation of Illinois' alternative energy suppliers. Rather than improving the competitive electricity market in Illinois, this bill would lead to the end of consumer choice and higher prices for Illinois consumers.
More than 1.8 million households have actively chosen their own energy supplier with a recent poll showing that 87% of Illinoisans prefer to retain the ability to choose a supplier. Energy choice has been a win for Illinois and has demonstrated that competitive markets provide an essential component to keeping commodity prices in check. Since 2008 the electricity bills of consumers in neighboring Midwestern states that do not offer electric choice have risen by almost 31%. During that same period Illinois consumers have seen bills rise by only 10%.
Through SB 651, many of the customers who have successfully left their electric utility and chosen an alternative supplier plan will be forced back onto utility standard service. Then they will have to go through a multi-month waiting period, just to return to the competitive service they've already selected.
There is no question that stronger consumer protections can increase confidence in the electricity market. The market requires rigid guidelines regulating competitive market practices to avoid damages inflicted by predatory marketing tactics. Clearly defined measures that swiftly deal with suppliers and solicitations abusing consumers with questionable or unethical tactics need to be in place and should be supported.
On balance, the competitive electricity market is working for Illinois customers by providing both product and supplier choices that meet consumer needs and buying preferences. Let's enhance a functional competitive market and not eliminate customer choice.
Dean Nicol
Oak Brook