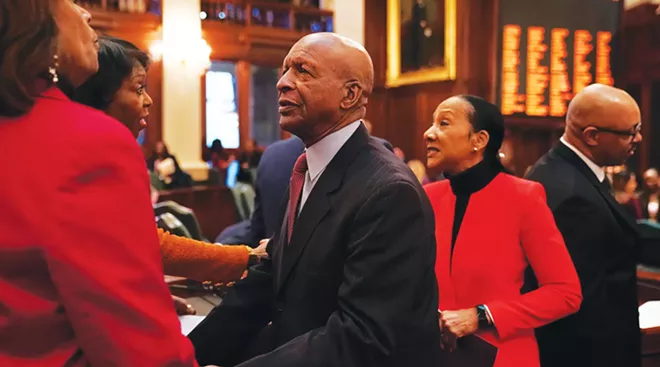 We welcome letters. Please include your full name, address and telephone number. We edit all letters. Send them to letters@illinoistimes.com.

WHAT IS JESSE WHITE HIDING?
It was good to see Bruce Rushton report that Illinois Times has finally received the personnel file of Candace Wanzo, a former employee of Secretary of State Jesse White's office ("Six figures of trouble," April 30).
Even a judge's order did not appear to overwhelmingly motivate either Attorney General Kwame Raoul or Secretary of State Jesse White to readily comply with your FOIA request.
But when the taxpayers see stories like "Secretary of State won't say if agency knew about criminal past" (May 5, 2017) and "Transparency? An open letter to the attorney general" (Feb. 7, 2019), and when public officials try to claim their employees' personnel files are private – even though that employee is being paid with public funds – they obviously do not care about the intrinsic accountability and transparency that must exist any time public funds are expended.
It would be interesting to see to what degree, if any, Jesse White's office knew about the criminal past of Candace Wanzo at the time she was hired by their office, or what efforts were made to investigate her past.
Nagging questions still remain unanswered. What did Jesse White owe Candace Wanzo for her to have received such preferential treatment by his office, and why are he and Kwame Raoul now both going to such great lengths to keep the whole matter under wraps?
How does Jesse White think it's okay to use his publicly-funded office to hire and protect people like this? And how isolated is this incident within his office, really?
I sure hope you'll have further reports that might shed some light on those questions after you've had a chance to thoroughly review the information you've recently received.
Mark Schmidt
Springfield
CARELESS SPENDING
Do you really think I am going to vote yes on Governor JB Pritzker's proposal to raise the state income tax? A key member of his administration, Jesse White, squanders my tax money and he wants more? By the way, we have not heard a word from the governor about this outrageous malfeasance. Maybe he should pay for another party honoring Jesse White on the mansion lawn – that would really encourage me to send the state more of my hard-earned money.
Larry Wedding
Springfield
HEED THE WARNINGS
The United States is beginning to loosen the "stay-at-home" lockdown that was intended to minimize the horrible impact of COVID-19. As of today, more than 90,000 people in the US have died, and many more will die before the pandemic is over. People protesting the warnings seem to think we can thumb our noses at the virus and go on with life as if COVID-19 is a mere annoyance.
The 1918 Spanish flu pandemic apparently began in March of that year. The spring chapter of this flu was considered mild. It was not until the fall that the second wave came with a vengeance, inflicting the majority of the total 650,000 deaths in the US. Like COVID-19, the Spanish flu was a new strain for which no one had immunity (For more on this topic, see "Pandemic rocks the capital city, April 16).
As World War I was winding down, cities were pressured to have liberty loan parades to sell war bonds. On Sept. 28, Philadelphia held a two-mile-long parade as 200,000 people cheered. Within a week, 45,000 residents were infected, occupying every bed in Philadelphia's 31 hospitals.
George Santayana, a professor of philosophy at Harvard, is quoted as first saying, "Those who do not remember the past are condemned to repeat it."
Gerald R. Phillips
Springfield