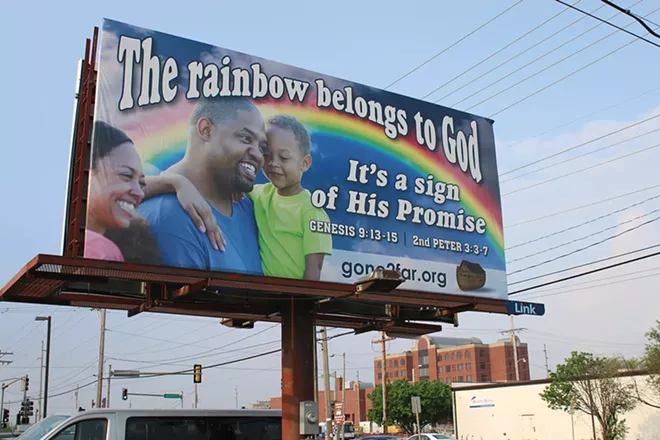 We welcome letters. Please include your full name, address and telephone number. We edit all letters. Send them to editor@illinoistimes.com.
—-
OFFENSIVE BILLBOARD
On May 4, we walked into work at the Family Guidance Center to see this billboard directly outside our facility. Personally, I have witnessed how it has affected my colleagues and the work environment. After doing some research on gone2far.org, it appears they launch billboards similar to these before communities have their gay pride festivals.
Sangamon County ROSC Council and Family Guidance Centers Inc. fully supports our LGBTQ+ community. Our Springfield PrideFest is May 22 this year; please add it to your calendar and show support. To say this billboard is in poor taste is an understatement.
Jenna Fox
ROSC Manager
Family Guidance Centers
—-

GET RID OF PEAR TREES
Kudos to local nurseries who have taken the innovative step of offering "bounties" on Bradford Pear trees to their customers ("These pear trees are pretty but problematic," April 7). From a recent Green View Nursery ad: "Bring a picture of the pear tree you cut down and show an associate for the 25% discount on a tree."
Once the darling of the landscaping business, this tree and its related Pyrus calleryana cultivars have become invasive species, spreading into native grasslands, open woodlands, forest edges and old fields. Their aggressive nature also crowds out native plant and tree species.
We strongly encourage the use of the many other native trees and shrubs that are lovely and beneficial to our natural Illinois ecosystem.
Trish Quintenz
President, Central Chapter Illinois Native Plant Society
—-

NO JUSTIFICATION
This was hard to read ("Hit and run," April 18). So glad they caught the guy, but Dusty Rhodes and her family will have to live with this traumatic event forever. Sending them my best wishes.
While it's important to recognize the layers and larger picture that created the person who committed this awful act, I still find it difficult to find a well of compassion for him. Of course, we're all a product of our environment, however, we all do have the free will to rise above our circumstances. Though many of us have endured numerous injustices in childhood or adulthood, we made the decision not to create more suffering in the world like this young man has decided to wreak upon society.
Dennis Canaday
Via Facebook.com/illinoistimes
—-

NOT FOR NOTHING
Every time I drive by Fayette Avenue (and I do a lot), I see Rosie's little memory garden there and it makes me incredibly mad. Now that we know the full story, when I drive by it will still make me mad, but I'm going to reframe and silently thank Rosie for her sacrifice in getting a bad guy off the streets. Thank you to Dusty for sharing all the pain and heartache with us.
Buffy Lael-Wolf
Via Facebook.com/illinoistimes
—-

THANKS FOR SHARING
Thank you for sharing your story, Dusty, so beautifully written and heart-wrenching. Props to the police for staying on the case and prayers for your continued recovery.
Kim Howard
Via Facebook.com/illinoistimes