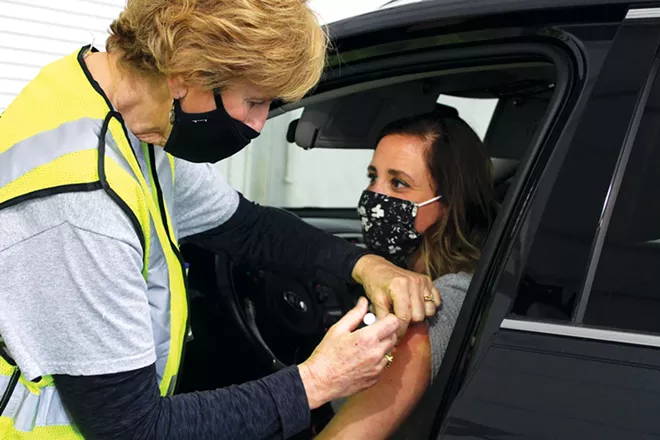 We welcome letters. Please include your full name, address and telephone number. We edit all letters. Send them to letters@illinoistimes.com.
—-
VACCINE LOTTERIES
The existing policy for COVID-19 vaccination appointments in Sangamon County is confusing at best ("Vaccination challenges," Jan. 28). At worst, it is shortsighted and cumbersome. We could do better. I have family members in jurisdictions where the approach to vaccinating appears to be more rational, if the goal is to vaccinate as many people as possible in descending order of need and vulnerability.
I have a colleague who lives in Oak Park, Illinois (population 52,233). The health department registers the residents and then gives them an appointment date. I imagine that there is a confirmation process.
The fastest and most efficient way to notify, register and vaccinate is to set up a mass vaccination system using the convention center and high schools. My mother-in-law lives in the Shawnee Mission suburbs bordering Kansas City, Kansas (population 602,401). She received her vaccination through this process; the Johnson County Health Department used a large sports complex to perform the injections. She was a nurse and taught nursing for 30 years. She said that the process worked well and was efficient. The advantages of a mass inoculation process are parking, restrooms and continuous monitoring of vaccines, supplies and cancellations of clients and vaccinators. There is also enough room for people to keep social distancing and not be exposed to the weather conditions, especially in the winter.
The existing vaccination process in Sangamon County is a lottery in that you must call or go to three or more websites daily at different times of the day to check on vaccine availability. I have spoken to staff at the drug stores and they say availability could change during the day, if there are cancellations.
There may be people left out of the signup process because it is too difficult for them – the elderly, people without internet or those unskilled at computer technology. Those most likely to be left out are the underserved and highly vulnerable.
Edward Haber
Springfield
—-

TEACH THIS
The new education bill passed by the state legislature calls for establishing an "Inclusive American History Commission" to help the board develop the new standards ("Education bill to revamp social studies," Jan. 28). That 22-member commission will be charged with reviewing educational resources that teachers can use that "reflect the racial and ethnic diversity" of Illinois and the United States, providing guidance for educators on how to ensure that their class content is not biased in favor of certain cultures and providing guidance on how to identify resources for "non-dominant cultural narratives."
Translation: Teach as the Black Caucus tells you to or you will be punished; both the individual teacher and the school district will be punished. It's very Stalin-esque.
I suggest everybody read this legislation much more carefully, as I have.
Frank Goudy
Via illinoistimes.com
—-

MORE ACTION
In response to Mike Jackson's Guestwork article about the failure of proposed projects in Springfield ("Springfield, home of wasted opportunities," Jan. 21), I can only say – in the motivating words of Larry the Cable Guy – Mr. Mayor and the city council, "Get 'er done!"
Mike Shepherd
New Berlin