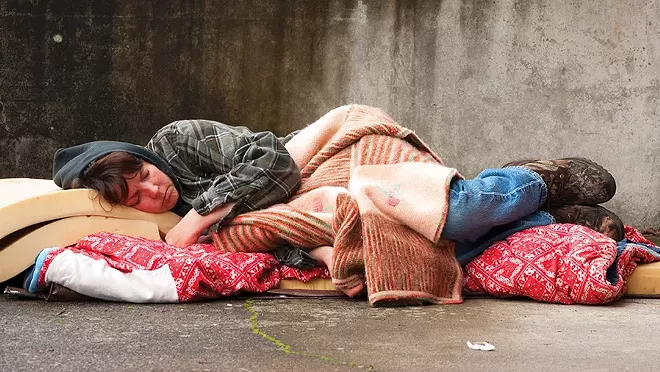 LETTERS


We welcome letters. Please include your full name, address and telephone number. We edit all letters. Send them to letters@illinoistimes.com.


LITTLE PROGRESS ON HOMELESSNESS


I've noticed that conversations and concerns regarding homelessness frequently change, as often as the weather moves from one extreme to another. Something else I recognize is our community's inability to stand together for real change and measurable progress.
Recently, I read that a few more dollars may be directed to a few more positions with the hope that communication between services will be improved. Is this what progress looks like? I've also heard the mayor mention something about the possibility of money being set aside for a smaller version of the previously proposed center for the homeless. I wonder which side of our community will welcome this version? I've heard that another governmental body is considering paying for an outsourced study on homelessness. Does anyone see comparisons to Hunter Lake? Let's not waste money on one more study.


It appears to me that three very distinct components must come together before there is any chance of progress: leadership, knowledge and a desire to visit success elsewhere. Are there any qualified professionals within our community who would consider it a privilege to take on a leadership role? Are there any qualified professionals who can help give the citizens of this community a clear understanding of what chronic homelessness is all about and why a meal and a mat (the status quo) is not the answer?


There are many who can step up and share their knowledge on this topic. This may be the most important component of the three, as this individual must help dismiss all of the misinformation that's circled around Springfield for decades. And lastly, we must look at current success in some of our nation's communities instead of having to reinvent success.


Our city needs to come together. You'll notice my three components did not even include the word "money." Our community has a responsibility to help the vulnerable, the sick and the weak. Springfield, we've had our heads buried in the sand for many decades and progress has passed us by a time or two.


Joe O'Neill
Springfield


HOMELESS COORDINATOR NOT NEEDED


Last month Springfield Mayor Jim Langfelder proposed a 2020 city budget, which included $82,000 for a homeless outreach coordinator. That is a huge amount to be paid for a coordinator. With that amount of money you can provide a place to live for few people. This is nothing but waste of taxpayers' money. When spending public money, be frugal and spend it like you are spending your own money.


During a time when every unit of government is having trouble meeting its obligation for employees' retirement funding, it is irresponsible to create a higher paying job like this when it is not necessary. You are increasing the burden on the retirement systems obligation that's getting harder and harder to meet.


I would suggest the mayor needs to take a different approach for this position. There are enough retired, intelligent, talented people in this town who will be happy to do this job as a volunteer. The goal of this position could be achieved with part-time volunteers. The presidents and CEOs of the agencies involved are highly paid and should be able to coordinate themselves with little outside help.


Harish Bhatt
Springfield