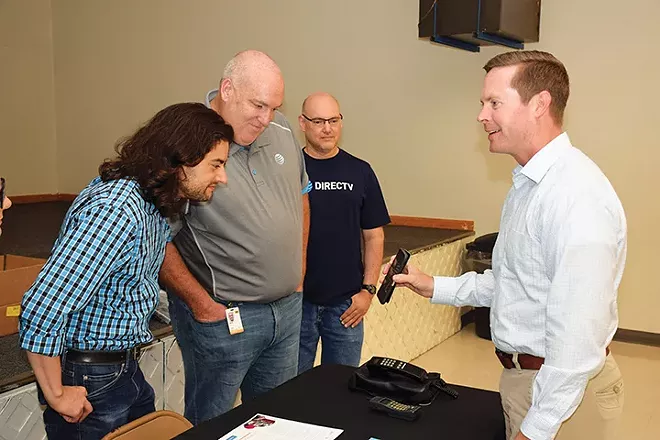 FOCUS ON DAILY REALITIES
Just before the 2016 election, Rodney Davis withdrew support (and presumably his vote) for Donald Trump, thereby suggesting that we do likewise. Now Davis cheerfully swears that he not only admires and trusts Trump to do well by us, but he also serves as an honorary 2020 election co-chair. What happened? Who changed? Perhaps the better question is who changed who?
After splitting 1,000 days between the Oval Office and Mar-a-Lago, Trump has yet to make America or the 13th congressional district great again, although he is more transparent than ever. Trump's multimillionaire cellphone buddy, Ambassador Gordon Sondland, nonchalantly observed that the president only cares about the "big stuff," i.e., things that personally benefit him – stuff like winning, Wall Street, beautiful women, golf and his "bromances" with Putin and Kim Jong-un – not serving downstate Illinoisans.
Despite working hard, our rainy day savings too often vanish with a single emergency. We treasure friends and family more than ever but opiates, alcoholism and suicide have reduced U.S. life expectancies for the first time since WWI even as life-saving drug prices soar over and above the inflation rate. Student loan repayments resemble the monthly mortgage. Farmers are looking up – at mountains of unsold soybeans.
This is the real stuff that we have to cope with, the stuff that Trump does not care about. Now it appears that Davis is also into the "big stuff" instead of our daily realities. Who changed who?
John Banks-Brooks
Springfield
OFFERING BRIBES IS ILLEGAL
Recently, while waiting at the Department of Transportation to take my driving test, I observed several notices posted on the walls. The message was this: If you attempt to bribe an official at the DOT, you could serve up to seven years in prison.
During the impeachment hearings, I watched the Republicans try to convince us that, if a bribe is not consummated, it is not illegal. Not true. The dictionary definition of bribery is: the offering, giving, soliciting, or receiving of any item of value as a means of influencing the actions of an individual holding a public or legal duty. Bribery constitutes a crime and both the person offering it and the recipient, if there is one, can be criminally charged. It is a felony and punishable by a prison sentence.
The testimony of the government officials, many of whom were serving under our current president, made it very clear bribery was involved in the Ukraine affair. No one could possibly dispute that. Presidents are not above the law. If what the president and his gang did is not an impeachable offense, I wish they would explain why, when it appears an employee of the Department of Transportation, or anyone who offers that employee a bribe, could be changed with a felony and imprisoned.
One observation I did make during the impeachment hearings was that the officers and government officials giving testimony were, for the most part, of the highest quality and a credit to our country. I can't say as much for many of our elected representatives.
Sarah Thomas
Springfield